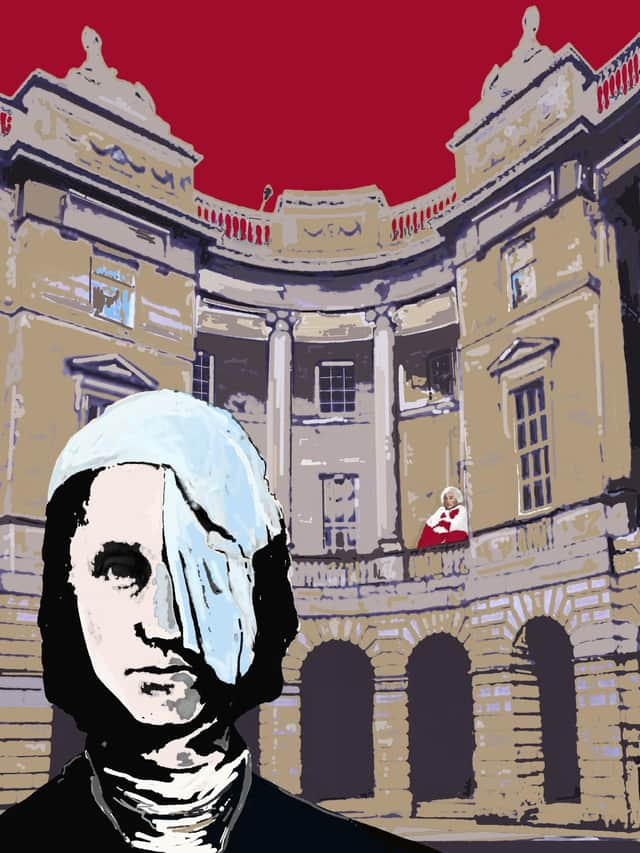 Thomas Muir was sentenced to exile in an Australian penal colony, but is nowadays regarded as the father of Scottish democracy. Illustration: Lesley-Anne Barnes Macfarlane
Now, more than two centuries after his impassioned calls for political reform led to him being banished from his livelihood and ultimately, his nation, Thomas Muir has been posthumously restored to the roll of the Faculty of Advocates.
Ross Macfarlane QC, a longstanding admirer of the pioneering 18th century advocate, has always regarded Muir's 1793 conviction for sedition as "one of the great miscarriages of justice in Scots law."
Having set out to try and "heal the open wound" left by the decision to expel Muir from the Faculty of Advocates that same year, he has uncovered an 18th century court order which quashed a decree pronounced upon the prophetic reformer.
The Court of Session interlocutor which overturned the decree against Muir. Picture: Ross Macfarlane
The discovery has now led the faculty to deem the original decree void, and some 227 years after exiling Muir from its storied ranks, it has taken the historic step of readmitting him.
Describing the decision as "extraordinarily good news," Professor Sir Tom Devine, emeritus professor of history at University of Edinburgh, told Scotland on Sunday that Muir belonged in "the pantheon of Scotland's heroes," and stressed there was no reason for the Scottish Parliament not to seek to secure a posthumous pardon.
Macfarlane's remarkable discovery, and its repercussions, serve as a epilogue to the story of Muir's life, which has long stood as one of the most ignominious chapters in Scottish legal history.
His advocacy of universal suffrage won him numerous notable enemies in his lifetime, not least the Lord Advocate, Robert Dundas, nephew of the then home secretary, Henry Dundas, whose own place in Scottish history has been subject to a spirited reevaluation of late through the prism of the Black Lives Matter movement.
Muir died in northern France in 1799, aged just 33.
Under increasing pressure and intimidation from the authorities, Muir was arrested in January 1793, and while on bail, travelled to revolutionary France to try and prevent the execution of Louis XVI.
But a week after Dundas issued an indictment and set Muir's trial for that February, France declared war on Britain. With a naval blockade in place, it became impossible for Muir to return home for his trial at the High Court in Edinburgh.
In his absence, the notorious Lord Braxfield issued what was known as a decree of fugitation, effectively declaring Muir to be a fugitive from Scottish justice.
Shortly afterwards, the Dean of the Faculty of Advocates, Henry Erskine, convened a meeting of the institution, at which Muir was unanimously struck off the roll on the basis he had been named as an outlaw by a Scottish court.
Professor Sir Tom Devine, Scotland's pre-eminent historian, said Muir belonged "in the pantheon of Scotland's heroes."
As a keen student of legal history, Macfarlane said he was "haunted" by Muir's fate, which eventually saw him return to Scotland that August, only to be convicted of sedition and sent to Botany Bay penal colony.
At his trial, he famously addressed the court, stating: "I have devoted myself to the cause of the people. It is a good cause. It shall ultimately prevail. It shall finally triumph."
Though Muir would eventually escape aboard an American commercial vessel and find his way back to France via a circuitous transatlantic sea route, the journey left him weakened and wounded. He died in the northern village of Chantilly in 1799, aged just 33.
Having written a 2015 play about Muir's highly politicised "show trial", Macfarlane began to question the circumstances which led to the faculty striking him from its ranks.
After several months spent consulting experts on the history of passports, and scouring through "box after box" of yellowing 18th century court records held at West Register House in Edinburgh, he uncovered a Court of Session order. Known as an interlocutor, it had in fact overturned the decree that had been issued by Braxfield.
That same decree formed the basis for the faculty's decision to expel Muir. Now, having been presented with Macfarlane's evidence to show that the decree was actually reponed in Scots law in August 1793, it has readmitted him.
Macfarlane, who has written an extensive account of his research in today's Scotland on Sunday, said: "It rankled with me for years that the Faculty of Advocates, an institution dedicated to promoting justice, couldn't seem to deliver justice to one of its own.
"What happened to Muir was outrageous when judged by any standard of fairness. I've always believed that one person can make the difference if they're standing up for something that is right. I wanted to make that difference and heal that open wound of how Muir had been treated by the faculty.
"If this becomes the first step in some greater rehabilitation for Muir and the other Scottish Martyrs, then I'm proud to have played my part in that."
Gordon Jackson QC, whose restored Muir to the roll of the Faculty of Advocates on his final day as Dean last week, said he welcomed the opportunity to right a historic wrong.
He said: "It was obvious Muir was not getting a fair deal and was being badly treated in his day, and now that Ross has discovered this document, I had no hesitation whatsoever in agreeing to the request to restore him to the roll."
Asked why he thought his 18th century predecessors in the faculty moved against Muir, Jackson replied: "It was all politics in those days. The whole thing was very mixed up in terms of political influence and intrigue, and it wasn't necessarily done in what we could consider to be a fair and impartial way."
Devine, too, said the decision by Erskine and his peers in the faculty to cast Muir into the wilderness was motivated by the self interests of the 1790s Scottish political establishment.
"Democracy to them was a route to anarchy," he said. "There was a fixed assumption that only those individuals who had a secure stake in the land, or another form of real property, could be trusted to govern the country.
"Even those who were enlightened intellectually were, to a man, completely committed to government by a landed elite. Being in favour of democracy was like being a communist in McCarthyite America.
"That's the kind of overwhelming opposition Muir faced. The cards were stacked against him, and the Faculty of Advocates was absolutely representative of the ruling classes of Scotland at that time."
On whether the precedent set by the faculty could spur further moves to provide posthumous justice for Muir, Devine added: "The fact one of Scotland's major institutions has decided to apologise almost for what it did, on the basis of a false foundation, should give a push for those efforts.
"Muir is in the pantheon of Scotland's heroes, and therefore there is no reason why the Scottish Parliament, either formally or informally, should not take action on this issue.
"The key point is that what Muir was convicted of was really the beginning of attempts to kickstart and develop democracy, which of course is now accepted worldwide as the political system all civilised countries should aspire to.
"You can't rewrite the past in the sense that the conviction that was carried out in that period stands. What you can do in the modern era is decide that it should be erased."
Claire Mitchell QC, who is seeking a legal pardon for those who fell victim of the Witchcraft Act 1563, said it served society well to address centuries old injustices, such as that suffered by Muir.
"As someone with an interest in historical miscarriages of justice, I am absolutely delighted by this," she said. "Thomas Muir is a man celebrated around the world, and it means something to look back at his time and address what went wrong.
"Of course, it does not affect him personally, but it shows that we care about what happened and what he went through. There is good reason to go back and assess these things with a modern eye, and express a view of what happened in the past."
Mitchell added: "I was speaking recently with a historian friend about this, and they were very much of the view that we should not interfere with the past. But I'm a human rights lawyer who specialises in the appellate process, and it's important to address miscarriages of justice.
"It's not one person or one family's justice - it affects society as a whole. We should ensure as much as possible that miscarriages are addressed, and overturning historic issues can have a very strong symbolic impact."
Ronnie Renucci QC, president of the Scottish Criminal Bar Association, said: "This shows you that justice never stands still. Even if something happened long ago, if it is a just cause, then justice will prevail.
"His restoration to the faculty roll may well be the first step on a longer journey for Muir's legacy, but we will have to see where justice takes us."
A message from the Editor:
Thank you for reading this story on our website. While I have your attention, I also have an important request to make of you.
The dramatic events of 2020 are having a major impact on many of our advertisers - and consequently the revenue we receive. We are now more reliant than ever on you taking out a digital subscription to support our journalism.
By supporting us, we are able to support you in providing trusted, fact-checked content for this website.