Live

Coronavirus in Scotland RECAP: 38 deaths from Covid and 951 positive cases in past 24 hours
Live updates on coronavirus in Scotland, the UK, and around the world.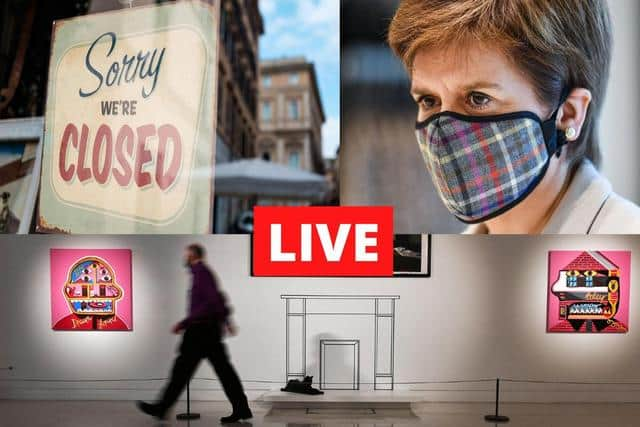 The latest updates on Covid-19 in Scotland.
Follow along here to stay up-to-date with the latest developments on Wednesday.
A message from the Editor:
Thank you for reading this article. We're more reliant on your support than ever as the shift in consumer habits brought about by coronavirus impacts our advertisers.
If you haven't already, please consider supporting our trusted, fact-checked journalism by taking out a digital subscription.
Coronavirus in Scotland LIVE: The latest updates on Wednesday
Last updated: Wednesday, 02 December, 2020, 13:01
First Scottish vaccinations in 'next six days'
Nicola Sturgeon welcomes approval of new vaccine for use
Scotland records 38 deaths on Wednesday
951 positive cases reported
Christmas school holidays ruling expected this week
Covid-19 vaccinations to start in Scotland on Tuesday
The first coronavirus vaccines in Scotland will be administered on Tuesday, Nicola Sturgeon has said.
Scotland's First Minister welcomed the UK becoming the first country in the world to approve the Covid-19 vaccine from Pfizer and BioNTech, saying it may mark the "beginning of the end of the pandemic".
The jab has been shown in studies to be 95% effective and works in all age groups.
Ms Sturgeon made the announcement at the Scottish Government's Covid-19 briefing on Wednesday as she confirmed 38 coronavirus deaths and 951 cases were recorded in the past 24 hours.
She said: "The first vaccines against Covid will be administered in Scotland on Tuesday December 8."
This is dependent on the first vaccine doses being received in Scotland when expected, she said, but there is "no reason at this stage to doubt that".
Surge in travel as England's lockdown ends
Demand for travel in England spiked on Wednesday following the end of the national lockdown.
Location technology firm TomTom found that the level of congestion on London's roads between 11am and noon was 28%, compared with 23% during the same period last week.
Other cities to see an increase in traffic jams include Liverpool (from 24% to 27%), Manchester (from 19% to 23%) and Birmingham (from 20% to 23%).
Congestion levels represent the proportion of additional time required for journeys compared with free-flow conditions.
Transport for London (TfL) said 760,000 journeys were made on the London Underground network on Wednesday from the start of service until 10am.
This was a 14% increase on the same period last week but just 31% of normal demand.
There were 970,000 bus journeys made in the capital, up 8% on last week and 57% of pre-pandemic levels.
Some 1.13 million mainline train journeys were made in London over the same period (33% of usual demand), while 30,000 trips on TfL Rail services were recorded.
First vaccines to be administered in Scotland will be on Tuesday, December 8
In her afternoon coronavirus briefing today, the First Minister announced that the first round of vaccines will be administered in Scotland on Tuesday, December 8.
While urging continued compliance, Ms Sturgeon said she was doing it with "a lighter feeling in my heart and a bigger smile on my face today than I've been able to muster for the last nine months".
The First Minister urged people in Scotland to continue to follow the public health advice, regardless of the news of the Pfizer/BioNTech vaccine which has been approved for use in the UK.
Scotland's First Minister, speaking at the coronavirus briefing in Edinburgh on Wednesday, said: "Now that we've got that vaccine firmly in view, I would encourage everybody just to think very carefully about whether you want to take any unnecessary risks with family members at Christmas or if you want to get through this Christmas with the prospect of being able to see family members much more normally in the spring of next year."
Nicola Sturgeon has urged Scots to "think very carefully" about Christmas plans in light of the approval of a coronavirus vaccine.
Accepting that there will be "dips in the road" before the vaccine is fully rolled out to the rest of the country, Ms Sturgeon has urged Scots to use the news as "motivation".
Scots should not become complacent as a coronavirus briefing draws closer, First Minister Nicola Sturgeon has said.
The First Minister said that, despite the testing rollout, hygiene measures should remain in place.
Want to join the conversation? Please or to comment on this article.