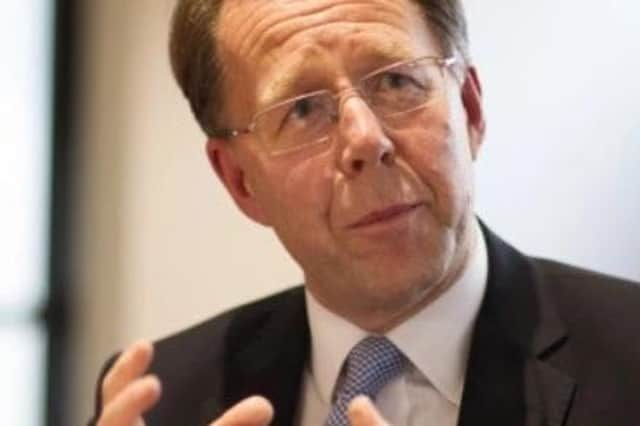 Kenneth Ferguson, former chief executive officer of the Robertson Trust. Picture: John Devlin
Kenneth Ferguson, former chief executive officer of the Robertson Trust, claims he was unfairly dismissed and discriminated against following a row over his church renting trust-owned premises.
Mr Ferguson, an elder at Stirling Free Church, said the £6,500 a year agreement, which saw the church use the Barracks Conference Centre in Stirling for its Sunday services, was in keeping with the trust's policies.
He claims the trust's chair, Shonaig Macpherson, went "ballistic" after learning of the arrangement.
Mr Ferguson is seeking nearly £75,000 in damages. An employment tribunal in Glasgow will hear his case later this month.
However, the trust denied Mr Ferguson's claims that he was discriminated against on religious, or any other grounds, and said that he had been subject to disciplinary action for failing to disclose a conflict of interest when offering "heavily subsidised rates" to the church.
The Robertson Trust was established in 1961 and is the largest independent grant-making trust in Scotland, awarding more than £20 million a year to good causes. The trust controls the Scotch whisky giant, Edrington.
Mr Ferguson said that during his tenure as its CEO, he oversaw a "doubling of the trust's giving," as well as an increase of staffing from seven employees to 43. He also said that during his appraisal last year, he was scored eight out of ten by Ms Macpherson.
In a statement, released through the Christian Institute charity, which is supporting the legal action, Mr Ferguson said: "I was extremely familiar with the trust's funding policy and in particular the policy not to fund any work which promoted religion or was evangelistic in nature. But rental income from hiring out The Barracks was quite obviously not funding.
"The trust had a similar building in Glasgow where for the previous five years [it] had been renting space to many hundreds of charities. There was no policy in place as to who could or could not rent."
In a separate legal action, Stirling Free Church is seeking £10,000 in damages from the trust for breach of contract over the use of The Barracks, and £50,000 damages for discrimination.
The trust said it is proud of its work with faith-based organisations and over the past six years, had provided more than £2.5m to fund their community projects.
Gerry McLaughlin, vice chair of the board of trustees, said the decision to dismiss Mr Ferguson was based on "continued, and documented, underperformance."
He added: "The claim that the trust, or members of its board, would discriminate against anyone based on religion or for any other reason, is completely unfounded.
"The failure to disclose a conflict of interest when applying trust resources and offering heavily subsidised rates to the church, of which he is an elder, led to disciplinary action against the then chief executive resulting in a final written warning, but not his dismissal.
"The trust's funding policy clearly states that we do not fund projects and activities which involve the promotion of political or religious beliefs. This has been the case for decades."
A message from the editor:Thank you for reading this article. We're more reliant on your support than ever as the shift in consumer habits brought about by coronavirus impacts our advertisers. If you haven't already, please consider supporting our trusted, fact-checked journalism by taking out a digital subscription.