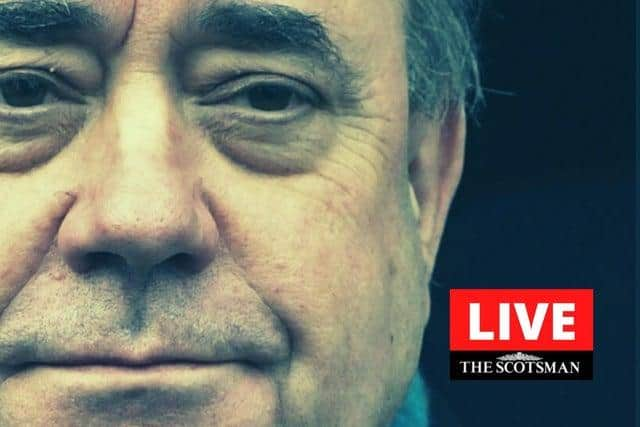 Former Scottish first minister Alex Salmond is to make a public statement.
Mr Salmond said he will make his statement and then hold a virtual question and answer session at 2pm on Friday.
It comes after he announced plans to take legal action over the "conduct" of the Scottish Government's top civil servant Leslie Evans.
He said the permanent secretary failed to take "real responsibility" for failings highlighted in two reports this week.
Mr Salmond said his announcement of the legal action on Wednesday would be his "final statement" on the reports.
The topic of his statement on Friday has not been disclosed.
Earlier this week, two reports were published related to the Scottish Government's handling of harassment complaints against Mr Salmond.
James Hamilton's report into whether First Minister Nicola Sturgeon breached the ministerial code concluded she did not do so with regard to the four allegations he looked into.
But the Scottish Parliament committee examining the handling of harassment complaints found Ms Sturgeon misled Parliament and identified a number of failings.
A message from the Editor:
Thank you for reading this article. We're more reliant on your support than ever as the shift in consumer habits brought about by coronavirus impacts our advertisers.
If you haven't already, please consider supporting our trusted, fact-checked journalism by taking out a digital subscription.
Alex Salmond statement LIVE: Former First Minister gives public statement and holds a virtual Q&A session
Last updated: Friday, 26 March, 2021, 14:35
Alex Salmond is to make a public statement
Former First Minister will hold virtual Q&A session
Topic of statement on Friday not disclosed
(There seems to be a slight technical delay)
Salmond: "I'll stay here until all the questions are answered"
A slight technical difficulty where we can't hear the questions being asked, though Salmond can and is answering...
Alba Party is a list party - not challenging SNP in the constituencies
Salmond has reiterated he will accept the results of the inquiries and he is prepared to 'move on'.
Again said that Alba party was a 'positive movement'.
Again - the question Alex Salmond is being asked can't be heard by viewers - we'll just have to wait until he answers.
"We're saying the independence strategy should lie with the parliament."
"We think it will be fundamentally more difficult for Boris Johnson to say no to a parliament, rather than a party"
The plan is to get an independence supporting majority within parliament across more than one party.
Wings Over Scotland now asking a question - which cannot be heard by viewers.
"The strategic aim of Alba is to secure Scottish Independence"
"If Alba helps - and it is helping .. by contributing independence supporting MSP's..then that's an entirely positive thing."