Young Edinburgh aerospace engineer develops landslip radar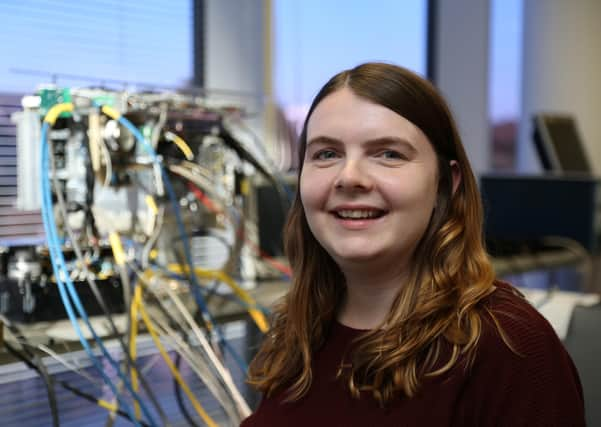 A young Edinburgh aerospace engineer has devised a radar device which could be deployed from helicopters to predict landslip and flooding risks by detecting changes in the ground.
Fiona Muirhead's research could also increase understanding of other environmental challenges such as deforestation and erosion.
The radar monitoring is seen as providing advanced warning of incidents. The development comes as repairs were completed to a landslip that had closed the Glasgow to Mallaig line at Bridge of Orchy since Monday.
The A68 near Fala in the Borders fully reopened last week after being blocked for a month by a landslip.
Extreme weather the same day caused a landslide which derailed a train with the loss of three lives near Stonehaven.
The Union Canal also burst near Polmont, damaging the main Edinburgh-Glasgow rail line, which will not re-open until Monday. The A83 Rest and Be Thankful pass remains closed after several landslips since last month.
Ms Muirhead, a principal systems engineer at aerospace engineering firm Leonardo, has worked on the project since completing a PhD in radar research for geoscience applications which the company co-funded with the University of Edinburgh.
She was awarded a fellowship by the Royal Commission for the Exhibition of 1851 – set up by Queen Victoria's husband Prince Albert – to continue her research.
That funded helicopter flights to gather data for her "synthetic aperture radar interferometry", which produces highly accurate images.
They can provide detailed measurements which are not possible from satellites.
Ms Muirhead said: "By continuously monitoring the same area with this radar, it allows you to detect signs which can indicate an incident may be about to occur.
"For example, evidence of small changes in the height of land could reveal there may be a risk of a landslide.
"Equally, relatively minor increases in water levels could be early indicators of flooding. We want to give environmental agencies the ability to take action early to safeguard not only the environment but people's well being."
A Leonardo UK spokesperson said: "What is really interesting about this work is we've been able to collect data in a number of locations and from a number of platforms for proving the principle and improving the science that Fiona has worked on.
"We're now actively exploring ways this can be used, including landslip monitoring for road and rail protection."
A spokesperson for road firm Bear Scotland, which is working on the A83 landslips, said: "We are aware of the technology and are currently investigating its usefulness in situations such as the Rest and Be Thankful.
"We and Transport Scotland work closely with Newcastle University on the monitoring of the hillside using a variety of techniques. We would be happy to speak to Fiona about her particular strand of research in this area."
A Network Rail spokesperson said: "We already use our helicopter and drones to help monitor the condition of the lineside and are actively developing a range of remote-monitoring technologies.
"We are always open to examining how new techniques can be applied to our infrastructure. Radar-based systems are among those we are currently looking at."
Comments
 0 comments
Want to join the conversation? Please or to comment on this article.