Women's cycle safety Scotland: Our Streets Our Nights mass Edinburgh night ride announced by InfraSisters campaign group
Politicians urged to join event to see hazards for themselves
Edinburgh MSPs and councillors are being urged to join a female-led night cycle ride next month to see at first hand the hazards faced by women cycling in the capital.
The Our Streets Our Nights campaign is calling for the city council to develop more well-lit routes segregated from other traffic that avoid being hemmed in by fences and walls to improve safety.
The mass ride on Friday, December 1 is the fifth to be held and follows an event on International Women's Day in March that attracted some 150 cyclists.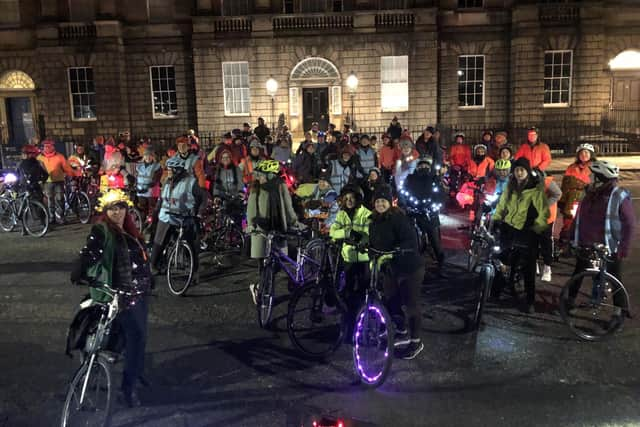 It is being organised by InfraSisters, a group of women in Edinburgh and the Lothians, who said everyone was also welcome to take part in the ride from Middle Meadow Walk at 7.30pm.
A spokesperson for the group said: "While the city council is slowly developing safe cycling infrastructure, progress is not what it should be, and many women and girls are afraid to cycle in Edinburgh, particularly in the dark.
"The off-road paths, while important for leisure rides, tend to be isolated, with few escape routes and no natural surveillance [such as high footfall].
"Many women have experienced anti-social behaviour, and some have been abused and even assaulted on these paths. On road, women and girls often face aggressive close-passing drivers, along with hazardous junctions and poor road surfaces in areas where there is no protected cycle infrastructure.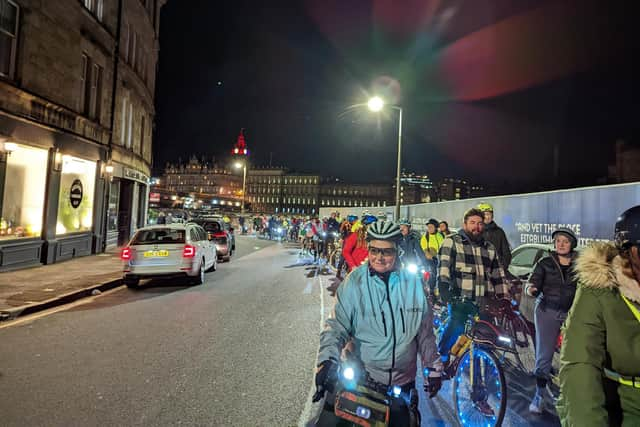 "The InfraSisters are inviting all Edinburgh councillors and MSPs to join them. Attending the ride gives politicians an important opportunity to talk to women and girls on the ride to learn about their experiences, and why there's an urgent need for cycling infrastructure that works for everyone 24/7. Many politicians have been on previous rides."
The spokesperson called on the council to follow Transport Scotland's updated Cycling by Design guidance to "prioritise safe and comfortable on-road cycle infrastructure, protected from traffic or off the road on well-lit direct routes, provide well-signed routes with exits, not fenced/ walled on both sides, and with good connections to other streets, and provide routes which use natural surveillance where possible, for example streets with high footfall".
InfraSisters is also seeking volunteers to lead feeder rides to the event for those with no safe route to The Meadows.
Cycling UK welcomed the campaign. Director of external affairs Sarah McMonagle said: "It's great that InfraSisters are raising awareness of the need for more women-friendly cycle infrastructure in Edinburgh.
"No woman should feel threatened and unsafe when out riding a bike – no matter the time of day. Cycle lanes should be on well-lit main routes through the city, not hidden away on isolated paths.
"Councils across Scotland must make the most of Scotland's record investment in active travel to install the safe cycle routes that women need to see in order to feel able to travel by bike."
Ian Maxwell, of the Lothian cycle campaign Spokes, said: "The number of women cycling in Edinburgh is growing steadily, which is a very positive sign. But the issues of safe night-time cycling and overall safety on off-road paths are still very important.
"InfraSisters is highlighting this issue while also encouraging more female cyclists in Edinburgh."
City of Edinburgh Council transport convener Scott Arthur said: "Last year, we launched a consultation on a £3 billion vision to invest in public and active transport, one of the most ambitious plans in Europe. The focus group work on this included targeted conversations with women who lived alone or travelled when it was dark.
"These groups agreed with our aim of reducing traffic cutting through the city centre. A key part of this is the regeneration of George Street, where our Get Home Safe women's safety audit has been key in highlighting potential risks and recommend ing ways to mitigate them.
"The wider consultation exercise showed overall support for the proposed expansion of the cycling network - 48 per cent of women supported this.
"Both the city centre to West Edinburgh Link and the Roseburn to canal active travel schemes are being delivered. Work is about to start on the Western Villages project on Granton Waterfront, and the West Edinburgh Link will get underway early next year.
"We will start the statutory consultation on Meadows to George Street soon, and the Lothian Road public engagement will get underway this month.
"Although this pace of change is incredible and is stretching the available staff and budget resources, there will always be those that urge us to go further and faster.
" With that in mind, I would be happy to discuss our plans with the InfraSisters and listen to their feedback. All new schemes under my tenure, however, are designed in accordance with Cycling by Design."
Comments
 0 comments
Want to join the conversation? Please or to comment on this article.