Troubled yard Ferguson Marine hails apprenticeship applications deluge amid 'most buoyant shipbuilding market for more than 40 years'
Optimism comes amid warning that yard 'at risk' without continuing executives' bonuses
The chief executive of the troubled Ferguson Marine shipyard has hailed "really positive opportunities" from the most buoyant UK shipbuilding market in decades as it was flooded with 500 applications for 15 apprenticeships.
David Tydeman is hoping to win significant further work on the Royal Navy's type 26 frigates programme, and building ships to service wind farms.
He told MSPs on Holyrood's public audit committee on Thursday the yard was also seeking contracts for patrol boats, and would pursue orders for CalMac's new generation of smaller ferries, similar to those the Port Glasgow yard has built in the past.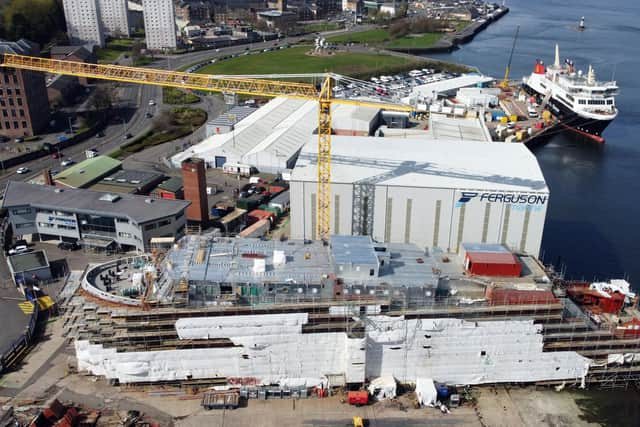 However, the optimism came as the Scottish Government-owned yard's chair Andrew Miller told the committee that unless controversial bonus payments continued to be paid to senior executives the future of the yard was "at risk".
First Minister Humza Yousaf had called for a halt to the payments, which have totalled £134,000, because work on two CalMac ferries at the yard is running five years late and three times over budget. But Mr Miller said the "retention payments" were vital in keeping key staff.
He said: "If these elements are removed, without being competitive, the future of Ferguson Marine yard is at risk."
Mr Tydeman said the number of applications for apprenticeships was "a really positive indication that people want to join the industry and want to join Ferguson Marine".
He said the UK shipbuilding was the most buoyant he had seen it in more than 40 years in the industry, "with demand exceeding capacity".
"There is more than £250 million of suitable work for Ferguson over the next five years from BAE and the Cmal [Caledonian Maritime Assets Limited, which buys ferries for CalMac] small ferry programme," he said. "This combination creates really positive opportunities for us to get back on track and be competitive."
Mr Tydeman said he hoped a framework agreement with BAE at Govan would follow a pilot project to build three units for one of the Royal Navy's new fleet of type 26 frigates, due to be completed by October.
He hoped that would be followed by "significant work" on five more frigates, which could use more than half the capacity of the yard.
Mr Tydeman said each component the yard was hoping to build weighed one third as much as the CalMac ferries Glen Sannox and hull 802 it was completing.
Preliminary designs are being made for wind farm ships after two major operators committed to have several such vessels built in Scotland, which Mr Tydeman described as a "very significant opportunity for us" from 2027 that could provide up to 15 years' work.
However, a Scottish Government-commissioned report concluded the yard needed to be three times more productive, and it is seeking funding for improvements.
These include to the flow of work through the yard, whose shortcomings have been blamed on previous managements.
Mr Tydeman said their mistakes had "embedded unrecoverable delays" to the ferries contract and was a major cause of its huge cost overrun.
Glen Sannox is due to be completed this autumn or by the end of this year at the latest, and 802 late by late summer or by the end of 2024 at the latest.
Comments
 0 comments
Want to join the conversation? Please or to comment on this article.