Travel restrictions 'likely to remain for some time' as trade-off for easing other curbs – Sturgeon
Travel restrictions are "likely to remain so for some time yet" as a trade-off for easing other Covid curbs, Nicola Sturgeon told MSPs today.
The First Minister said she hoped to be able to ease travel limits within Scotland "as we go further into the easing of lockdown", but the return towards normality would be quickened by retaining foreign travel restrictions for now.
The decision was criticised by Scotland's main airports which said it showed aviation was not a Scottish Government priority and it remained "in limbo" north of the Border in contrast to the "clear framework" for the resumption of international flights announced by Prime Minister Boris Johnson for England on Monday.
Ms Sturgeon said: "Travel restrictions are...essential and are likely to remain so for some time yet."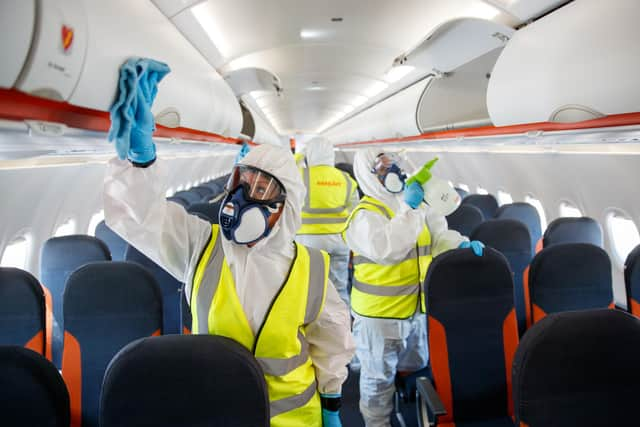 The announcement came as the Scottish Government published its new "strategic framework" for exiting the pandemic, which made only brief references to easing travel restrictions.
Ms Sturgeon said: "We saw over the summer how new cases were imported into Scotland, after the virus had almost been eliminated.
"We do not want that to happen again.
"In particular we do not want to import new variants of the virus, which could be more resistant to the vaccines that we are currently using.
"The strategic framework rightly emphasises the importance of both travel restrictions and test and protect.
"They will help us to ease restrictions safely."
Ms Sturgeon said the previous Covid restriction levels would resume from April 26 to "begin to re-open the economy and society in the more substantial way that we are all so longing for".
But she added: "It is important to stress, of course, that all of this depends on us continuing to suppress the virus now - and continuing to accept some trade-offs for a period, for example on international travel.
"However, if we do so, I am optimistic that we can make good progress in returning more normality to our lives and the economy.
"I know this is still a cautious approach which though absolutely essential to control the virus and protect health, is extremely difficult for many businesses."
The First Minister said later in answer to MSPs' questions: "I certainly hope as we go further into the easing of lockdown, one of the things we can do is ease the travel restrictions within Scotland so that loved-ones who live in different parts of the country can get together again.
"International travel restrictions I think will have to be in place for a bit longer because of the risks of variants and the fact that different parts of the world are at different stages in terms of vaccinating their populations.
"We have trade-offs that we need to make over this next period.
"The more that we accept some restriction on our ability to travel overseas, the greater normality we can get back domestically, and get that back quicker than we might otherwise be able to do."
Prime Minister Boris Johnson announced on Monday that international travel from England would resume from May 17 at the earliest.
The Scottish Government's new strategic framework stated: "We will continue to liaise with the UK Government and the other devolved administrations in the hope of being able to adopt a common four-nations approach to this issue."
All international travellers arriving in Scotland must self-isolate in a quarantine hotel for ten days but those arriving in England are only required to if coming from a "red list" country where the Covid risk is highest, such as in South America and parts of Africa.
Ms Sturgeon said there had been "constructive discussions" with the UK Government over the different approach it had taken to that of the Scottish Government and how the administrations could work together "to try to deal practically" with that.
A spokesman for Edinburgh Airport said: "We hoped we would hear some indicative dates to allow us to begin planning for some form of recovery but we are no further forward and remain in limbo.
"There does not appear to be a plan, we are unsure what data will be used to make vital decisions about our future, and the remit and membership of a task force announced two weeks ago is still to be confirmed.
"Meanwhile, further divergence will see travellers, airlines and jobs move to England.
"It seems the Scottish Government remains indifferent to Scotland's connectivity crisis."
AGS Airports, which owns Aberdeen, Glasgow and Southampton airports, said the First Minister's announcement "sends out a very worrying signal".
Chief executive Derek Provan said: "Yesterday, the Prime Minister provided a clear framework for the safe restart of international aviation.
"Today, the First Minister provided a clear message the aviation industry is not a priority for the Scottish Government.
"We received no plan or framework against which we can start plotting any form of recovery.
"This sends a very worrying signal to our airports, our airlines and the thousands of staff our sector supports.
"We find ourselves in a position where airports and airlines in England can start planning to safely reopen in time for the summer, yet in Scotland we are left with more questions than answers.
"It is now two weeks since the Scottish Government committed to setting up an aviation working group and it has still to meet.
"This lack of meaningful engagement cannot continue."
Karen Dee, chief executive of the Airport Operators Association, said: "Scottish airports are likely to struggle to attract airlines to reopen routes compared to airports in other areas of the UK and the EU where a clearer pathway to recovery is in place."
Joanne Dooey, president of the Scottish Passenger Agents' Association, which represents travel agents, said that rather than a hoped-for "glimmer of hope" in the First Minister's statement, "that door was firmly closed in our faces once more".
A message from the Editor:
Thank you for reading this article. We're more reliant on your support than ever as the shift in consumer habits brought about by coronavirus impacts our advertisers.
If you haven't already, please consider supporting our trusted, fact-checked journalism by taking out a digital subscription.
Comments
 0 comments
Want to join the conversation? Please or to comment on this article.