Trains Scotland: Passenger numbers on ScotRail services soar close to pre-Covid levels for August
​Passenger numbers using ScotRail services returned close to pre-Covid levels last month in a boost for the Scottish Government.
More than 7.7 million journeys were made with the nationalised train operator from August 1-31 – a month that coincided with Edinburgh's festivals programme.
The numbers were 89 per cent of the level recorded for the same month pre-pandemic in 2019. ScotRail said the result marked year-on-year growth of 35 per cent.
And off-peak travel on the network's trains continued to soar, last month reaching the highest level since 2015.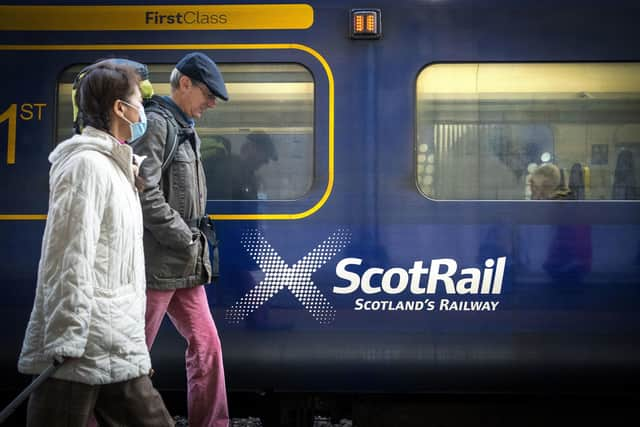 A total of 4.5 million off-peak journeys were recorded – 102 per cent of pre-pandemic levels.
The figures are a significant boost after hundreds of millions of extra pounds were invested into ScotRail to keep trains running through the pandemic when revenue fell to a low of just 8 per cent of normal levels when people were discouraged from taking public transport.
ScotRail's finances have since been further squeezed by the cost-of-living crisis.
David Simpson, ScotRail's service delivery director, said: "It's great to see such a substantial number of people choosing rail as they journey back to their everyday activities.
"These encouraging numbers are a testament to the hard work of our people in delivering a safe, reliable, and green railway. Our focus is on building on this success to encourage more people to choose Scotland's Railway as their low carbon mode of travel."
Under the grant agreement between the Scottish Government and ScotRail, fare rises, which take effect every January, are capped at the same rate as rises to the Retail Prices Index (RPI) from the previous July.
But inflation has caused the RPI to increase by almost 9 per cent, meaning this could be passed on to ScotRail users.
The Scottish Government, however, is expected to announce the findings of its fair fares review before the end of this year, with a trial scrapping of peak train tickets starting in October.
Scottish Lib Dem leader Alex Cole-Hamilton said: "These figures will mean that hardworking commuters and all those travelling around the country will be clobbered by steep fare rises unless the Scottish Government takes action.
"Jacking up rail fares does nothing to encourage people on to public transport and makes hitting our key climate and emissions targets even harder.
"The Scottish Government's response to the cost-of-living crisis has been utterly miserable. Control of rail fares is within the power of the Scottish Government.
"They must immediately announce a rail fare freeze and introduce long-term ticketing solutions to encourage people to rely on rail travel, backed by trains that run on time. Scottish Liberal Democrats want to see fares cut, new options for flexible season tickets and for the government to work with councils to explore new lines, particularly in areas that suffer from poor public transport links."
Comments
 0 comments
Want to join the conversation? Please or to comment on this article.