Strike ballot threat after RMT rejects ScotRail pay offer
Members of ScotRail's main union have rejected a 5 per cent pay offer on Thursday and threatened a strike ballot if the train operator does not improve the deal.
Train crew, station staff and other workers in the Rail, Maritime and Transport union (RMT) voted by 60 per cent to 40 per cent against the offer, which is largely similar to the one accepted by the drivers' union Aslef last month.
The move will come as a major setback to ScotRail, which had expressed confidence the offer would be accepted.
It comes just weeks after two months of major disruption caused by train drivers not volunteering for overtime during their dispute.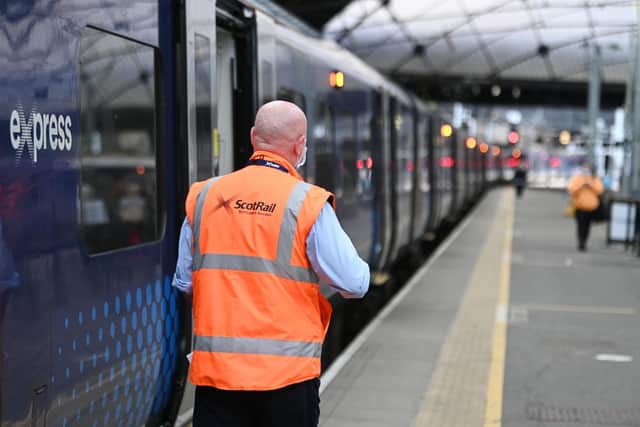 The RMT said said 65 per cent of its 2,500 ScotRail staff had voted, who also include engineers and cleaners.
Scottish organiser Mick Hogg said: "I am under instruction to meet the company and see what it is prepared to offer.
"If that is not acceptable, there will be a ballot for industrial action."
The meeting is expected to be next week.
Any ballot for industrial action is likely to take several weeks to organise, with the union required to give two weeks' notice of a walkout, so any official action is unlikely to affect trains during the Edinburgh Festival.
There is the potential for disruption in the interim if RMT train conductors decide not to volunteer for overtime.
However, a ScotRail source said there was limited scope for such unofficial action because few "rest days" were being worked by such staff.
Trains cannot run on services where conductors control the doors, which include most routes outside the Glasgow area.
The RMT dispute with ScotRail is separate to the union's pay row with Network Rail and other train operators.
Further strikes have been called for August 18 and 20.
The RMT had recommended rejection of the ScotRail deal because it included the "introduction of technology without an agreement".
However, Hogg said he would be looking for an improvement in the pay offer as well.
Head of customer operations Phil Campbell had predicted in June: "We are confident that the members will support this strong offer."
He said on Thursday: "It is incredibly disappointing that RMT members have voted against this offer.
"The offer made to general grade staff is a strong one and recognises the cost-of-living challenges faced by families across the country, as well as delivering good value for the
"The deal on offer recognises the hard work of staff while conscious of the financial challenges faced by the railway as we look to recover from the pandemic."
Scottish Labour transport spokesperson Neil Bibby said: "ScotRail is only just back on track after months of chaos at the hands of the SNP, and now we are on the brink of more disruption.
"It is disgraceful that the frontline workers who kept trains running through the pandemic are being forced to consider strike action to defend their conditions during a cost of living crisis."
Scottish Tories shadow transport minister Graham Simpson said: "The whole of the UK is being held to ransom by a militant union that would rather cause disruption than get round the negotiating table and be part of the solution.
"We have already had several days of disruptive strikes, and more of this selfish and cynical action will only hurt ordinary travellers and small businesses even further.
"However, with [transport minister] Jenny Gilruth more interested in grievance-mongering with the UK transport minister, and the SNP's own MPs joining RMT on the picket lines, the Nationalists have little hope of convincing the union to compromise."
A Transport Scotland spokesperson said: "Any continued industrial action will undoubtedly have negative impacts on passengers which, in turn, has further implications for rail finances."
Comments
 0 comments
Want to join the conversation? Please or to comment on this article.