National ferry operator CalMac has announced updates to routes across its network and apologised to customers for the disruption.
It said ongoing delays in dry dock and technical issues affecting several major vessels means it has had to impose changes to ensure services continue to be delivered.
CalMac said services between Mallaig/Oban and Lochboisdale on South Uist will be cancelled between April 5 and May 13.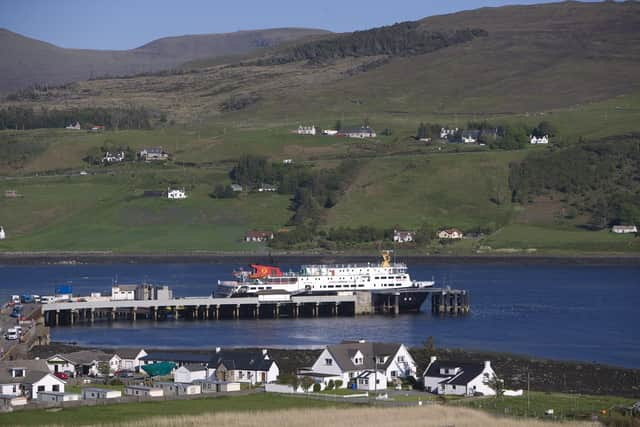 This is due to the need to redeploy vessels elsewhere on the network while it continues to manage the delays experienced in vessel overhaul and additional technical issues within the fleet.
Additional daily services to the Sound of Barra will be available to provide a connection for Uist traffic.
Robbie Drummond, chief executive of CalMac, said: "Our service continues to be affected by delays to the annual overhaul schedule and its subsequent impact on vessel deployment.
"With no spare vessels, it is a challenging period for our customers, and we apologise for the disruption this is causing, particularly at the start of the tourist season.
"We are focused on returning those vessels which have required extended repairs back to service as soon as possible and returning to a normal service as quickly as we can.
"We will continue to work with community representatives and will keep customers informed of any developments."
Mr Drummond warned earlier this month the next one or two years "will be challenging" due to the age of the country's fleet.
There are four ferries being built in Turkey, along with the Glen Sannox and the as-yet-unnamed hull 802, which have faced major delays and cost overruns during construction at the Scottish Government-owned Ferguson Marine shipyard in Port Glasgow.
People travelling to and from Arran are among those who have faced disruption due to the ageing ferry fleet and the need for maintenance and repairs.
The ferry operator said MV Caledonian Isles, which normally operates the route from Ardrossan to Brodick, is expected to return to service from April 13 operating a single vessel timetable.
The service is scheduled to return to a two-vessel, summer timetable from May 5, with the Caledonian Isles and Isle of Arran ships.
Elsewhere, Finlaggan, which is currently operating a single vessel timetable between Islay and Kennacraig, will depart on April 9 to undergo her delayed overhaul period.
A two-vessel service will operate between Islay-Kennacraig from April 9 to April 13, using Isle of Mull and Hebridean Isles.
Isle of Arran and Hebridean Isles will then be scheduled to run a two-vessel service from April 14 to May 3.
From May 4, MV Finlaggan will re-enter service, and together with the MV Hebridean Isles will operate the full summer timetable from that date.
MV Hebridean Isles has re-entered dry dock in Birkenhead after last week's sea trials which identified a rudder fault, and will be deployed to the Islay service once trials are successfully completed.
A Transport Scotland spokesman said: "We share the desires of island communities for sustainable and effective ferry services and look forward to continuing our constructive engagement with them on future services and vessel replacements."
Other routes affected by updates include Coll and Tiree services, Uig-Lochmaddy/Uig-Tarbert services, Colonsay routes and the Small Isles services.