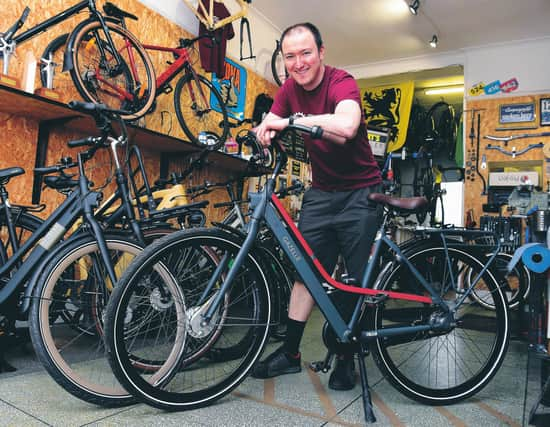 Stores have capitalised on both being allowed to stay open during the Covid crisis and the major increase in cycling fuelled by quieter streets.
Families have kitted themselves out with bikes for the first time to add a new dimension to their exercise.
Some shops have sold out of all but high-end models and been forced to introduce an appointments system.
Graeme Hart, owner of Hart's Cyclery in the Corstorphine area of Edinburgh, said: "I've never sold so many bikes. The bike trade has never seen anything like this.
"It's even more bonkers than the oil crisis.
"I can still get some stock from Europe, but UK suppliers are basically sold out of bikes below £600.
One of my brands sold out below £1,000."
In Glasgow, Bob Mclean of Bike Chain in Whiteinch said it was so busy a customer was helping out and another was building bikes in his garage "just to try to keep up".
He said: "It is like nothing we have ever seen in the bike trade. It's amazing that the country credited with inventing the modern bicycle has so many people who just found out about bikes, and it's not just the cheaper bikes that are selling.
"We have maybe five bikes left for sale, except for kids' and electric bikes, and even they are getting thin on the ground.
"So it's happy days – just need ten pairs of hands and a bigger shop."
Halfords, the UK's biggest bike retailer, is also running short. Its spokesperson said: "With many looking to cycling as an alternative method to public transport and as a way of keeping fit, we're facing unprecedented demand.
"In some instances, we've sold out of models, but we'd like to assure customers more stock is on its way and will be available online and in store shortly."
Xanthe O'Brien faced long queues in Edinburgh while trying to buy bikes for her daughters Flora, 14, and Josie, 12.
She said: "They both had their birthdays in lockdown and I thought a bike would be a good present – especially as cycling was one of the few activities still permitted.
"First I went to Halfords, but they said they had very few bikes in store because there had been such high demand.
"They said it was still possible to order them online, but they were no longer building bikes.
"Then a friend recommended BG Cycles in Portobello. When I went there they had large queues outside – it seemed like everyone was suddenly wanting bikes.
"They told me the same as Halfords – that demand was very high and there weren't many bikes available throughout Scotland.
"They didn't have much choice but luckily did have two bikes that were suitable."
David Lonsdale, director of the Scottish Retail Consortium, said: "Non-food retail has been thwacked hard by the onslaught of coronavirus.
"Bicycle retailers and repairers have been one of the few bright spots, performing well, alongside sports and leisurewear."