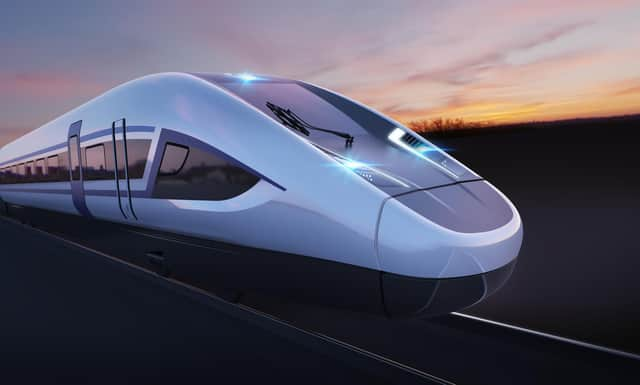 HS2 trains would cut Scotland-London journeys to three hours 38 minutes but Transport Scotland wants them reduced to three hours. Picture: Siemens/PA Wire
The Transport Scotland agency has called for faster action following a deal between Scottish and UK ministers four years ago to cut Edinburgh and Glasgow to London journeys by a quarter from the current four hours 20-30 minutes.
HS2 alone would only trim the time to three hours 38 minutes once the second phase of the 250mph line is completed between London and Manchester/Wigan and Leeds/York by 2035-40.
Under current plans, trains would run on to the Scottish cities on the east and west coast main lines.
A deal to work towards three hour Scotland-London journeys was agreed in 2016 between then infrastructure secretary Keith Brown and UK Government rail minister Robert Goodwill. Picture: Julie Bull
However, the three-hour deal would see a new high-speed line built between the outskirts of Newcastle and Edinburgh, halving journeys between the cities to 45 minutes.
A new line could be built between Abington or Carstairs in South Lanarkshire and the edge of Glasgow, reducing London-Glasgow journeys to three hours ten minutes.
Transport Scotland said that would make rail competitive with air and could persuade 75 per cent of passengers to switch – the equivalent of 4.4 million journeys last year.
That would help the Scottish Government meet its commitment of net zero transport emissions within the next 15 years.
How the revamped Euston Station at the London end of HS2 is expected to look. Picture: HS2 Ltd/Grimshaw Architects
It said flights between Scotland and London produced 16 times the carbon dioxide emissions as high-speed trains, which are also less polluting than current trains because they had less need to accelerate and brake on their straighter, dedicated tracks.
Transport Scotland high speed rail project manager Alastair Young said: "The HS2 phase two journey time of between three hours 38 minutes and three hours 50 minutes is very welcome and will bring a significant boost to economic fortunes, but it still falls well short of the three hour rail journey time we need between London and central Scotland to really compete with airlines."
He told a webinar organised by the High Speed Rail Group campaign body: "Transport Scotland, the [UK] Department for Transport and Network Rail have identified options which are technically and environmentally feasible that would significantly increase the capacity in the northern sections of these two key Anglo-Scottish routes [the east and west coast main lines].
"In conjunction with HS2, [they] would give a three hour journey time between Edinburgh and London and potential for a three hour 10 minute journey time between London and Glasgow."
Construction work on HS2 formally got underway this year. Picture: HS2 Ltd/Middleton Mann
Mr Young said they would be submitted to the UK Government's Union connectivity review, which is examining potential transport improvements between the UK nations.
He said: "We would like the UK and Scottish Government to work together to take these schemes forward in parallel with HS2 development because the economic disadvantage of waiting until the 2040s before that comes to the north of England and Scotland would not be good for connectivity or competition.
"That could increase the peripherality of the north of England and Scotland."
The official said without such schemes, Scotland would be disadvantaged.
Mr Young said: "While the benefits Scotland will get from HS2 are very much welcome and the Scottish Government has consistently supported HS2, without similar investment in the north of England and Scotland that will provide disproportionate benefits to the south of England, as the capacity released on the existing lines will give an amazing boost to local services and increased freight, in addition to the reduced journey times.
"There are concerns the already-congested west coast main line will be even more congested with the advent of high speed rail services running to Scotland.
"That's why the north of England and Scotland really needs urgent investment to increase the capacity."
High Speed Rail Group director Jim Steer shared the concerns.
He said: "The Union connectivity work really has to take up examining the whole geography north of Manchester and Leeds.
"HS2 brings capacity gains south of these cities by providing new infrastructure, but the opposite to their north – it adds new services onto existing busy lines."
Scotland Office minister Iain Stewart told the webinar he saw high speed rail as a "central part" of the connectivity review, to cut emissions by encouraging a switch from planes to trains.
He said: "I am very much committed to having Scotland realise the maximum benefits from HS2, which will deliver significant journey time savings on services to Scotland and extra capacity.
"I am also keen to look at how we do further work to realise the full benefits, both in terms of upgrades to the existing west coast main line, whether that's upgrading signalling or putting in extra passing loops, through to longer-term ambitions about new stretches of track potentially in the future."
A UK Government spokesperson said: "HS2 will be an integral part of levelling up the UK, boosting productivity and improving connections between our biggest cities – including Edinburgh and Glasgow.
"As well as significantly increasing capacity on our rail lines, it will provide a low-carbon alternative to cars and planes for many decades to come.
"We have been explicit in our commitment to Phase 2b of the project [to Manchester/Wigan and Leeds], and our integrated rail plan will ensure to make sure the benefits of the project are delivered as quickly and efficiently as possible.
"The Union connectivity review is also engaging with the Scottish Government, as well as transport operators, businesses and academia, with a shared focus on improving connectivity for people all across the UK, and of course HS2 connectivity between Scotland and England will be a major focus."
A message from the Editor:
Thank you for reading this article.
We're more reliant on your support than ever as the shift in consumer habits brought about by coronavirus impacts our advertisers.
If you haven't already, please consider supporting our trusted, fact-checked journalism by taking out a digital subscription.