The Irish budget carrier is powering ahead after faring much better than many of its competitors during the Covid pandemic, with Edinburgh now one of the biggest bases in its European network, with more than 330 staff and an 11th aircraft being added this summer.
That will contribute to the total number of available seats increasing from three million to 3.5m, with the number of passengers being carried over the next 12 months expected to reach 4.7m.
Marketing director Dara Brady told Future Flight, The Scotsman's series on Scottish aviation development, the airport was benefiting from the Scottish capital's "very strong" appeal to visitors, along with Scots' resurgent post-pandemic appetite for travel.
Last summer, Ryanair surpassed EasyJet as Edinburgh's biggest airline, with its base at the airport now among the top 20 of its 90 across Europe. The airline's routes from the airport this summer will increase by four on a year ago to 69, including through destinations launched during the winter continuing year round.
Meantime, at Prestwick, where Ryanair started its Scottish growth nearly 30 years ago before shrinking to just five routes in 2019, the total will increase to 11 this summer, where two of its aircraft are based.
The airline's second largest maintenance centre after Dublin is also expanding at the South Ayrshire airport, where Mr Brady said it was "recruiting heavily" to add around 45 jobs.
Glasgow, where Ryanair cut its routes from 23 to three in 2019 when expansion was switched to Edinburgh, will have seven this summer, with a further three at Aberdeen.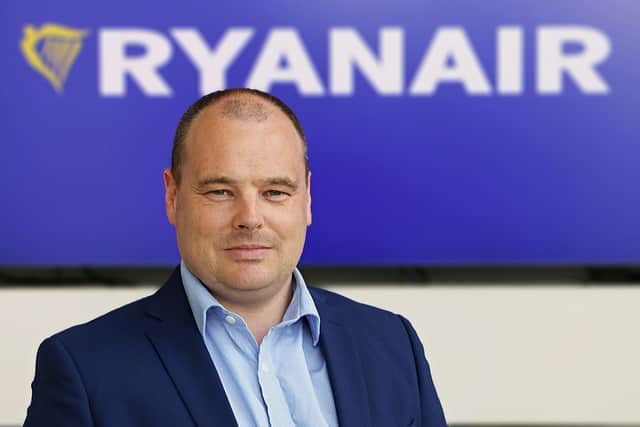 Mr Brady said: "We have seen a real appetite for travel, with people booking early for Easter and the summer. There is a tendency for people to not give up their week in the sun, and our business tends to do better in recessionary times."
Further Scottish expansion is likely since Ryanair has still to receive more than half its current order of 210 new aircraft from Boeing.
Mr Brady said: "We are one of the few airlines still growing. Last year, British Airways and EasyJet cancelled flights and airports like Heathrow and Manchester struggled, but Ryanair was very operationally resilient and people have migrated to us.
"We have a long-term deal with Edinburgh as long as the airport remains competitive. Edinburgh is fortunate in having a very strong inbound market – it's always been a hugely popular city break – while Scots have a strong appetite for travel. It's not as easy elsewhere."

Routes which could be expanded further include to Stansted, which was "building nicely" after flights resumed in October following a gap of three years, and had "loads of opportunity", Mr Brady said.
But in an off-repeated Ryanair call, he added: "The UK Government has halved air passenger duty [to £6.50 per passenger from April on flights within the UK] and we have responded with more domestic [UK] flights. If it went further, it would be a shot in the arm and make the UK more competitive."