170 animals were hit by vehicles last year in and around the city.
Perth was the only place in Scotland to make the top 10 list with the rest of the most dangerous places for wildlife situated in England.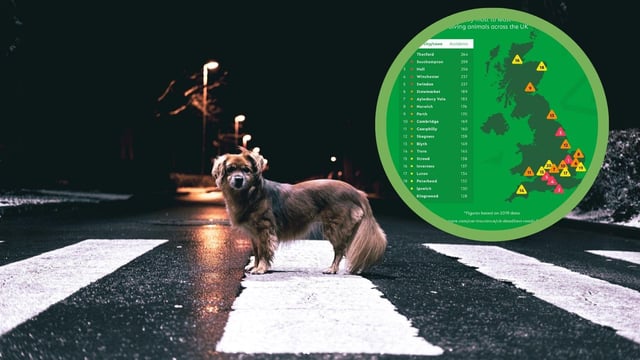 A recent survey shows that Perth is in the the top ten for places in the UK with the most roadkill (Photo: GoCompare).
Inverness came 16th on the list, with 137 animal deaths happening on its roads last year and Peterhead came in 18th place with 132 animal roadkill deaths.
Thetford in England took the top place with 264 animals hit by vehicles last year.
The south of England saw the most cases of animal collisions in Britain on their roads.
The study revealed that 14,649 reported animal roadkill deaths occurred across the whole of the UK last year with 3,519 of these occurring in July alone.
Map showing where the most roadkill accidents occurred across the UK (Photo: GOCompare).
On average, six badgers, five hedgehogs and five pheasants are hit each day on UK roads.
The UK's longest road, the A1, had the highest percentage of roadkill reported. 7.65% of wildlife road collisions took place on this road that runs across the country from London to Edinburgh - with the most commonly hit animal on the A1 being a deer.
This was closely followed by the M6. This hotspot accounts for 7.24% of UK roadkill.
The A1(M) came in third at 6.94%.
The ten 'worst' roads for incidents involving animals (Photo: GoCompare).
Ryan Fulthorpe from GoCompare said: "It is important to raise awareness of the issues associated with animals on the roads as it can be distressing if you are involved in a collision, so knowing what to do will help if you are in this situation.
"Under the Road Traffic Act, you need to report any accidents involving dogs, horses, cattle (cows), pigs, goats, sheep, donkeys and mules.
"When driving, look out for road signs that alert you to areas with large animal populations and take extra care when driving at dawn and dusk, due to reduced visibility and wild animals (like deer) being more active during these times.
"Stay alert and change your speed accordingly. At night it is important you use your headlights in the correct way to increase the visibility of any wildlife on the road. Be extra vigilant on country roads."
Badgers, pheasants and hedgehogs were among those most commonly involved in accidents on Britain's roads with the data revealing a shocking 6 badgers, 5 pheasants and 5 hedgehogs are reported to be killed each day (Photo: GoCompare).
"The summer months are especially prone to more animals being hit on UK roads. This is due to wildlife being more active, but also us humans.
"With inbound travel predicted to be larger than ever this year from staycations, and animals being used to quieter roads due to lockdown, we should be extra cautious of wildlife on the road this summer."
"Hitting any animal can be a traumatic experience for any driver. Make sure you are aware of the rules to follow. Dogs and farm animals are legally required to be reported if they are involved in the collision, dead or injured."
A message from the Editor:Thank you for reading this article. We're more reliant on your support than ever as the shift in consumer habits brought about by Coronavirus impacts our advertisers.
If you haven't already, please consider supporting our trusted, fact-checked journalism by taking out a digital subscription.