Record £80,000 roadworks fine in Scotland for Virgin Media after maximum penalty doubled
Broadband firm sanctioned by Scottish Road Works Commissioner as such schemes reach new peak
A new record fine for botched roadworks has been imposed on Virgin Media by the Scottish Road Works Commissioner as he underlined the importance of minimising disruption to pedestrians and drivers as such work reached a new high.
The £80,000 penalty is the first of its size since the maximum fine was doubled from £50,000 to £100,000 last year. Commissioner Kevin Hamilton said the broadband firm had failed to properly repair roads and pavements after digging them up.
It is the third time the company has been fined, following a £16,000 penalty after checks in 2015/16 and £34,000 from 2019/20.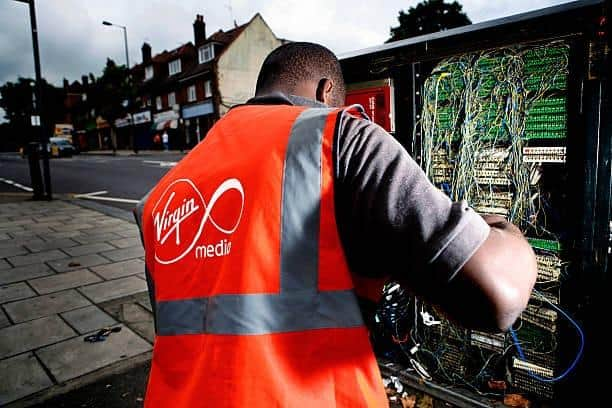 Among other firms fined by the commissioner this month were Last Mile Electricity and Vodaphone (£15,000 each) and Scottish Hydro Electric Power Distribution (£12,000).
These followed the latest Scotland-wide survey of the quality of road reinstatements after roadworks by such utility companies, which is known as the national coring programme.
It also comes as the scale of broadband installation fuelled an increase in the number of roadworks in Scotland to a new high of 150,000 last year.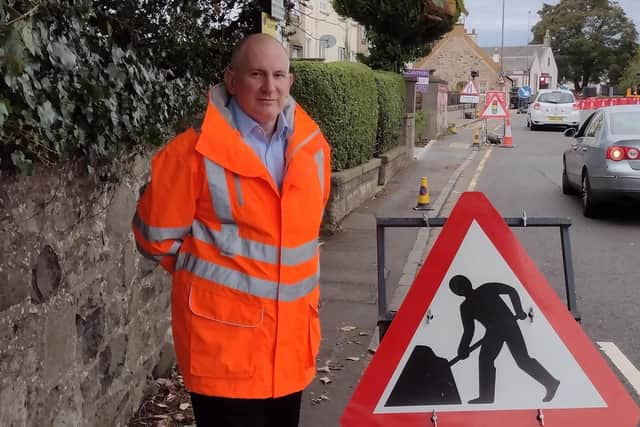 That was up 7 per cent on 2021 and compares to around 130,000 before the Covid pandemic. Three quarters of the works are by utility companies and 60 per cent are on pavements.
Installation of new electric vehicle chargers, power for heat pumps and improvements to the electricity grid are expected to further increase the number.
This has led to them being responsible for an estimated 9 per cent of the UK's total carbon dioxide emissions, including because of the number of van trips and volume of materials involved.
Mr Hamilton told The Scotsman: "This is the third time that Virgin Media has been penalised for failing to meet the required quality standards in the national coring programme. In this latest survey, only 82 per cent of Virgin Media reinstatements passed the inspection against a target of 90 per cent.
"Virgin Media undertook over 6,000 road works in Scotland last year, and given the potential damage and disruption when reinstatements fail, I felt it was necessary to impose a penalty at the top end of the scale.
"However, I did note that Virgin Media's performance had improved since the previous survey and I am sure that this penalty will reinforce the message that poor performance is unacceptable. I look forward to seeing improved results in the next coring programme."
The company will now be required to submit its own surveys of reinstatement works.
Mr Hamilton said the pass rate in the national coring programme had increased steadily over the past two decades, from 44 per cent in 2001/02 to 90 per cent, with fines imposed by commissioners since the first was appointed in 2005 to improve the planning, co-ordination and quality of roadworks.
He said: "When utility companies dig up roads and pavements, by law they have to return them to an acceptable standard. Whilst it's disappointing that a small number of companies have failed to meet quality standards, overall I'm pleased that evidence shows there has been an improvement across the industry.
"Every time a utility company gets it wrong and has to go back and fix it, it leads to more inconvenience and disruption for all of us. These companies have assured me they'll do better in the future and I hope these fines serve as a warning to others."
Virgin Media pledged to improve its roadworks reinstatements and said it had been let down by its contractors at some sites.
The company's spokesperson said: "We're committed to ensuring our works are always carried out to the highest standard and we're disappointed our contractors fell short in some locations.
"We're working with our contractors and local authorities to ensure we meet the required standards in future as we continue expanding our ultrafast network to reach more homes and businesses across Scotland."
The IAM RoadSmart motoring group welcomed the latest higher fine. Its Scotland-based policy adviser Neil Greig said: "This is great news as at last we are seeing a substantial fine for behaviour that actually affects drivers' experience on Scottish roads.
"In the past, fines for administrative issues such as record-keeping failures have had little impact on road users. By targeting poor reinstatements, we should see fewer roadworks overall as utilities will not have to return again and again to fix potholes.
"We agree that roadworks create far too much emissions due to stop-start motoring and delays. It's up to the commissioner himself to prove that what he is doing is actually making a difference."
The commissioner said action was required to cut emissions too. He said: "Roadworks are carbon intensive and we need to do something about that. Major works, the big jobs, seem to be a big chunk of it, so they're a focus. The use of vans and pick-up trucks, darting about delivering materials and people to and from the sites, is also a big chunk of it.
"The ways of working can be revised to reduce the use of these vehicles, and the vehicles themselves could be decarbonised [switched from petrol and diesel]. So there are things the industry could do in a relatively short period of time to address some of those emissions, but there's no doubt there's a lot of work to be done to decarbonise the sector.
"The materials used such as concrete are very carbon intensive, and black top and asphalt are based on fossil fuels. So we are a long way from having carbon-neutral building materials, and that's going to have to be a focus in time."
Comments
 0 comments
Want to join the conversation? Please or to comment on this article.