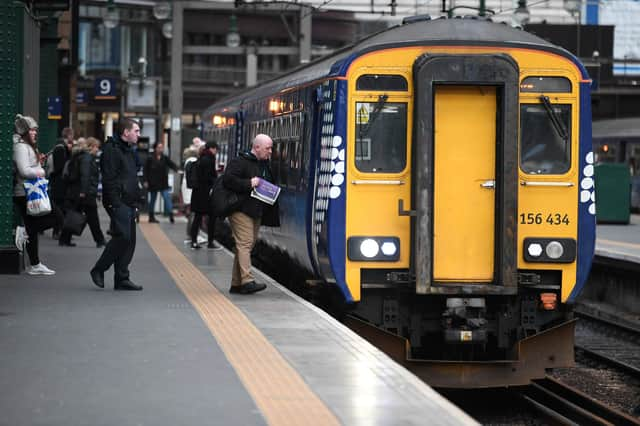 Campaigners want all Scottish stations fully accessible within ten years.
The disparity comes despite campaigners highlighting that stations north of the Border are lagging behind in offering step-free access.
Anderston in Glasgow city centre, which has steps down to the platforms, was also one of only three Scottish stations put forward for a slice of the £20 million Department for Transport (DfT) funding.
The two unnamed others were knocked back due to lack of "match funding" from other bodies or full costs details.
The DfT said the grants would make a "huge difference to disabled people".
The Scottish Government said it was "disappointed" and called for control of access to public transport, which is in the hands of Westminster.
Disability group Leonard Cheshire has said 47 per cent of stations north of the Border are only accessible by steps compared to 38 per cent across Britain.
The body has called for a legally-binding guarantee from the UK government that every Scottish station will be fully accessible by 2030.
Stuart Robertson, its Scotland director, said: "While we welcome this additional funding, it represents a drop in the ocean and needs to be seen in the context of disabled people's lives being blighted by inaccessible stations.
"There must be a transformational change to ensure our railway network serves the needs of all passengers."
A spokesperson for the Scottish Government's Transport Scotland agency said: "While we welcome the additional funding for Anderston, we are disappointed for the Scottish applicants not successful.
"Accessibility on public transport is a reserved matter, and we continue to call for this issue to be fully devolved."
The DfT said the latest funding was for improvements such as ramps, accessible toilets and customer information screens.
Its spokesperson said: "Successful projects were selected based on a range of criteria including relevance to disabled passengers, value for money, project credibility, and the availability of third party funding.
"We received three nominations for projects in Scotland, with Anderston meeting the criteria outlined above. The two other bids were not able to provide match funding."