Online shoppers must 'wean themselves off' next-day deliveries to cut emissions – Edinburgh transport leader Scott Arthur
Labour councillor said fast deliveries are inefficient but Amazon said that was a misconception
Consumers must "wean themselves off" free next-day deliveries to reduce the environmental impact of online shopping, Edinburgh's transport leader has urged.
Scott Arthur said internet firms rushing to get goods to customers within hours of orders being placed was inefficient and generated extra trips.
Sustainable transport campaigners said such deliveries had caused large increases in emissions, but online giant Amazon said that was a "misconception".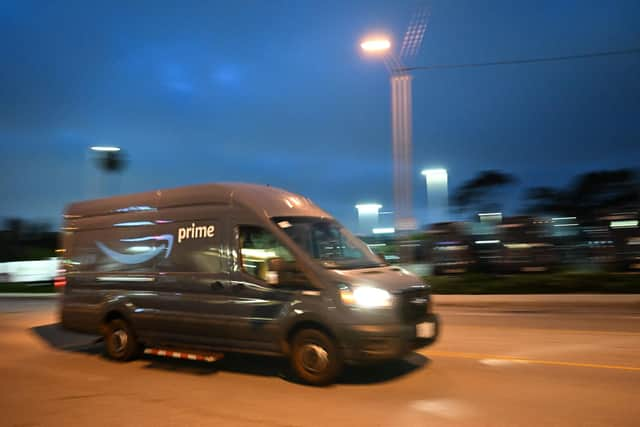 Mr Arthur, the City of Edinburgh Council's Labour transport convener, told a Transport Smart Class event in the capital: "As a society generally, we need to wean ourselves off free next-day delivery. I use Amazon, but I try not to go for the next day option because it's so inefficient.
"People have stuck with home shopping habits, but we get a lot of complaints about van drivers and it also has an impact on our recycling service because our cardboard collection bins are filling up, particularly in communal areas."
He told The Scotsman after his presentation: "You buy something online and you expect free next-day delivery, which puts huge pressure on local companies and couriers to get the stuff delivered on time. It doesn't seem to be the most efficient way to be moving goods around.
"If, as consumers, we thought a bit more about whether we actually needed it the next day, it would be cheaper for the company to provide and more efficient.
"If we're more flexible about the delivery, it means they're not rushing things around quite so much to get it to you in time. Most things you don't actually need the next day."
Online shopping in Britain has increased from around 5 per cent of total retail sales 15 years ago to a peak of nearly 40 per cent during Covid in 2020, according to the Office for National Statistics. It has since fallen back, to around 25 per cent in July this year, but is still higher than pre-pandemic.
Claire Daly, head of policy for cycling, walking and wheeling charity Sustrans Scotland, said: "If we are serious about decarbonisation of transport logistics, next-day deliveries are particularly inefficient approach.
"Likewise, from a road safety perspective, we are concerned that undue time pressure being put on van drivers could lead to them taking risks that endanger people walking, wheeling and cycling, whether through pavement parking, speeding, or rat-running in residential areas where there may be children playing or people on foot or bikes."
Sustainable transport alliance Transform Scotland called for a faster switch to zero-emission delivery vehicles to stem increasing emissions. Director Colin Howden said:"The biggest growth in vehicle traffic in recent decades has due to the increase in vans.
"So while people may like their next-day deliveries from Amazon, little has been done to consider tackling the large increases in emissions that has resulted.
"We need to to speed up progress in moving the van fleet from fossil fuels to electric, as progress has been slow here. But action can also be taken to move some 'last mile deliveries' from vans to electric cargo bikes and other lower-impact options, in particular in congested urban areas."
Daisy Narayanan, head of placemaking and mobility at the City of Edinburgh Council, told the Smart Class event there was an increasing use of e-cargo bikes for last-mile deliveries, which she described as "brilliant".
However, Mr Arthur was sceptical about their adoption by Amazon, which last week announced an e-cargo bike delivery hub in Glasgow. He said: "Is this a genuine activity for them or is it just about greenwashing. It's a great start but is there more they can do."
Amazon said it made some 2.5 million deliveries a year in the UK by "sustainable methods of transport" such as e-cargo bikes and on foot. However, it declined to say what proportion of its total deliveries they accounted for.
Its spokesperson said: "The belief that fast deliveries result in higher emission levels is a misconception. Independent studies confirm fast delivery, like next day, can often be made with lower carbon emissions than slower deliveries if products are stored closer to the customer and are delivered by electric vans and e-cargo bikes.
"We use increasingly advanced machine learning algorithms to predict which items customers want and when, and we store those products close to customers to reduce the distance travelled and help reduce delivery emissions.
"Last week, we also announced the expansion of our electric cargo bike fleet into Scotland for the first time, with a new Glasgow delivery hub based in Baillieston, as part of our £300 million investment to electrify and further decarbonise our transportation network over the coming years."
It also operates three such hubs in London and one in Manchester and has 1,000 electric vans and nine electric lorries.
Transport minister Fiona Hyslop, who is tasked with the Scottish Government's target of vehicle travel by 20 per cent by 2030, said: "I hope that many more organisations consider the benefits of active travel to deliver goods and services."
The Scottish Retail Consortium said 34 per cent of non-food items were bought online but that had continued to decline since increasing during the Covid pandemic.
Director David Lonsdale said: "Retailers are aware that there are environmental implications for some delivery options valued by customers and are actively working to encourage alternatives.
"There will be legitimate cases for next day or fast deliveries, for example perishable items, however retailers increasingly encourage customers to make use of delivery slots when there are already deliveries in their area or community locker systems which can minimise transport miles.
"Most retailers already charge a premium for next day delivery services."
Comments
 0 comments
Want to join the conversation? Please or to comment on this article.