There wasn't much to see, but the driver taking his hands off the wheel of the full-size bus as it carried passengers across the Forth Road Bridge could be a key milestone in the development of road travel.
For now, "safety drivers" will remain in the cabs of these ground-breaking autonomous buses, their hands poised inches from the wheel, if not on it, while in self-driving mode, which will be for most of the 14-mile pre-set route between Fife and Edinburgh.
Taking a test trip over the bridge and back on Thursday, the only other sign the bus was piloting itself was an audible bleep as it went into, and then out of, that mode.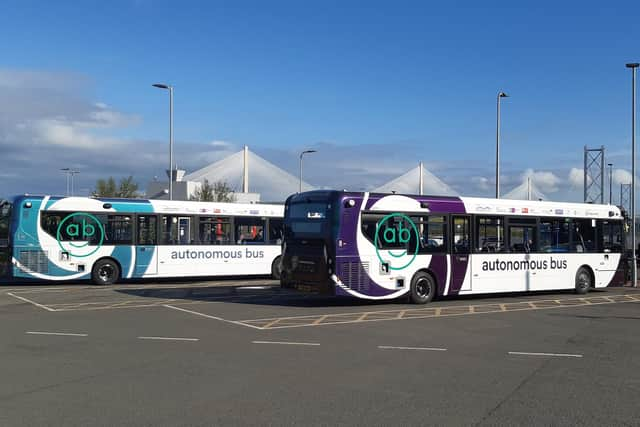 For the purposes of the preview, we were only driven autonomously over the crossing itself. But from Monday, passengers should get the full experience with a computer in control for all but the very ends of the route at the Ferrytoll park and ride site, near the north end of the bridge, and Edinburgh Park, just inside the western section of the City Bypass.
That meant I only observed small movements in the steering wheel, in contrast to the rapid and somewhat disconcerting spinning on a prototype model four years ago as it made tight turns round a car park at the Scottish Event Campus during a trade show.
My test run was also over an empty stretch of road – buses are virtually the only vehicles to use the bridge anyway – so I did not see how the vehicle handled in autonomous mode amongst other traffic.
But for all the limited novelty of my trip, deployment of the technology does represent a potential milestone because of where it might lead.
It could mean drivers no longer needing to remain behind the wheel, but remaining on the bus as an emergency back-up while switching to a role more akin to that of the bus conductor of the past – helping passengers and checking tickets.
Fusion Processing, which provided the autonomous kit, even sees it as the future saviour of lesser-used rural bus services – once vehicles become fully self-driving with no need for any staff on board. Whether passengers will ever countenance that is another matter.