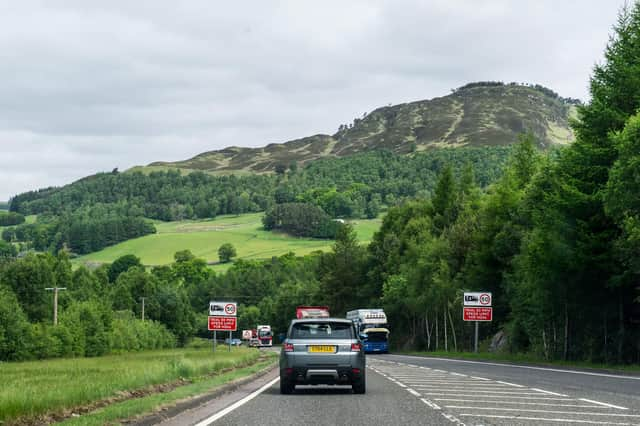 A total of 11 sections of the A9 between Inverness and Perth are due to be dualled by 2025. Picture: John Devlin
Ms Sturgeon failed to confirm the date after being asked twice at First Minister's Questions by Highlands Conservative MSP Jamie Halcro Johnston.
The second of 11 stretches of the A9 to be dualled as part of the project is due to be completed next winter.
The Scotsman also reported that a separate £3bn scheme to dual the A96 between Inverness and Aberdeen by 2030 could be downsized.
Ministers' infrastructure investment plan in 2015 stated: "The Scottish Government has given a commitment to complete to dual the A9 between Perth and Inverness by 2025."
However, the latest version, published last week, described the scheme as "phased dualling" with no completion date listed.
The First Minister said today of the A9 scheme: "The design and development processes have been protracted, obviously, by the impact of Covid, but also quite rightly in ensuring that the statutory process concludes with local communities having their say, and any objections, as far as possible, being resolved.
"Design work is also underway in dualling the A96.
"This is a very significant undertaking which requires very careful in-depth planning and design to ensure we deliver the right schemes and keep the impact on the environment to the minimum.
"Once the statutory process concludes, a timetable for progress can be set."
Mr Halcro Johnston replied: "The pledges to complete work by 2025 and 2030 for the A9 and the A96 respectively have been described as ambitious, and of the 11 sections of road under the A9 programme which started in 2011, only one has been completed so far with only one other even under construction.
"None of the work on the A96 has started.
"These projects are vital for communities both for accessibility and for safety.
"So will the First Minister again reassure my constituents that the Scottish Government is committed to completing both projects in full and within the original target timescales, and will she commit to providing delivery timescales for the remaining sections of the A9 and for the A96?"
Ms Sturgeon responded: "I agree the proposals are ambitious.
"I'll ask the transport secretary [Michael Matheson] to write in more detail setting out the future projections.
"With projects like this, there are complex and, as everybody knows, at times lengthy planning and statutory processes that have to be undertaken, not least because it is really important local residents and people get the chance to have their say on the design, and that any objections or concerns are taken into account and where possible addressed.
"Clearly, as is the case on almost every facet of life right now, Covid has had an impact on all of this and we will need to consider exactly what that impact will be.
"We will continue to progress these as quickly as possible."
Mid-Scotland and Fife Conservative MSP Murdo Fraser said later: "It would be a massive blow for those of us who have campaigned for the dualling of the A9 between Perth and Inverness to be told the project is either on hold or may face delays in reaching its targeted completion date.
"Local people ran an energetic campaign for years to get this dangerous road upgraded.
"After many years, it was agreed to do so by the SNP Government, so it would be an absolute betrayal if this policy was delayed now.
"The transport minister needs to confirm what the timetable is for the A9 dualling and to confirm if there will be delays in its completion or if it will be downsized."
The Scottish Government's new infrastructure investment plan showed it plans to spend only £328 million on the A9 scheme between this year and 2025-26.
It also said only £20m was due to be spent on the A96 scheme over the same period.
A separate Scottish Government document, published in December, said "a range of financing options" would be considered for the A9 project "during subsequent stages of design and assessment".
A spokesperson for Transport Scotland told The Scotsman last week: "For a programme of the scale and significance of A9 dualling, it is simply good, responsible governance to take stock and ensure public funds will be spent efficiently, effectively and balancing the considerable benefits of the programme against financial risk and undue cumulative impacts to the travelling public and local communities.
"We appointed commercial advisors last year and as part of ongoing stakeholder engagement, market consultation will be undertaken this year to inform identifica
A motoring group said delays to the projects would be a major setback.
Neil Greig, the Scotland-based policy and research director of IAM Road Smart, told The Scotsman: "Any delay to the A9 would be a particularly bitter pill for Highland drivers to swallow.
"The original timescale already promised years of roadworks, but at least promised a safe, high-quality route at the end of it.
"If that promise is now being reneged on, long-suffering A9 users will want to know why.
"Every year the A9 and A96 continue to have killer single-carriageway sections and poor junctions will cost lives as well as stunting the local economy."
tion of the most efficient delivery model and programme."
A message from the Editor:
Thank you for reading this article. We're more reliant on your support than ever as the shift in consumer habits brought about by coronavirus impacts our advertisers.
If you haven't already, please consider supporting our trusted, fact-checked journalism by taking out a digital subscription.