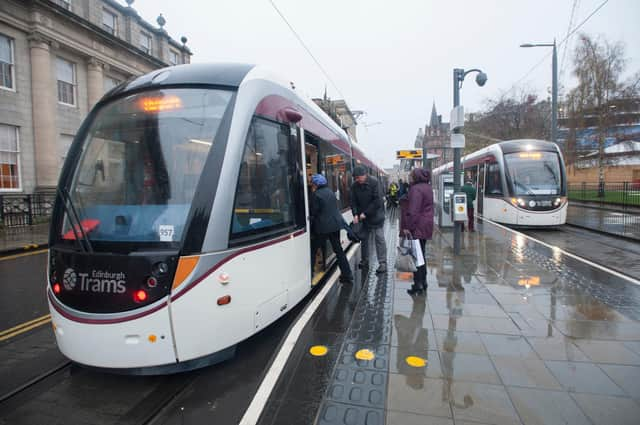 Lines in the capital may include between Granton and the city centre and south east, and re-opening the south suburban rail line, according to Transport Scotland's new strategic transport projects review.
Expanding trams across the Forth into Fife could follow.
Other planned measures include doubling spending on bridge and roads maintenance in a £1.5 billion programme over five years, such as on the A82 north from Tarbet beside Loch Lomond north to Inverarnan.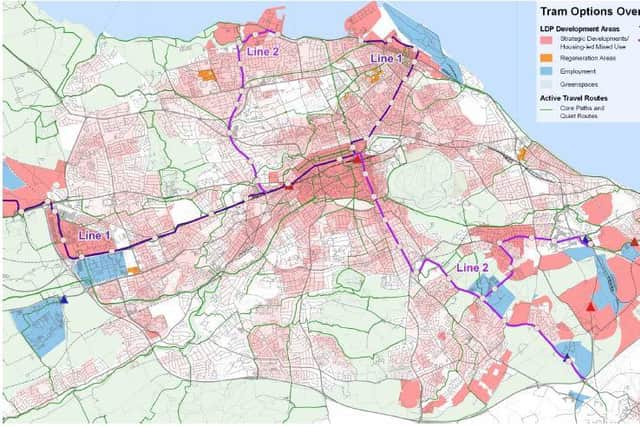 Redevelopment of Inverness and Perth rail stations is planned, along with work at Glasgow Central and an already-published scheme for expanding Edinburgh Waverley.
The review is the first part of a multi-stage process to decide Scotland's transport spending priorities for the next 20 years, with the recommended projects being further appraised before decisions are made by ministers this autumn.
The 20 recommended projects also include expanding 20mph zones, new segregated "active freeways" for walking, cycling and wheeling, more space to buses, improving toilets and rest areas for truckers and already-published plans to bypass the A83 Rest and Be Thankful landslide area.
For Edinburgh, it said: "Mass transit is an enhanced level of public transport provision in the city region, including bus rapid transit (BRT) and tram.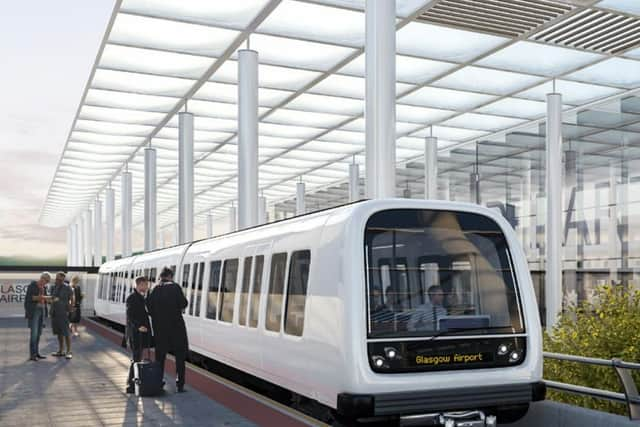 "It would complement and integrate with the current bus, tram and rail networks.
"The initial focus is on delivering mass transit from the north of the city (Granton), through the city centre to the south/east extremities of the city boundary."
A map of the route shows it following shelved sections of Edinburgh's original tram scheme.
The report added: "Further extension could result in increasing frequency of mass transit services to Edinburgh from neighbouring local authorities, or introducing a south suburban railway within the city and a cross-Forth light rail transit system to Fife."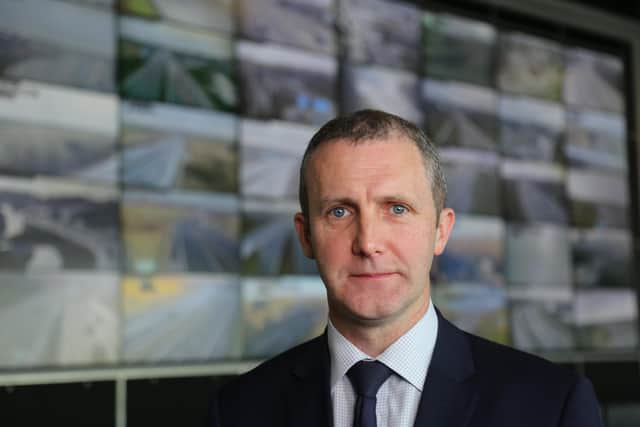 Both trams which can run on rail lines, and trains, are being explored for the south suburban route.
The report said that while Edinburgh bus network was "excellent", "high levels of passenger demand means journey times are slow and infrastructure is reaching maximum capacity".
It also referred to "frustration at the speed of bus journeys, both absolute and relative to the car.
"Morning and evening peak journey times to and from Edinburgh city centre can be extremely slow, taking nearly 50 minutes from Portobello and up to an hour and a half from Dalkeith."
The study said there was also a lack of orbital routes, which limited connections to Edinburgh Airport, the Gyle, the Royal Infirmary and the BioQuarter.
It stated: "A transport system that encourages a mode shift away from the private car is a critical priority of the network to cater for increasing demand for travel in a sustainable manner."
An off-road dedicated busway operated in Stenhouse and Broomhouse in the west of Edinburgh for five years until being converted into part of the city centre to airport tram line.
Edinburgh City Council transport convener Lesley Macinnes said: "The progress of mass rapid transit is key to our forthcoming City Mobility Plan, supporting people to make convenient, sustainable transport choices as well as connecting to areas of future growth.
"Support in this report for reallocation of road space for walking and cycling, expanding on work through our Spaces for People project, City Centre Transformation and our ongoing, ambitious active travel programme, will help us create a truly people-friendly city."
In Glasgow, the metro was described as an "umbrella term or brand to describe a new level of public transport provision to serve and improve connectivity within the Glasgow conurbation.
"This may include one or more of: bus rapid transit, tram, light rail and/or metro rail" – potentially using disused rail lines and the conversion of existing routes.
Conversion of the Cathcart Circle line on the south side of the city for use by trams was suggested in a previous study to free up space at Glasgow Central station.
The new study said selection of metro routes would focus on improving access to the city centre, rail interchanges, Glasgow Airport, hospitals, major education facilities, key employment centres, retail hubs, major leisure/sports facilities and areas with poor transport links .
The report said: "The high level of rail use for city centre trips is not mirrored in public transport across the city and the conurbation in general.
"The difficulty in developing and delivering new railway lines to serve more widespread areas and decentralised developments is substantial, and there is a need for a solution that better links areas of employment to areas of housing."
Glasgow City Council leader Susan Aitken said the report built on recommendations of the city's connectivity commission.
She said: "The success of Glasgow and its surrounding region is absolutely fundamental to the Scottish economy – but we won't reach our true potential without reducing social and economic inequalities, targeting inclusive economic growth, and improving our overall health and well-being.
"The creation of a Glasgow Metro has the potential to deliver that kind of transformation.
"Too many of the people who rely on public transport for employment, education and social opportunities live in communities that are poorly served by our existing networks.
"Equally, many of those who contribute least to greenhouse gases are at the greatest risk of being worst affected by the climate crisis."
Transport Secretary Michael Matheson said: "We are conducting a thorough, evidence-based review of the performance of Scotland's strategic transport network across active travel [walking, cycling and wheeling], bus, ferry, rail and the trunk road network.
"[The report] Phase one sets out some of our transport investment priorities for the next few years, which will support a fair and sustainable economic recovery from the pandemic, while working towards our longer-term goals of making Scotland more accessible for residents, visitors and businesses, improving connectivity and highlighting the vital contribution that transport investment can play in enabling and sustaining Scotland's economic growth."
A message from the Editor:
Thank you for reading this article. We're more reliant on your support than ever as the shift in consumer habits brought about by coronavirus impacts our advertisers.
If you haven't already, please consider supporting our trusted, fact-checked journalism by taking out a digital subscription.