The deployment of a relief ferry chartered by CalMac from Pentland Ferries has been further delayed by a problem with its stern doors, it emerged on Friday.
CalMac criticised the setback as "disappointing", which comes after the start of the catamaran Alfred's berthing trials at the operator's ports had to be postponed because of a delay in the vessel being released by Pentland Ferries due to its other ferry late in receiving its passenger safety certificate.
Pentland Ferries said "a service of hydraulic systems" on Alfred meant it could not enter service, with "amendments" being made to its stern [rear] door.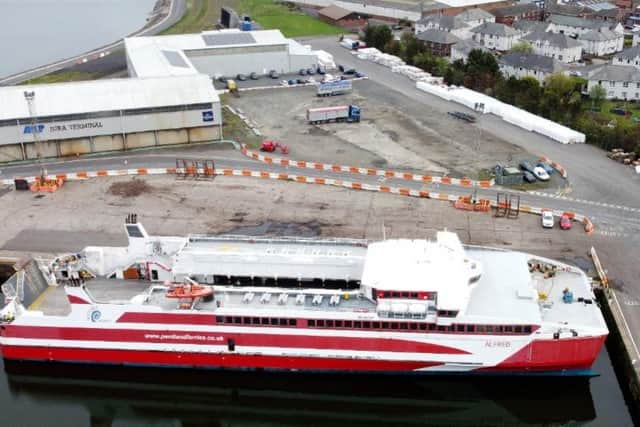 Alfred, which normally operates between Orkney and Caithness, was due to have started its CalMac charter on April 18.
However, that was delayed by nine days to April 27 because Pentalina, the Pentland Ferries' vessel due to take over the route, was not issued with its certificate on time following an overhaul in Belfast "due to some small outstanding items", CalMac said.
Pentalina was granted a temporary passenger ship safety certificate by the Maritime and Coastguard Agency on April 19, but last Saturday – ten days later – it suffered an apparent sudden mechanical failure and ran aground off St Margaret's Hope in Orkney, triggering a lifeboat evacuation of its 60 passengers.
An inspection of the vessel was due to be completed on Friday, but Pentland Ferries was unable to say when it was likely to return to service. Smoke was detected in its engine room and it took on some water.
The UK Department for Transport's marine accident investigation branch is investigating the incident, and is still investigating Alfred running aground off Swona in Orkney in July last year, when passengers were also evacuated by lifeboat.
NorthLink announced on Friday it would add an extra sailing to its Orkney-Caithness route for the next eight Sundays to help cover for Pentalina's absence.
The operator has confirmed the ship will operate without any catering for passengers.
A Pentland Ferries spokesperson said on Friday: "After successful berthing trials, we are now conducting a service of hydraulic systems on the Alfred which means the vessel cannot yet enter service.
"During this period of downtime CalMac are making minor amendments to the stern door to ready the vessel for service. An update on when works will be complete, allowing the charter to recommence, will be issued on Monday."
CalMac director of operational planning Pauline Blackshaw said: "It is disappointing Alfred is unavailable for service while Pentland Ferries conducts essential works to the hydraulic systems. CalMac are today completing minor works to the stern door to enable the vessel to be deployed as soon as she is available."
Scottish Conservatives transport spokesperson Graham Simpson said: "It's disappointing the Alfred isn't even ready for service and with no date given for when it will be. The least islanders are entitled to expect is some clarity on when it will come into use."