NATS: Loganair condemns air traffic control charge hike as 'highway robbery' that will increase emissions
Scottish airline chief Jonathan Hinkles says flights will take longer routes to minimise impact of fees hike
The UK's biggest regional airline has savaged a new increase in UK air traffic control charges as "airway robbery", which it said would prompt carriers to take longer routes with lower fees.
Loganair, which flies between Scottish airports and other parts of the UK, said something had gone "badly wrong" in the Civil Aviation Authority (CAA) approving new "rapacious" fees by air traffic control firm National Air Traffic Services (Nats). It follows the Glasgow-based airline losing £300,000 because of Nats' systems meltdown in August, which disrupted hundreds of thousands of flights.
The CAA on Thursday improved a 26 per cent hike in charges, which it said would increase the average cost to passengers by around 43p to around £2.08 per flight.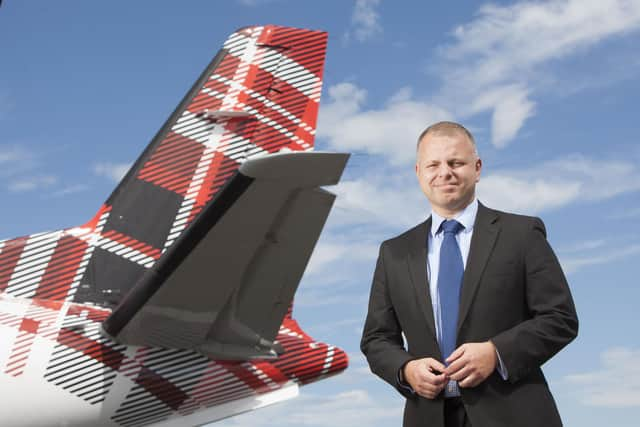 Chief executive Jonathan Hinkles said: "Who says things don't evolve? We've progressed from highway robbery in the 18th century to airway robbery in 2024, based on today's CAA decision on the UK air traffic control charges Nats can levy.
"Nats charges went up by 29 per cent this year, as they sought to recover their losses from the pandemic. Who wouldn't, if you had a regulated monopoly that allowed you to?
"The expectation was that charges for 2024 would go back to normalised levels, plus inflation. Unfortunately, something's gone badly wrong. Either the inflation index for Venezuela has been used by mistake, or Nats has pulled the wool over the regulator's eyes.
"This decision is bad news for customers and communities, bad news for the economy – as air fare increases contribute to UK inflation – and bad news for the environment.
UK Nats charges are already the fourth highest in Western Europe. For a routine flight, such as Glasgow to Faro or Tenerife, airlines will now take off and turn right to leave expensive UK airspace as soon as they can, to reach cheaper Irish airspace.
"Ireland's air traffic control charges are less than a third of the UK's, so even though an airline will burn more fuel flying this longer route – and generate more emissions – the saving driven to avoid these rapacious Nats charges is worth it.
"Airlines avoiding UK airspace also means Nats brings in less income, increasing the burden for those left behind who have no alternative."
Mr Hinkles said Loganair felt the impact of the charges far more on long UK routes than on shorter routes. He said: "Folk keep talking about banning short domestic routes to cut emissions from air travel. Nats seems hell bent on pricing the long ones out of the air too."
The Loganair chief said the charge increase had "removed one of the few causes for hope" in its attempts to make loss-making routes profitable following the Covid pandemic.
He said: "We need to carefully consider our next steps, and decide what we now have to do. At its core, this is a really bad decision with consequences for customers, the economy and our environment."
CAA chief economist Andrew Walker said: "Our decision will provide the resources and investment required for [Nats' regulated subsidiary] Nats En Route (Nerl) to provide a resilient, high-quality service for passengers and modernise its services, while recovering costs from the pandemic, which is consistent with the traffic risk-sharing arrangements in Nerl's licence.
"Overall, the price control should ensure that Nerl provides an efficient service and value for money. Implementing targets around performance, efficiency and environmental impact will help deliver an improved airspace system that will benefit everyone.
"We recognise the disruption caused by the technical issue in August and we will consider any further regulatory steps as appropriate following the outcome of the independent review."
The CAA described its past regulatory decisions over Nats' charges as "reasonable" and said Nerl had not suffered from underfunding.
However, a report last year by researchers led by the University of Bristol concluded air navigation service providers "only survived the pandemic because of loans from the state and/or financial institutions, combined with significant changes to staffing levels, shift arrangements, recruitment and training, remuneration and other conditions of employment".
A Nats spokesperson said: "We are studying the CAA's final decision regarding the five-year NR23 regulatory period, which began in January this year."
Comments
 0 comments
Want to join the conversation? Please or to comment on this article.