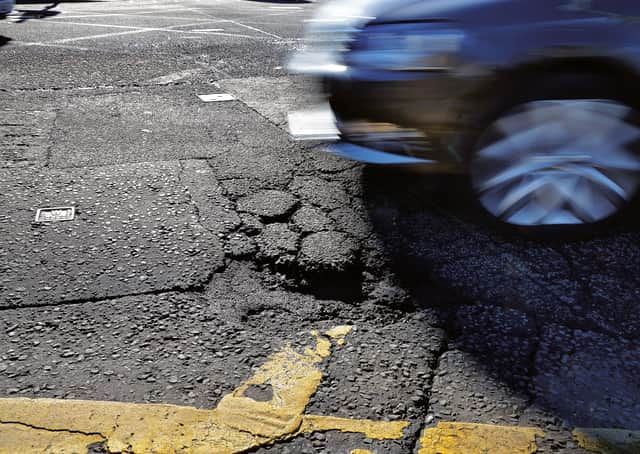 Nine in ten motorists in Scotland and Northern Ireland have been affected by potholes over the last year. Picture: Jon Savage
It comes as Edinburgh City Council revealed nearly 27,000 potholes had been reported across the capital in the last ten months – 2,500 more than the previous year.
Unpublished results of a poll by IAM RoadSmart found nine in ten motorists in Scotland and Northern Ireland had been affected by potholes over the last year.
The organisation's Safety Culture report also revealed nearly two-thirds said they had had to steer round or brake hard to try to avoid the cavities.
In addition, one in six had suffered vehicle damage that needed repair.
Neil Greig, the group's Scotland-based policy and research director, said Chancellor Rishi Sunak's announcement of a £2.5 billion "pothole fund" was welcome but not the full solution. The cash is for south of the Border and does not bind Scottish ministers to more pothole spending.
Greig said: "We won't say no to emergency funding, but it is only a long-term commitment that will solve the backlog problem.
"A specific commitment to eliminate the backlog would be very welcome from the Scottish Government."
Edinburgh City Council said it had about 2,200 potholes to repair but said things were getting better. Transport convener Lesley Macinnes said: "Our independently assessed road condition rating has improved to its best since 2011."
Glasgow City Council admitted its new "first time permanent repair" policy would slow progress but stop work having to be repeated. It fixed 14,615 potholes last year compared with 19,070 in 2019.
Campaigners Cycling UK said potholes were "particularly dangerous" to riders, with incident pay-outs averaging more than ten times that to motorists.
The Scottish Government said it planned to increase spending for councils, which are responsible for most roads, by 3 per cent, or £494 million, to £11.3 billion in 2020-21.
A spokesperson said: "Maintenance of the local road network is the responsibility of local authorities and we will continue to ensure [they] receive a fair funding settlement."