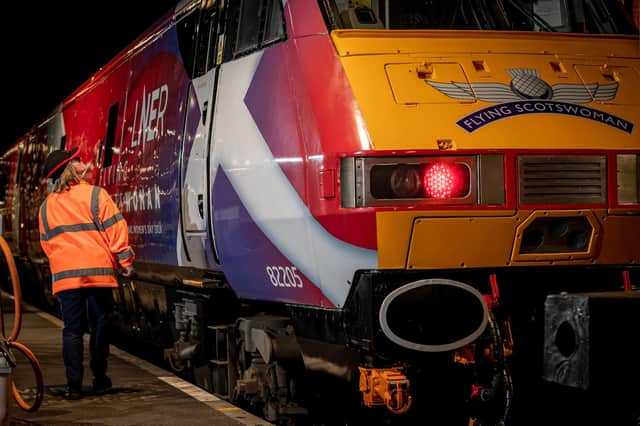 LNER head of engineering Linda Wain with the renamed Flying Scotswoman train. Picture: LNER/Charlotte Graham
It came as a poll for the east coast main line operator showed nearly nine in ten women had never considered working on the railways.
The 5:40am service from Edinburgh to London King's Cross was driven by a female driver, while passengers were served by other female staff.
The fastest daily train between the capitals, which takes four hours with single stop at Newcastle, will sport a new livery to mark its temporary transformation until the end of March.
LNER head of engineering Linda Wain will be among its executive board on today's service. Picture: LNER/Charlotte Graham
The innovation follows other transport operators running services with all-female crews in previous years, such as EasyJet flights.
The LNER survey found 87 per cent of working women questioned in Scotland had never thought about a rail career.
A perceived mismatch between their skills and available jobs was the main reason.
Nearly six in ten in Scotland said the railways "were not relevant to their skills or expertise".
The 5:40am Edinburgh-London service will be called the Flying Scotswoman until the end of March. Picture: LNER/Charlotte Graham
However, a similar proportion said they would be more attracted to the industry if they were made aware of its competitive salaries and benefits.
LNER people director Karen Lewis admitted rail firms must do more to promote the industry to women workers.
The UK Government-run company said women comprised 42 per cent of its workforce compared to 16 per cent across the railways.
Half of its executive board are female, who were due to join today's service.
They also included head of engineering Linda Wain, commercial director Suzanne Donnelly, customer experience director Claire Ansley and communications director Kate McFerran.
Ms Lewis said: "There is a clear need for the industry to work together to demonstrate the unique opportunities on offer with a career in rail, and by doing so to help drive an increase in the number of women in the workplace.
"LNER has many examples of women who have remained in the business and progressed their careers due to having the right amount of support to do things like further their education or have families.
"Rail offers competitive salaries and a multitude of opportunities to progress careers, which we know are important factors for women."
But she added: "With 56 per cent of Scottish women citing the industry is not relevant for their skills, it's clear women are not seeing the full spectrum of opportunities that rail offers."
Other leading women on Scotland's railways include ScotRail engineering director Syeda Ghufran, while Anna Weeks joined cross-Border operator train CrossCountry this week as its Scotland and north east regional director.
LNER took over east coast services, which also serve Aberdeen, Inverness and Glasgow, in 2018 following the collapse of the Stagecoach-led Virgin Trains East Coast franchise after three years.
It hopes to generate significant passenger growth with its new fleet of Azuma trains, many of which are due to complete Edinburgh-London journeys in four hours from the end of next year, at least 20 minutes faster than at present.