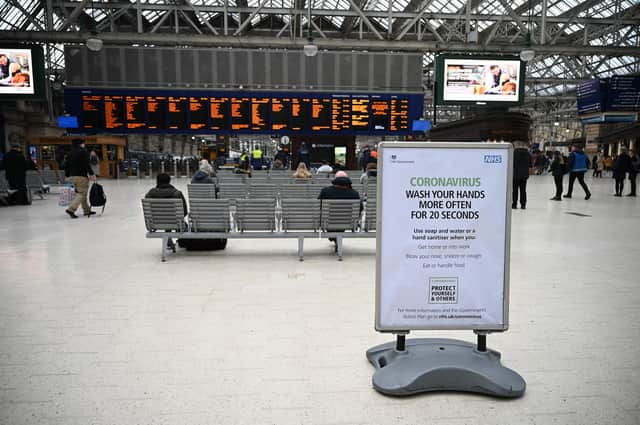 Commuters make their way through Glasgow Central station as passenger numbers dwindle.
Professor Iain Docherty said "really, really hard decisions" would have to be made over the very high current public funding of transport needed to offset a major reduction in passengers.
Transport Scotland has provided more than £500 million in emergency cash for buses, trains, trams and the Glasgow Subway since April.
That's the equivalent of its normal annual support for ScotRail – the Scottish Government's biggest single contract.
Prof Docherty said: "The impacts of the pandemic are really, really uneven across social groups and places."
The Dean of the Institute for Advanced Studies at the University of Stirling said key workers were more likely to travel by public transport than others.
He told the online Scottish Transport Awards Summit: "If you are a key worker, in the health service or in a supermarket or in a workplace where you have to be physically present to undertake your job, travelling around is really tough.
"You are exposed to the risks from the virus, and, if and when service levels on public transport begin to reduce, as they may well do if government appetite across the UK to continue to fund services at the current level declines.
"It's these people whose accessibility to employment and other parts of life will decline first.
"I think there is a real accessibility and inclusion crisis to come over the next few months.
"There are going to be really, really hard decisions about how much public money to continue to pay to run services."
Prof Docherty said cuts could leave buses "full" because of reduced capacity due to social distancing, hitting those with no other travel options hardest.
An industry source said without continuing Scottish Government support, bus networks would "shrink markedly".
Train journeys remain 80 per cent down on normal and bus journeys down by more than half.
Colin Howden, director of sustainable transport campaigners Transform Scotland, said: "The lockdown brought welcome attention to the opportunities afforded by greater use of active travel [walking and cycling] and digital services.
"But there hasn't been the same attention afforded to impacts on equalities.
"While government has so far taken action to sustain public transport services at levels similar to those pre-pandemic, it would be disastrous for both equalities and for climate action if services are allowed to wither through lack of public funding."
Paul White, Scotland director of the Confederation of Passenger Transport, which represents bus operators, said: "Bus remains vital to access to healthcare and education, travel to work, social inclusion, accessibility, carbon reduction and air quality.
"As such, while social distancing remains in place and government messaging is to limit travel, government support of the bus network remains a necessity."
A spokesperson for the Scottish Government's Transport Scotland agency said: "We are acutely aware of the need to ensure public transport services for key workers as we continue to tackle the ongoing pandemic.
"We have invested £546m in supporting our bus, rail and light rail operators.
"It is right, however, we keep this level of support from the public purse under review until such time as we have more certainty over consequentials from the UK Government."
A message from the Editor:
Thank you for reading this article.
We're more reliant on your support than ever as the shift in consumer habits brought about by coronavirus impacts our advertisers.
If you haven't already, please consider supporting our trusted, fact-checked journalism by taking out a digital subscription.