It has been proposed following a lengthy review by Royal Mail chairman Keith Williams, triggered by the chaotic introduction of new timetables in northern and south east England in 2018, which exposed deep-rooted coordination problems between rail bodies, such as those which separately run tracks and trains.
This was unrelated to disruption from new ScotRail timetables, caused by delays to the introduction of new trains.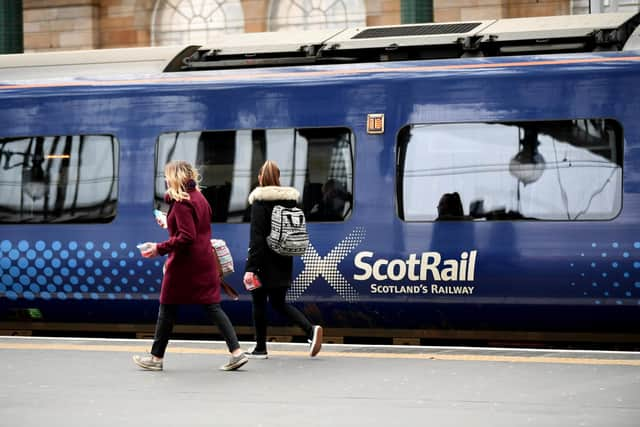 But achieving the aim of the UK Government's reforms could prove a gargantuan task when the railways have been compared to a parallel universe.
For a start, the new name doesn't help – sounding more like a TV programme or a heritage train charter firm than the rail organisation of the future.
In contrast to the inspired re-use of the historic London North Eastern Railway title for the current east coast main line operation, GBR isn't British Rail mark two, and it isn't re-nationalisation, as many people, opposition parties and unions want.
That's because although it will take over the already UK Government-controlled track owner Network Rail, the private sector is likely to continue to run the majority of trains through a new type of contract to replace franchises.
Ironically, while UK Transport Secretary Grant Shapps was at pains to say nationalisation had "failed the railways", he has not only created a name which conjures up associations with British Rail but has decided the new body will have a typeface based on BR's Rail Alphabet, which was used on station signs and across the network from the 1960s.
However, at the same time, he effectively admitted the privatisation of BR 25 years ago had also failed, in breaking the system up into large numbers of companies, which have since been slowly coming back together into fewer and more efficient parts.
The Conservatives' approach in the 1990s was to create a better system through competition, and to a limited extent that has happened on some routes, with monolithic British Rail blue and white trains replaced by a colourful array of private operators' liveries.
But if the clock is effectively turned back to create a single GBR brand, that could bring into sharp focus the changes in Scotland since privatisation that will make the new name sit uneasily north of the Border.
Most powers over rail have been devolved to the Scottish Government, but the new plans do not make it clear how much the UK Government hopes to integrate its changes here.
It has clarified that these powers will not be altered, which means control over ScotRail and Caledonian Sleeper, and spending by track owner Network Rail.
Transport Secretary Michael Matheson announced in March that ScotRail would be returned to pubic ownership next year after operator Abellio was stripped of its contract early over financial disagreements following poor performance.
However, will ScotRail's distinctive previously-permanent Saltire livery – designed to avoid costly rebranding when the operation changed hands – survive unscathed, or have to be adapted to fit with GBR?
The UK Government's document said: "Variants to the national brand will be developed to reflect the English regions, Scotland and Wales, while emphasising that the railway is one network serving the whole of Great Britain."
Scotland's leading rail academic expert, Professor Iain Docherty of Stirling University, said the plans were vague about such potential changes to meet the UK Government's overarching vision for GBR.
The document simply stated: "The [UK] Government will explore options with Transport Scotland to enable the railway in Scotland to benefit from the reforms on the wider network of Great Britain."
Prof Docherty told The Scotsman: "On the one hand, it suggests a continuation of the status quo in many respects.
"But objectives such as 'better consistency and coordination' between devolved authorities and GBR suggests that further aspects of operations will be centralised.
"It's also possible that the ScotRail brand - in place since 1983 - might be subsumed into Great British Railways."
Prof Docherty said the closer integration between ScotRail and Network Rail in Scotland to create "Scotland's Railway" had been the model for GBR across the rest of Britain.
The UK Government said Scotland – and Wales – would "continue to exercise" their rail powers.
But it added: "As now, they and GBR will need to work together to deliver a co-ordinated network across Great Britain."
That included "one website and app, and delivering consistent branding and passenger standards, such as on accessibility and compensation".
Those are already largely aligned on either side of the Border, such as the official National Rail Enquiries website, and the use of the former double arrow BR logo – to be updated for GBR – on signs.
However, it suggests ScotRail might have to introduce the simpler compensation system for delays which the UK Government has pledged.
In other measures, passenger watchdog Transport Focus will work "at an increasingly regional level across the country to hold the regional divisions to account effectively" – perhaps holding ScotRail to a level of scrutiny not seen since the abolition of a Scottish body 15 years ago.
The blueprint has had input from Scots such as former ScotRail managing director Steve Montgomery, who now runs FirstGroup's rail division that includes Avanti West Coast, and former Glasgow Labour MP and UK rail minister Tom Harris.
But the UK Government's review got off to an unfortunate start in Scotland when Keith Williams wrote to request a meeting with Humza Yousaf, four months after he had moved on from being transport minister, in a letter in which both his name and that of Transport Scotland chief executive Roy Brannen were misspelled.
The jury remains out on whether its results will prove more surefooted as far as Scotland is concerned.
A message from the Editor:
Thank you for reading this article. We're more reliant on your support than ever as the shift in consumer habits brought about by coronavirus impacts our advertisers.
If you haven't already, please consider supporting our trusted, fact-checked journalism by taking out a digital subscription.