Flying Scotsman crash: Investigations continue into Flying Scotsman 'slow speed crash' which left two in hospital
Two people were taken to hospital as a precaution but their injuries were not believed to be serious
Investigations are continuing after the famous Flying Scotsman was involved in a "slow speed" crash with another heritage train hours before visitors were due to board it.
The collision happened on the Strathspey Railway at Aviemore railway station, in the Cairngorms, at about 6.15pm.
The incident occurred when the Flying Scotsman locomotive was being shunted into place to be coupled with the Royal Scotsman train carriages, which were stationary.
A spokesman for Royal Scotsman train owner Belmond described the collision as "minor" and said there had been no major injuries.
"We are grateful for the prompt attendance by paramedics who were on site to assist the few passengers and team members who sustained minor injuries," the spokesman said.
"One passenger and one team member are attending hospital for a precautionary check-up.
"All passengers have been transferred to a hotel where our team is on standby to offer support and to assist with our guests' onward travel arrangements."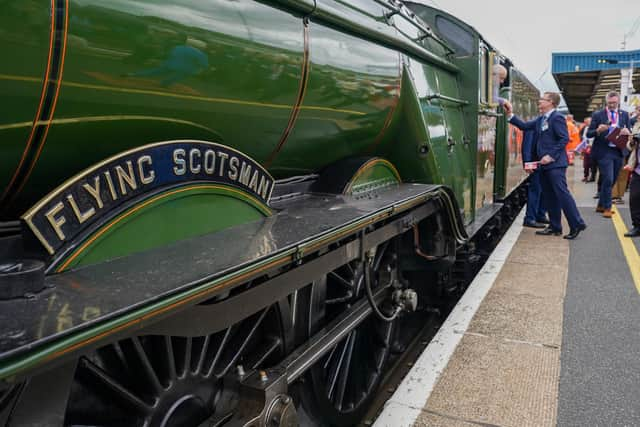 ScotRail confirmed its services were able to run normally through Aviemore station as the emergency response was focused on the private railway line.
The station is home to Strathspey Railway, a heritage line which takes visitors on steam trains in northern Scotland.
A spokesman for the National Railway Museum said: "We can confirm that steam locomotive Flying Scotsman has been involved in a shunting incident at Aviemore Station.
"We will provide further information once more details are known."
Scottish Fire and Rescue Service (SFRS) sent eight appliances to the scene, and Police Scotland said other casualties were treated at the station.
Ariane Burgess, Scottish Greens MSP for Highlands and Islands (Region), said: "We are still waiting on further information about what exactly has happened to cause this, but I understand people were injured and my thoughts are with them.
"We are indebted to the emergency services and rail and train crews who have been working to help and treat the casualties and others at the scene, and hospital teams dealing with them. They have our heartfelt thanks.
"I am seeking further information on what has occurred and will be following details closely."
Scottish Greens transport spokesperson Mark Ruskell MSP added: "It is too early to know what has caused this incident, but clearly a full investigation will have to take place.
"From reports it appears this has been on the heritage track, the Strathspey Railway line, involving the Flying Scotsman and that nearby services on the main line have been temporarily impacted to allow emergency efforts to continue.
"We are thinking of all those involved at this challenging time and thank all those who have taken part in the emergency response."
A spokesman for SFRS said: "We were alerted at 7.10pm on Friday to reports of a collision involving two trains at Aviemore Railway Station.
"We sent eight appliances to the scene, where firefighters worked to support partners.
"Three appliances remain at the scene.
"Two casualties have been transported to Raigmore Hospital.
"Three casualties were treated at the scene but did not require to be taken to hospital."
A Police Scotland spokesperson said: "Around 7pm on Friday September 29, we received a report of two trains colliding at low speed at Aviemore Railway Station.
"As a precaution, two people – a man and a woman – were taken to Raigmore Hospital in Inverness by the Scottish Ambulance Service for treatment. Their injuries are not believed to be serious.
"A number of other passengers were assessed by the ambulance service at the scene and did not require hospital treatment.
"Inquiries are ongoing to establish the full circumstances."
Flying Scotsman was scheduled to be running trips this weekend, with the line expected to be especially busy.
A tourist booked to travel on the world-famous steam train on Sunday saw the aftermath of the crash.
Lewis Smith travelled up from Glasgow and was surprised to see emergency services outside the station.
He said: "We arrived here quite late and so we took a walk into Aviemore to get something to eat.
"We passed by the station and saw the Flying Scotsman and a fire engine at the platform.
"We decided to come back to see what was happening after getting food. At around 8.30pm we came back to the station and got some photos of the engine.
"There didn't seem to be anything wrong apart from all signals on the mainline being set to red but I didn't really take much notice.
"When we got back we got a phone call from a friend asking if we had seen the accident. We didn't know anything was wrong until we checked the news."
Journeys on the historic Flying Scotsman had been due to set off from platform three at Aviemore station, travelling through to Boat of Garten and on to Broomhill as part of a 20-mile round trip alongside the River Spey and amid the backdrop of the Cairngorms.
Flying Scotsman was originally built in Doncaster and was the first locomotive of the newly formed London and North Eastern Railway (LNER).
Designed by Sir Nigel Gresley, the locomotive went into service on February 24, 1923.
By 1924, Flying Scotsman had been selected to appear at the British Empire Exhibition in London – an appearance that made the locomotive famous. It subsequently earned its 'Flying Scotsman' name from the daily 10am London to Edinburgh rail service.
A decade later, Flying Scotsman would become the first locomotive in the UK to reach 100mph in a test run by LNER's directors designed to prove steam power could provide high speeds.
The machine would also go on to achieve a world record for a non-stop run in a steam locomotive, set in 1989 with a 422-mile trip.
Comments
 0 comments
Want to join the conversation? Please or to comment on this article.