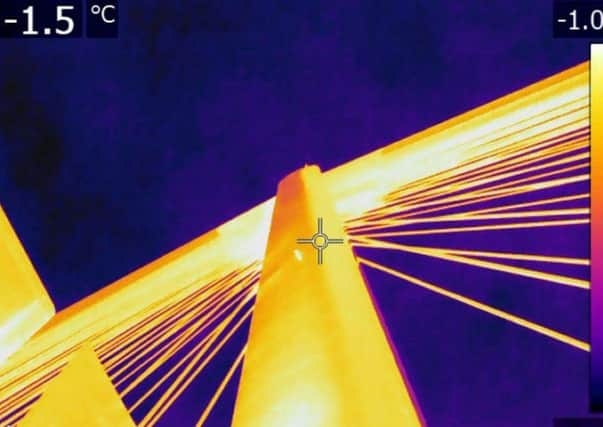 They detected a phenomenon known as "ice accretion" in which it accumulates on the crossing like a crust in very specific weather conditions.
But rather than build up over a long period, the sheets of ice falls soon afterwards, sometimes in large enough pieces to smash vehicle windscreens, as happened on the bridge last year - as The Scotsman revealed.
Designers of the crossing had thought ice would be a relatively rare occurrence, but it happened again in February, which closed the bridge for two days.
It led to ice sensors being installed on the crossing.
Ice accretion on the bridge only happens when temperatures of around 0C are accompanied by particular levels of relative humidity, wind speeds and wind direction and the dew point – when air become saturated with water vapour.
During much colder weather, such as the "Beast from the East" storm in 2018, ice did not stick to the bridge.
BEAR Scotland, which maintains the bridge for Transport Scotland, said the ice which formed then melted or fell relatively quickly, rather than building up into large blocks over longer periods on bridges in colder countries.
This freeze-melt cycle can happen in as little at 15 minutes.
However, ice on the Queensferry Crossing has still proved to be a danger to people and vehicles, with sheets 1m long causing the previous damage.
Bridge patrols are instructed not to get out of their vans while ice is falling.
BEAR said staff today monitored the falling ice, seen coming off two of the bridge's three towers, using binoculars and thermal imaging cameras.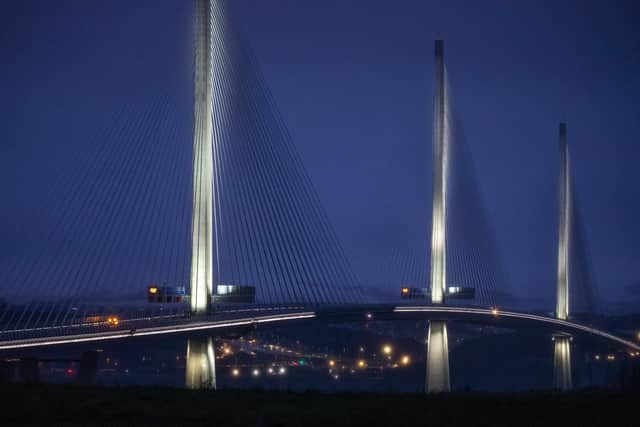 They could then tell, once the ice stopped falling and with information from the sensors, when it was safe to re-open the bridge.
Officials described the ice which fell today as "slushy" but "quite large", although the size was difficult to tell in the pitch dark of 4.30am when the sensors were triggered.
BEAR said they were getting better at forecasting the conditions when ice might form, and tweeted a warning last night that it might happen.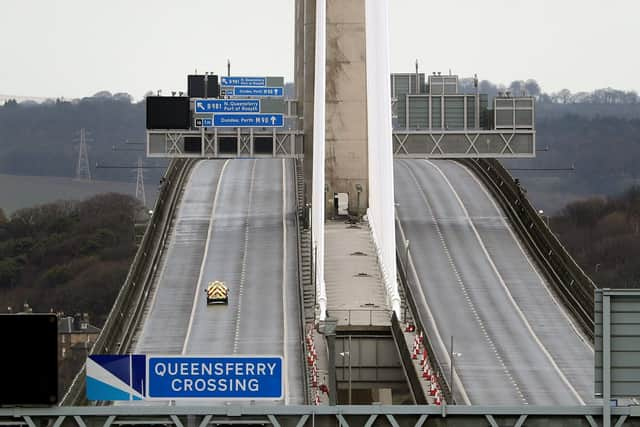 However, it said it was too early to say how often it was likely to happen – or for how long.
BEAR said the sensors enabled the bridge to be re-opened after incidents more quickly by providing more information about conditions than was previously available.
It was re-opened today at 9.05am after being closed at 4.45am.
But plans to install equipment to prevent ice forming are still in development to decide the best technology to use.
Options include chains and rings to scythe through build-ups, applying heat or chemicals to the cables, or a retention system so ice melts rather than falls
Ice is not the only type of extreme weather to close the bridge.
Its windshielding only offers protection to lorries and other high-sided vehicles up to wind speeds of 70mph.
So far, such vehicles have been prevented from using the bridge on two occasions since it opened in 2017.
They were not allowed to cross the adjacent Forth Road Bridge in winds above 50mph.
There have been 73 times so far when the new bridge's windshielding has allowed them to cross.
A message from the Editor:
Thank you for reading this article.
We're more reliant on your support than ever as the shift in consumer habits brought about by coronavirus impacts our advertisers.
If you haven't already, please consider supporting our trusted, fact-checked journalism by taking out a digital subscription.