Audit Scotland said on Tuesday it was unclear how the performance of the six staff who had received payments had been assessed or whether "appropriate frameworks and governance" were in place when they were made in 2021/22, under the yard's previous management.
The watchdog said the managers had been paid bonuses totalling 17.5 per cent of their basic salaries on the recommendation of the yard's then-turnaround director Tim Hair. It said he was paid more than £660,000, including expenses, in 2021/22, but did not receive any bonus.
Audit Scotland said Ferguson Marine should have informed or sought Scottish Government approval for the bonus payments "as a matter of good practice and governance". The Scottish Government said it was concerned at that failure.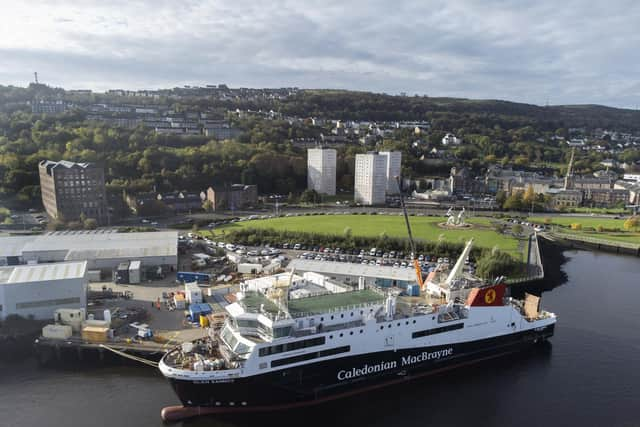 Auditor General for Scotland Stephen Boyle said: "It is unacceptable that performance bonuses were awarded to senior managers at the shipyard, without proper governance for such payments. The Scottish Government needs to make sure its rules over pay are followed by this public body."
He also raised fresh doubts about the final cost and completion dates of the two ferries being built at the yard, which the Scottish Government took over in 2019. The vessels are already five years late. The first, Glen Sannox, is currently due to be delivered to CalMac by May.
Audit Scotland said the cost "remains uncertain", with the latest estimates suggesting some £9.5 million of further funding is required, which would bring the total to £293m. That is three times the original contract price and includes previous Scottish Government top-ups over the past two years.
The watchdog added: "There is also doubt about the longer-term viability of the shipyard, despite sustained investment by the Scottish Government. Further investment in the shipyard and workforce are also needed to help secure future contracts."
Mr Boyle said: "It is deeply concerning that the costs to complete these ferries have continued to escalate, whilst the island communities these boats are meant to serve remain significantly impacted. Despite substantial sums of public money being invested, there is still no certainty over how much the ferries will cost, when they will be ready or whether the shipyard has a viable future."
A report by auditors Grant Thornton last month, published by Audit Scotland on Tuesday, said the Scottish Government had not formally agreed the delivery dates of 2023 for Glen Sannox and by March next year for its sister vessel, known as hull 802.
Ferguson Marine chief executive David Tydeman, who took over in February last year on a basic salary of £205,000, said its board of directors and the remuneration committee accepted Mr Boyle's observations about the bonus payments paid in the year to March 2022.
He said: "The board has already introduced greater transparency and governance in terms of future retention incentives. Ministers appointed a new chair, Andrew Miller, in January and we now have in place a framework that will improve the governance of future performance-related payments."
Mr Tydeman said the funding gap was "largely to cover increased contingency expenditure – recommended by independent experts appointed by the Scottish Government – as well as funding for additional warranty spend that may arise in the 12 months after we hand over the vessels".
"I would stress that the construction costs to build both vessels are not a major contributing factor to this funding gap," he said. "The company is largely holding to the agreed budget submitted in September 2022 to complete construction."
Mr Tydeman insisted there was a "strong future for the yard" after the ferries were completed, based on winning further shipbuilding contracts from Scottish Government ferry-buying firm Caledonian Maritime Assets Limited (Cmal) and Royal Navy type 26 frigate contracts for BAE. The latter involves building "modules" at the Port Glasgow yard ready for assembly at BAE's Govan shipyard in Glasgow.
The yard chief said: "We intend to submit a strong bid for Cmal's small vessel replacement programme and believe we are well placed to win this contract, given our experience of exactly this type of work in the past. Securing this business, alongside completion of the two dual fuel vessels [Glen Sannox and 802], is now our primary focus and central to the future of the yard.
"Securing this programme of work would allow us to steadily increase efficiency, programme management, labour profiles and outputs, and place the yard in a competitive position for future larger and more complex ships, including those required by the offshore wind farm market over the next 15 years."
Scottish Conservatives shadow transport minister Graham Simpson said: "This is an utterly damning report, which shows the costs of these two ferries – which are yet to set sail – are continuing to soar.
"Even at the already eye-watering cost of more than £300m, there is still a shortfall in funding and we have no guarantees from the SNP transport minister that these ferries will be completed. Betrayed islanders will be wondering when this SNP ferry fiasco will ever end.
"The report also contains the remarkable revelation that the future of Ferguson Marine remains uncertain despite hundreds of millions of taxpayers money being poured into it on the SNP's watch. The SNP-Green Government need to urgently spell out what the future holds for the yard and if they are going to remain competitive in any future procurement processes.
"It is also deeply concerning that widespread failure has been so handsomely rewarded with management receiving near six-figure bonuses, even without SNP Government approval. The SNP's ferry scandal demands an independent inquiry to find out the whole truth of this appalling saga."
Scottish Labour transport spokesperson Neil Bibby said: "This damning report underlines what a mess the SNP has made of these ferry contracts. Islanders, taxpayers and yard workers are all being failed at every turn, and we still can't get straight answers on what went so badly wrong.
"While the public purse picks up the tab for spiralling costs, senior management are being handed fat cat bonuses with no scrutiny. The SNP need to get a grip of this shambles, deliver these lifeline ferries and secure a future for this iconic shipyard."
Scottish Liberal Democrat economy spokesperson Willie Rennie said: "This report is just unbelievable. Big bonuses for ships that still aren't ready. No clear understanding about when these ferries will be complete and what the final bill will be."
A Scottish Government spokesperson said: "We are committed to helping Ferguson Marine Port Glasgow (FMPG) secure a long-term sustainable future for the yard. We expect the company to provide a strategic business plan to ministers in due course for comment and agreement.
"It is a concern that FMPG did not inform or seek approval from the Scottish Government before bonus payments were paid to senior managers. This should be done as a matter of good governance.
"However, the new senior management team is committed to consulting with the Scottish Government as required on this issue in the future. Significant progress has been made by the chief executive and chair of the board on the governance structure at the shipyard over the last 12 months. We deeply regret that work on the two ferries is taking longer than it should."