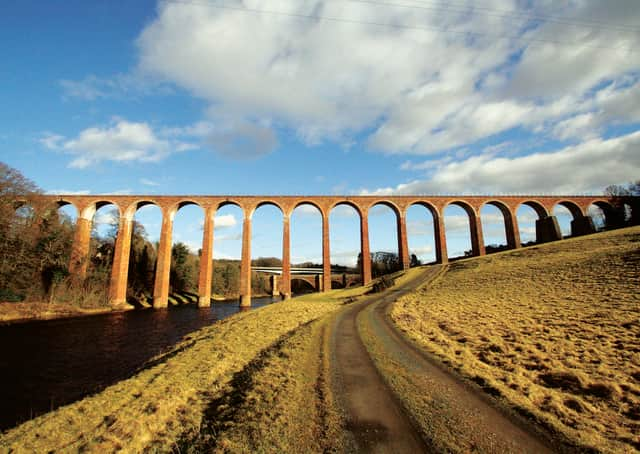 The revelation comes as Scottish ministers repeatedly call for full control of the rail network north of the Border from Westminster.
The UK government company Highways England spends £1.5 million a year inspecting and maintaining 606 old Scottish rail structures, Freedom of Information requests have shown.
They include some 340 bridges and 30 viaducts, such as the 19-span Leaderfoot Viaduct over the River Tweed near Melrose.
The A-listed structure, which towers 126ft above the river, was built in 1863 as part of the Berwickshire Railway to Reston and closed in 1965.
Highways England also looks after around 30 railway tunnels, 50 walls and 20 embankments in Scotland.
Tunnels include a 127-year-old one, 300 feet long, at Strowan on the Crieff and Comrie line, which closed in 1964.
The list also features a bridge on Ratho Station Road in Edinburgh, part of Gorbals Viaduct in Glasgow, an embankment on the Deeside railway in Aberdeenshire and several walls on the Elderslie to Greenock Princes Pier line.
The company, which is in charge of motorways and other major roads south of the border, inherited responsibility for some 3,200 disused railway structures across Britain seven years ago under its previous title as the Highways Agency.
The transfer happened with the winding up of British Rail Board (Residuary), which took over those parts of the previously nationalised railways which were not privatised in the 1990s.
Dave Parker, of Highways England's Historical Railways Estate, said: "The average annual maintenance costs over the last three financial years for the part of the estate we maintain within Scotland is £250,000 for inspections and £1.25m for maintenance.
"Our records show there are 606 former railway structures in Scotland we inspect and maintain.
"They are inspected at least once each year and maintenance is undertaken on a priority basis according to the relative risk to the public and property."
Scottish Labour said it was notable the Scottish Government had not called for control of such structures in wanting full powers over track owner Network Rail, which has 4,700 bridges on operating lines in Scotland.
Transport spokesperson Colin Smyth said: "Scottish ministers are quick to call for the devolution of Network Rail but not as fast to ask for the financial burdens this could bring.
"It is a classic case of careful what you wish for.
"The Scottish Government is already failing to keep those roads and bridges it does have responsibility for up to a decent standard and that neglect would only get worse if they had more to deal with.
"Ultimately Labour believes Network Rail should be brought together with those who run our trains in a single publicly-owned company so resources go on improving services and investing in infrastructure".
Dean Lockhart, transport spokesperson for the Scottish Conservatives, said: "It's good to know these bridges, tunnels, embankments and walls are being maintained, albeit by Highways England.
"It would be good for the Scottish Government to work together with Highways England to share best practice in maintaining infrastructure assets."
The Scottish Government's Transport Scotland agency controls the spending of Network Rail but not what it owns.
A spokesperson for the agency said: "While the Scottish Government has statutory powers to let franchises for the operation of scheduled passenger railway services that operate wholly within Scotland, plus the cross-border Caledonian Sleeper franchise, they do not own any railway assets or rolling stock and none of these have ever been transferred to the devolved Scottish Government.
"Any transfer of redundant assets, and any liabilities that come with that, would be a matter for consideration if Scottish ministers were ever awarded full devolution of rail powers."