Emirates Glasgow office closure in stark reminder of continuing dire aviation situation
The airline which previously operated three daily Scottish flights to Dubai has closed its sales office, underlining the parlous state of the industry ravaged by Covid-19.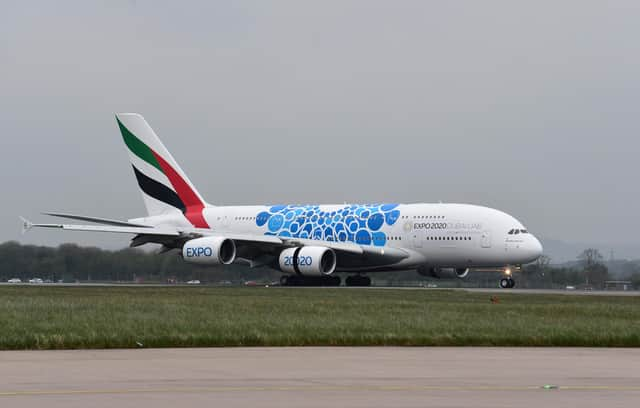 Emirates launched the Airbus A380, the world's largest passenger plane, on its Glasgow-Dubai route last year. Picture: Mark Runnacles/PA Wire
It follows Emirates suffering a £2.5 million half-year loss, its first for more than 30 years.
The airline confirmed to The Scotsman it had closed its sales office in Glasgow with the loss of four jobs.
The move comes despite the impending launch of a Covid vaccination programme in Scotland and the likely pent-up demand for holiday travel once restrictions are eased.
Emirates also operates Boeing 777-300ER aircraft on its Glasgow-Dubai route. Picture: Emirates
Prior to the pandemic, Emirates operated two daily flights between Glasgow and its Dubai hub, and one from Edinburgh.
Its Glasgow services were reduced to four a week until this week when they increased to daily.
Flights from Edinburgh remain suspended.
An Emirates spokesperson said: "Covid-19 has had an unprecedented impact on our business.
"While we have restarted operations where it is viable, our operations footprint today is significantly smaller and it will take time for us to recover to pre-pandemic levels.
"Regretfully, this means we've had to resize our workforce in line with our reduced operational requirements, resulting in redundancies across all markets.
"This includes the closure of a sales office in Glasgow, impacting a small number of our back office and administrative staff."
Glasgow Airport repeated its call for Covid testing as a priority to help airlines in Scotland recover.
Its spokesperson said: "The development of a vaccine is a hugely significant landmark in the battle against coronavirus.
"Given the amount time it will take for the vaccination programme to be fully implemented, it's imperative its roll-out goes hand-in-hand with an effective testing regime which will allow air travel to be restored quickly and safely.
"We find ourselves in a position where England will introduce its test and release scheme for international travel on Tuesday, yet there are still no plans in place for Scotland.
"If we don't move quickly, we will be left behind as airlines will simply base their aircraft where they know they can operate."
An Edinburgh Airport spokesperson said: "News of a vaccine is clearly a welcome development but it's far too early to talk about any impact on demand until we all know more about roll-out plans.
"Our main focus remains on the introduction of a robust testing regime."
Want to join the conversation? Please or to comment on this article.