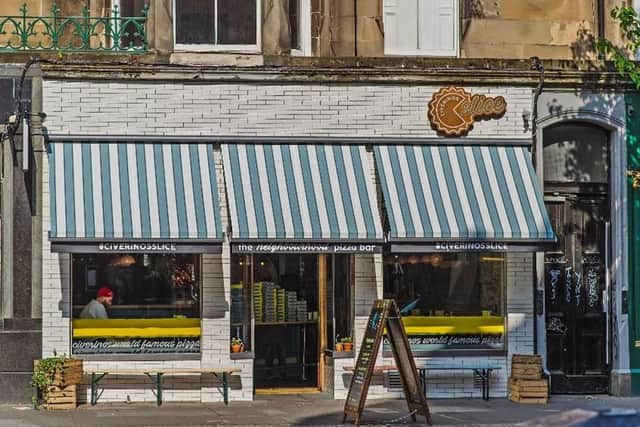 Civerinos Slice
Scottish Government-funded development body Cycling Scotland said the firm "showed courage and leadership by embracing the pop-up infrastructure during the Covid-19 pandemic, when many other companies could only see the downsides".
The cycle lane was among measures introduced across Scotland this summer to boost cycling and walking during the coronavirus crisis.
Cycling Scotland said: "Civerinos Slice bravely made a very public pro-cycling statement that they wouldn't serve anyone parking in the cycle lane outside their shop.
Civerinos won the award for taking a stance on bike lane parking.
"A lot of other businesses had a negative reaction to the new pop-up infrastructure, but Civerino's Slice's attitude was a shining example of how businesses can benefit from increased numbers of cyclists and pedestrians.
"Another policy they adopted was offering discounts to people who collected their pizzas by bike, furthering their pro-cycling stance and encouraging more people to cycle as a result."
The pizzeria said it had taken the action to "try and protect cyclists and pedestrians at the Forrest Road junction to try and stop people parking on the pavement and bus lane.
"We have encouraged our neighbours to do the same."
Civerinos owner Michele Civiera. Picture: Marc Millar
The award was welcomed on social media, with posts congratulating owner Michele Civiera.
John Mitchell tweeted: "Support this local business, they're the good guys and a great example of how the relationship between businesses and residents can be beneficial to both."
The awards, jointly promoted with Cycling UK, Scottish Cycling and Sustrans Scotland, also included Edinburgh City Council transport convener Lesley Macinnes being named Visionary Champion of the Year.
Volunteer coordinator Cathy Miller, of Empty Kitchens, Full Hearts and Refugee Community Kitchen in Edinburgh was Delivery Champion of the Year.
Civerinos Slice is on a new "pop-up" cycle lane in Forrest Road.
She organised teams of 60 cycling volunteers to collect surplus food from supermarkets across the capital and deliver it to homeless hostels, food banks and charities.
During lockdown, Cathy organised cargo bike donations, managing regular bike maintenance and storage, and hygiene and PPE equipment for volunteers.
Cycle Shop Champion of the Year went to Heaven Bikes at Bonar Bridge in Sutherland.