Draconian travel restrictions 'could drive aviation out of Scottish airports' – Loganair
The chief executive of the main Scottish airline today warned devolved governments they "could drive aviation out of their airports" if they took a "particularly draconian approach" over travel restrictions compared to their UK neighbours.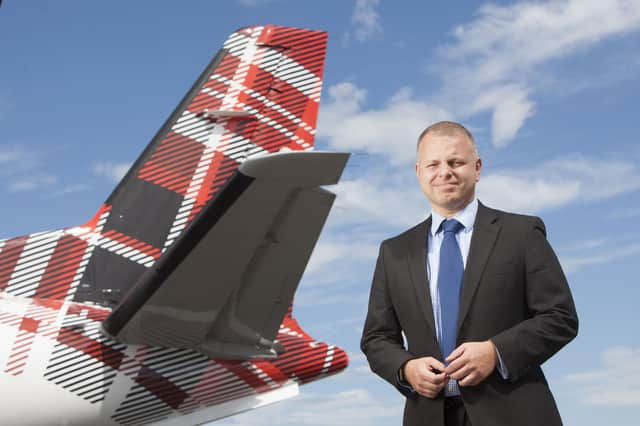 Loganair boss Jonathan Hinkles' comments were echoed by Jet2 chief executive Steve Heapy, who said airlines moving elsewhere would affect jobs and local economies.
But the Scottish Government said the UK Government's "partial approach" to restrictions risked allowing Covid variants into the country.
Mr Hinkles said: "The devolved governments. whether that be Scotland, Wales or Northern Ireland, have all got to be cautious about driving aviation out of their airports into a regime that is perhaps slightly less onerous in the neighbouring parts of the UK.
"I believe there is a risk of that happening if one devolved assembly takes a particularly draconian approach in relation to those immediately next door to it.
"I don't believe that's in the interest of consumers.
"I don't believe that helps public health and it certainly doesn't help the economy and the protection of jobs in the aviation sector in those assemblies."
Mr Hinkles' comments came at a webinar organised by umbrella body Airlines UK to lobby for aviation to be included in the UK Government's Covid recovery "road map" which is expected to be announced by Prime Minister Boris Johnson on Monday.
Scotland already has tighter restrictions than England over which arriving international passengers must quarantine in hotels, which has triggered fears some travellers are flying into English airports and travelling on to Scotland.
All passengers on international flights arriving in Scotland must go to quarantine hotels, but this only applies to those arriving in England from the most at-risk "red list" countries, such as in South America, southern Africa, Portugal and the United Arab Emirates.
UK airlines want international flying restrictions progressively removed, otherwise they said a support package for the industry to survive was critical.
Mr Hinkles said: "There is a prevailing view that a four-nations approach to this [flying restrictions] is absolutely essential, otherwise we end up in this patchwork quilt, which is neither good for customers nor necessarily provides the protections that people think should be there from a public health perspective.
"The position which is prevailing now is you can fly internationally from many countries into England and then travel into Scotland if that is what you were choose to do and if your journey was in line with the legislation."
Jet2, which has announced 32 European routes from Edinburgh next year and 29 from Glasgow, raised similar concerns.
Chief executive Steve Heapy said: "While the devolved nations have the absolute right to make their own decision, it would be good to think they could come together and reach a common road map because it makes it very difficult to operate in various places when they've all got different rules.
"We do have assets that are moveable if one area makes it particularly difficult to operate.
"The assets can be moved to other areas with perhaps an easier regulatory regime, which obviously has an impact on the local economy and jobs."
Easyjet chief executive Johan Lundgren argued that a "significant proportion" of travel restrictions could be lifted by this summer.
A spokesman for Edinburgh Airport, which is normally Scotland's busiest, said: "We suspect that one of the many negative effects of this pandemic will be a marked deterioration in Scotland's direct connectivity with Europe and the rest of the world.
"This is being exacerbated by the Scottish Government's continued divergence from the rest of the UK.
"Aviation is a facilitator of many other industries and is important to Scotland's economy, so we again ask government to meet with aviation and tourism sectors to set out a recovery plan and a package of support."
A spokesperson for AGS Airports, which owns Aberdeen, Glasgow and Southampton airports, said: "Scotland's connectivity and the vital role it plays in supporting our economy is in danger of being irrevocably damaged.
"We understand the need for the current emergency measures at what is a critical phase of this pandemic, and indeed our airports have each played an important role in supporting the national effort and continue to do so.
"Last week, the Transport Secretary committed to setting up an aviation working group.
"This has to focus on the safe restart of aviation, and international travel must be included in the recovery road maps to be announced by both the Prime Minister and the First Minister next week."
A Scottish Government spokesperson said: "It is simply not accurate to claim these measures do not protect public health.
"The scientific advice is clear [that] we need a comprehensive approach to restricting international travel, which is why we have put hotel quarantine measures in place.
"To manage the risk of importing new variants, and to give vaccine deployment the best chance of bringing us closer to normality, limits on international travel are necessary.
"While a four-nations approach would be preferable, the partial approach adopted by the UK Government risks allowing new variants to enter the country.
"We will continue to press the UK Government to adopt our more comprehensive approach and to require all international travellers to go into a quarantine hotel.
"We are supporting the sector, including by maintaining our package of business rates relief for airports.
"We have also created an aviation working group to address issues faced as a result of these necessary measures."
The Scottish Government later clarified that "officials are working up the draft scope and membership of the group and will shortly consult airports".
It added: "We continue to work closely with the airports on specific route recovery opportunities to help ensure airlines reintroduce routes when circumstances allow."
A message from the Editor:
Thank you for reading this article.
We're more reliant on your support than ever as the shift in consumer habits brought about by coronavirus impacts our advertisers.
If you haven't already, please consider supporting our trusted, fact-checked journalism by taking out a digital subscription.
Comments
 0 comments
Want to join the conversation? Please or to comment on this article.