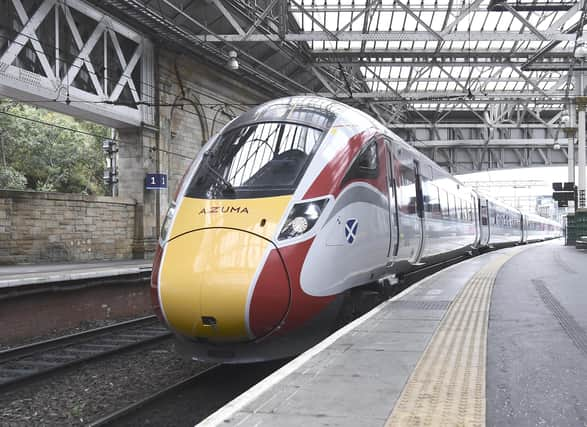 An issue was found with some Class 800 series Hitachi trains, which are used by rail companies including London North Eastern Railway (LNER). The Azumas operate between Edinburgh, Aberdeen, Inverness, Glasgow and London via the east coast main line.
In more rail misery, the west coast main line was closed in South Lanarkshire for engineering work on Staurday leaving Scotland effectively cut off .
All Azuma trains were being investigated for potential cracks on their chassis after Great Western Railway (GWR), which also operates the model, discovered the defect during routine maintenance.
UK rail minister Chris Heaton-Harris said the trains had been taken off the network to undergo "full and rigorous checks".
"Hitachi are working to complete these strict precautionary checks. Trains will be returned to service as quickly as possible once they are fully approved as safe by the manufacturer.
"I share the frustration of passengers who are experiencing significant disruption, and would ask people whose journeys are affected to check before travelling."
GWR said cracks were detected on "more than one" Hitachi 800 train, so all 93 in their fleet are being inspected as a "precaution".
The company added that "roughly 10" of the Hitachi 800s were now back in service after being inspected and found to be safe.
A spokesman said: "There's a crack that's been spotted and as a result of that – as a precaution – we're checking all the trains, and while that's taking place it's better that they're not used.
"It's been found in more than one train, but we don't know exactly how many trains because the fleet is still being inspected."
Asked how long the disruption will last, the GWR spokesman said: "It's a question of how quickly the trains can be inspected – it's highly likely that it will certainly persist through to the end of today.
"Once more inspection has been carried out we'll have a better understanding as to whether that disruption is going to continue into tomorrow."
All LNER services between Edinburgh, Newcastle, York and London have been disrupted and the operator advised customers not to travel.
LNER tweeted: "Once trains have been checked, they will be released back into service as soon as possible. Please check before travel."
Mick Lynch, general secretary of the Rail, Maritime and Transport union, said safety had to be the priority, while Manuel Cortes, general secretary of the Transport Salaried Staffs Association, said passengers should not be charged extra in future to pay for repairs.
"It's welcome news that railway engineering staff have found these cracks before they led to an accident," he said.
"This rolling stock must not be allowed back into service until we are 100 per cent certain these trains are safe.
"It's important to point out that the affected trains are relatively new, in which case the manufacturers should foot the bill for any repairs, not passengers or taxpayers."
The Azumas have only been in service on the East Coast Main Line for two years, arriving in May 2019.