Delivery firms incentivising 'illegal and risky' rider behaviour – Cycling Scotland
Call for more effective training amid growth of companies such as Just Eat, Deliveroo and Uber Eats
Compulsory training for delivery riders and a crackdown on illegally-modified electric bikes are being sought by Scotland's official cycling development body in the face of widespread law breaking that has become a menace to pedestrians.
The chief executive of a large company told The Scotsman he had twice had near misses with delivery riders while walking in Glasgow city centre. He said: "As I was crossing St Vincent Street, one of them nearly wiped me out going the wrong way down the street.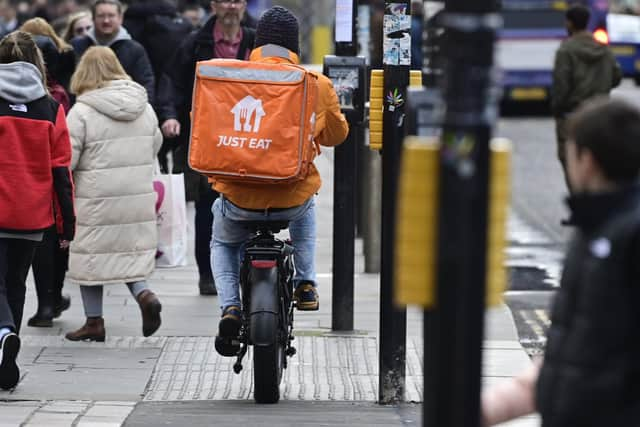 "These delivery bikes are mostly illegal. They are high powered and should be registered as mopeds."
Cycling Scotland road safety manager Simon Bradshaw, who was Police Scotland's deputy head of road policing until last year, told Cycling Scotland's annual conference: "More action is needed by delivery companies to take some responsibility. The evidence is clear about the need for mandatory training that is more effective. Companies need to ensure that riders are competent and their bikes are legal and roadworthy.
"Just as important is ensuring that working practices are realistic and achievable – it appears at the moment that working conditions are actually incentivising this poor behaviour."
Mr Bradshaw said a voluntary charter agreed by delivery firms in London for motorcycle delivery riders should be adopted for cyclists in Scotland. He said: "It is exactly the type of thing we need for delivery companies".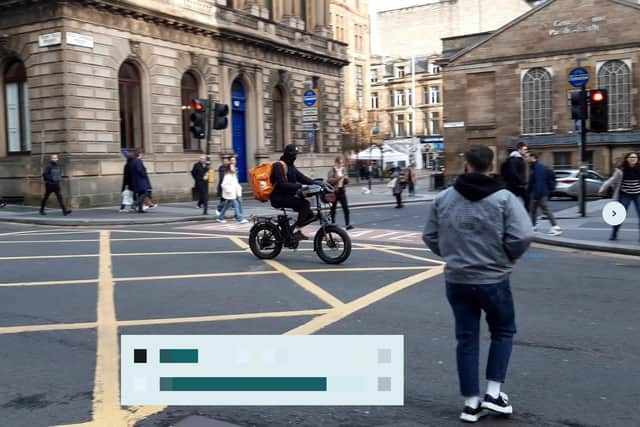 Stuart Hay, director of Living Streets Scotland, which campaigns for pedestrians, said: "Riding on pavements is dangerous and illegal and causes particular fear and distress to disabled and older people. The advent of electric-powered bikes and couriers taking risks to meet deadlines is a significant problem in city centres.
"This aspect of the gig economy urgently needs regulations, focusing on delivery companies taking on responsibility for cycle training, basic health and safety and insurance. Police and trading standards also need to tackle the supply of illegally-adapted electric bikes which can be cycled at excess speeds."
A Just East spokesperson said: "The safety of couriers, road users and the public is a key priority for us. All couriers delivering on our behalf must ensure that they follow all laws and rules of the road.
"If we are ever made aware that a courier delivering on our behalf has acted in a way that does not uphold the standards we hope to deliver, we will, of course, take action as appropriate."
Uber said couriers were not penalised for being too slow and it did not set deadlines for completing deliveries. Its spokesperson said: "We expect couriers to adhere to all applicable laws and regulations, including the Highway Code."
Deliveroo said it "in no way incentivises riders to take risks" and they were not required to complete orders by a specific time.
Its spokesperson said: "Every rider completes a programme of road safety guidance. All riders are required to meet minimum safety standards and they must follow all road safety laws."
Comments
Want to join the conversation? Please or to comment on this article.