CalMac hopes to lease Pentland Ferries catamaran Pentalina to help avert major knock-on disruption from failings among its ageing fleet
CalMac hopes to lease a catamaran ferry from Orkney this summer to provide a "major benefit" by improving resilience with its ageing fleet plagued by breakdowns.
Islanders are expecting an announcement within days that Pentalina will be chartered by the west coast ferry operator as a much-needed extra vessel to help offset the widespread disruption caused by faults. CalMac has had no spare ships for years due to the growth of its network and extra sailings.
In one of the latest setbacks, the 30-year-old Caledonian Isles' return to service was postponed for another two weeks on Friday after the vessel should have back in operation after her annual refit on February 3.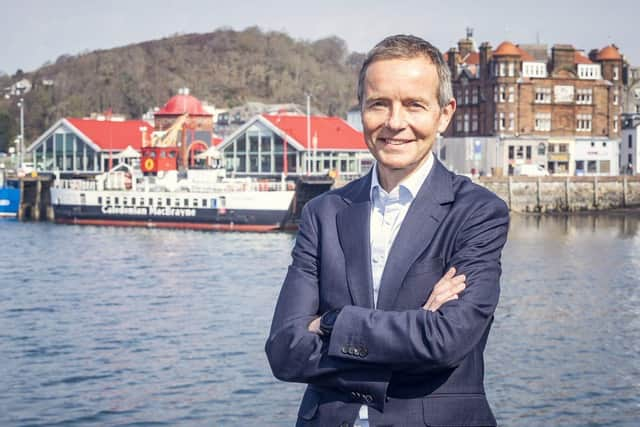 The average age of the CalMac fleet is now 24 years, which has doubled since 2006, the year before the SNP came to power. A total of 16 of the 35-strong fleet are due to be replaced over the next few years, starting with the long-delayed Ferguson Marine-built vessel Glen Sannox, which is due to enter service around the end of this year.
Orkney-based Pentland Ferries had been expected to sign a deal with CalMac two years ago to lease Pentalina, which can carry nearly 250 passengers and 70 cars, but withdrew at late notice.
Chief executive Robbie Drummond told Scotland on Sunday: "We have been in discussions with Transport Scotland and Pentland Ferries about leasing the Pentalina because we would want the additional resilience that she would bring to us.
"Those discussions are not yet concluded but we are still in positive dialogue. Clearly, we have been in dialogue for quite a while but we hope we will be able to conclude that. I am hopeful we will get to a conclusion and we can add a vessel into the fleet.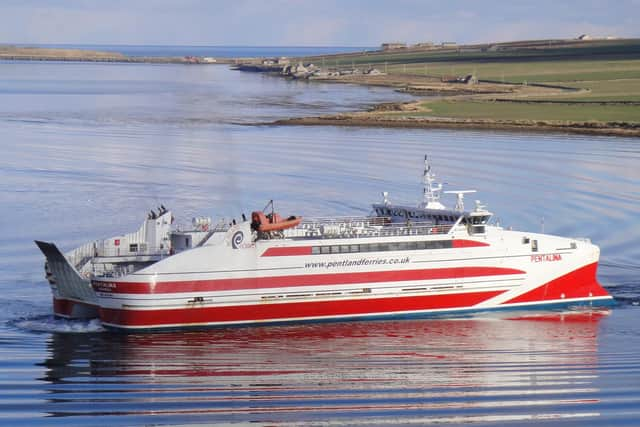 "Easter for us is a huge peak demand period and we want to see a good start to the summer season, so if we had her on deployment that would be a major benefit for us and the communities."
Drummond said Pentalina, which had been laid up by Pentland for two years after being replaced by another vessel, was undergoing work in Greenock and its owner was recruiting a crew.
A disparity between Pentland Ferries and CalMac's higher pay rates is believed to have been a factor in the previous deal failing. Drummond said CalMac would operate the ferry on a "time charter" basis, with pay rates set by Pentland Ferries.
Pentalina had been expected to operate on the main Arran route between Ardrossan and Brodick, as well as the principal link to Mull between Oban and Craignure, but Drummond said her deployment was still being discussed with Transport Scotland, and the communities involved would be consulted.
He said Pentalina would also help cover the longer periods its older ferries were having to spend being maintained.
He said: "We have spent significantly more time in dry dock this year than we did last year – and we'll [also] see that in 2023-24. Whereas we used to take two weeks to do a dry dock, on the larger vessels that's taking between three and four weeks and we are having to plan around that.
"If we are able to lease the Pentalina, that would certainly offer us more options as to how we would manage that, because it provides that additional resilience because we are going to have to take major vessels out for longer periods to make sure the work is done completely."
The Mull and Iona Ferry Committee said it expected confirmation of Pentalina joining the CalMac fleet very soon since crew had been recruited and the vessel had undergone work in dry dock in Greenock. It expected the crew would have the same pay and terms as those at CalMac to avert potential problems with the RMT.
Committee chair Joe Reade said: "We would welcome the Pentalina into the fleet – we have been calling for it for months, if not years, as have many other island groups. When the fleet and the service is in such dire straits, any capable vessel is welcomed.
"Due to linkspan [vehicle bridge between ship and shore] geometry, there will be limited deployment options. The easiest would be Ardrossan-Brodick, because both ports have nice wide linkspans. The plan from 2021 was to deploy her to Mull in winter and Arran in summer."
The RMT said it had not been involved in discussions over the vessel joining CalMac. Regional organiser Gordon Martin said: "We have been cut out of the loop regarding conversations which have clearly been taken place between Calmac, Transport Scotland and the Scottish Government to bring the clapped-out Pentalina onto the Clyde and Hebrides ferry service network.
"Furthermore, the RMT has concerns that our long-standing collective bargaining agreement with CalMac is at risk of being undermined and breached as we haven't been consulted or included in the crewing arrangements for this potential charter, which could lead to a trade dispute between the union and CalMac as the operator."
Transport Scotland would say only: "We are continuing to work on pursuing all reasonable and appropriate opportunities to enhance capacity and resilience in the short term through second-hand vessels."
A CalMac spokeswoman said: "We are actively looking into the possibility of chartering vessels, and will announce any successful decision as soon as we possibly can."
Pentland Ferries declined to comment.
Comments
 0 comments
Want to join the conversation? Please or to comment on this article.