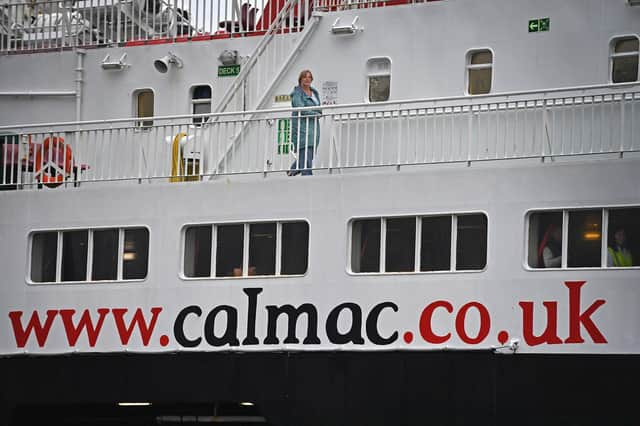 The MV Isle of Arran vessel, which normally travels between Ardrossan and Brodick, had to be taken in for repair on Thursday.
Transport Minister Kevin Stewart later tweeted that repairs had been completed and the ferry would re-enter service at 7am on Friday.
The breakdown comes after the newest and largest of the CalMac fleet, the MV Loch Seaforth, experienced a technical fault causing a swathe of cancellations over a period of almost three days on the route between Stornoway and Ullapool.
It was out of action from Monday evening through until Wednesday because of an issue with its engine.
Commenting, Scottish Labour MSP Monica Lennon said: "Another day, another ferry fail.
"Ferries are lifeline services for Scotland's islanders. Safety is paramount, that's why proper investment in our ferry fleet should have been a priority for the SNP government all these years."
Katy Clark, Scottish Labour MSP for West Scotland, added: "These service failures are becoming such a regular occurrence that it threatens the viability of even living and working on an island.
"The network is absolutely crippled due to the Scottish Government's failure to commission a new fleet over many years, with around half of all state-owned vessels now past their operational life expectancy.
"Bar the overdue vessels at Ferguson, the only plan appears to be to lease vessels with poor safety records, scour the globe for secondhand boats or outsource building projects abroad.
"This short term and panic-fuelled approach is not sustainable. We need an emergency procurement strategy to build ships here in Scotland, with workers and island communities consulted every step of the way."
A number of CalMac's vessels are currently out of action, with most of its ferries more than 30 years old and about half of its largest ships operating beyond their expected service life.
Four ferries to bolster the CalMac fleet are being built in Turkey, along with the Glen Sannox and the as-yet-unnamed hull 802, which have faced major delays and cost overruns during construction at the Scottish Government-owned Ferguson Marine shipyard in Port Glasgow.
A CalMac spokeswoman said earlier: "Vessel crew and contractors will begin repairs upon arrival in Ardrossan this afternoon and a review for Friday's sailings will be announced later.
"We are working as quickly as possible to reinstate the Ardrossan-Brodick service and are sorry for this disruption at what is a very busy time for Arran."
Mr Stewart later tweeted: "The repair on MV Isle of Arran has been completed and the ferry will re-enter service at 0700 tomorrow from Ardrossan to Arran.
"Thanks to the engineers for their efforts."