The move follows widespread expectation in the rail industry that the service would be nationalised, as revealed by The Scotsman on Saturday.
Ms Gilruth said her other option of a further contract to current franchisee Serco "would not be appropriate".
However, the firm criticised the Scottish Government for not requesting proposals for a "direct award" to ensure value for money.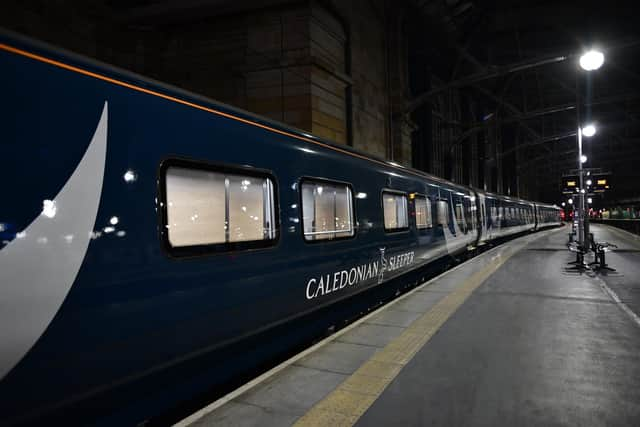 The minister said on Thursday the service would be switched to a Scottish Government-owned "operator of last resort" under Scottish Rail Holdings on June 25, like the one which has run ScotRail since it was nationalised last April.
Ms Gilruth said: "Having regard to continuing uncertainty regarding market conditions, travel behaviours and ongoing UK rail reform, it was decided that a direct award was not viable and that Sleeper services should instead be provided by the Scottish Government in line with their operator of last resort duty.
"This approach will provide a stable platform for Sleeper services and certainty for passengers and staff.
"I am confident under these arrangements we can build on our experience of public sector operation to ensure the bright future we see for the Caledonian Sleeper is protected."
However, she said the Sleeper would remain separate from ScotRail, after being split into a separate franchise in 2015, which she said had given it "the level of dedicated management it deserves", rejuvenated the service and seen the introduction of a new fleet.
Ms Gilruth described the service as "thriving", with the most forward bookings since the franchise started and faster recovery from the Covid pandemic than any other UK train operator, while staff provided a "world class" service.
Scottish Conservatives transport spokesperson Graham Simpson criticised the move as an "ideological decision" and said the minister had said nothing about how the service could be improved under the Scottish Government.
Serco's managing director for transport John Whitehurst said: "Unfortunately, the Scottish Government has not requested a costed proposal for a direct contract award, which would have allowed Scotland to benefit from the expertise of our team who understand this complex and unique hospitality-focused train operation like no one else, while also enabling ministers to be in complete control of the contract.
"Most importantly, this would have allowed the Scottish Government to compare the price of such an award with that of their arm's length operator of last resort company."
Scottish Labour transport spokesperson Neil Bibby welcomed the rail unions' campaign which had been "instrumental in making the case for public ownership", but called for the Sleeper to be reintegrated with ScotRail.
Mick Lynch, general secretary of the Rail, Maritime and Transport union, which represents many Sleeper staff, said: "We have campaigned tirelessly for this win, and I congratulate every part of the union who had a hand in making this a reality."
The overnight trains operate between Edinburgh, Glasgow, Aberdeen, Fort William, Inverness and London, serving 43 stations in Scotland.
A Transport Scotland spokesperson said: "It is understandable that Serco is disappointed by this decision, which has been reached in line with existing reserved legislation and our franchising policy statement.
"Options considered included the possibility of a direct award. We stand by the decision taken as one that is in the best interests of staff, passengers, and the public purse.
"Serco made a commercial offer to the Scottish Government last year to continue to operate the Sleeper beyond June this year. This was considered carefully at the time, but was declined on value for money terms."