British Transport Police predicts upsurge in violence on Scottish rail network as it reports rise in incidents
Violence is expected to increase on the Scottish rail network, British Transport Police (BTP) has warned as it reported a rise in incidents.
The rail police force predicted an upsurge would be fuelled by warmer weather and busier trains, after new figures showed an 8 per cent increase in violent crime on Scotland's railways compared to pre-Covid levels.
Threatening and abusive conduct also went up, by 30 per cent to 883 incidents in 2021/22 compared to 2019/20.
Such incidents involving under-18s jumped by 63 per cent from 243 to 397 incidents.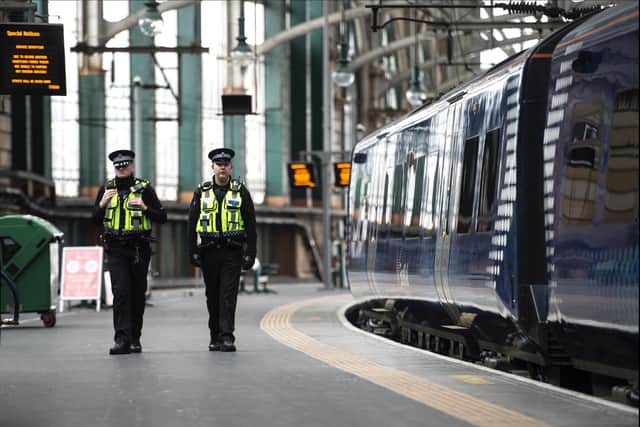 Publication of the figures comes after The Scotsman revealed three members of a specially-formed ScotRail team to tackle anti-social behaviour were assaulted on a Gourock-Glasgow train on Good Friday, with one taken to hospital.
The Rail, Maritime and Transport union (RMT) has threatened a staff boycott of such routes if action is not stepped up.
The figures also showed anti-social behaviour incidents increased by 53 per cent in 2021/22 compared to pre-Covid levels, with the total increasing by 1,261 to 3,660.
A BTP report to the Scottish Railways Policing Committee stated: "Incidents of serious violence, including a recent assault against an officer who was struck with a glass bottle, indicate the potential low-level youth offending has for escalating to high harm crime.
"It is expected that violence will likely increase [in] the next quarter along with the warmer weather and busier services.
"There has been an increase in on-train policing to deter activity, which has seen tensions and sporadic acts of violence in the Glasgow sector and there has been particular focus on the carriage of weapons.
"As a result of increased patrols directed at the correct services, BTP have made positive detections to prevent serious crime, and weapon-enabled serious violence has stayed low."
The report added: "The railway in Scotland has largely remained a safe place for travel, with Scotland accounting for just 3 per cent of all BTP crime and serious violence and robbery just 1 per cent of the force total."
But RMT Scottish organiser Mick Hogg said: "If anti-social behaviour and assaults continue, we will instruct staff not to work the affected routes because of health and safety – this is about keeping staff safe."
Transport minister Jenny Gilruth said: "I'm appalled to hear of these recent incidents and I wish all affected staff a speedy and full recovery.
"To tackle anti-social behaviour in known hot spots, BTP have been working with ScotRail, and last weekend introduced enhanced presence on these specific routes.
"Where this action has been taken, no reports of youth anti-social behaviour have been recorded.
"BTP are also working with ScotRail to tackle the issue of staff assaults, encouraging the use of body worn cameras as a visible deterrent and ensure best evidence is captured."
Ms Gilruth also said banning offenders from trains "will be explored further as part of the ongoing work on safety on public transport".
Stephen Elliot, ScotRail's security and crime manager, said: "Anti-social behaviour is completely unacceptable.
"We'll continue to work with the authorities to ensure anyone responsible for anti-social behaviour is brought to justice."
Comments
Want to join the conversation? Please or to comment on this article.