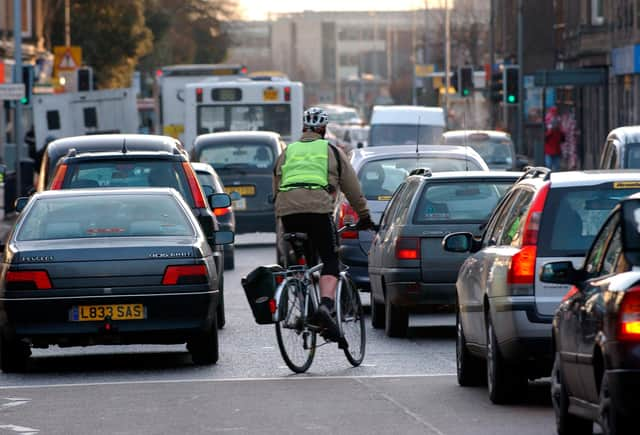 Edinburgh has the highest number of cycle casualties in Scotland. Picture: Ian Rutherford
The number of cyclists killed in Scotland increased from six to ten last year, finalised Scottish Government figures showed.
It is the highest figure since 2013 when there were 13 deaths.
There have also been at least eight deaths so far this year, analysis of police reports by The Scotsman showed.
Cycling Scotland has called for reductions in traffic speeds and volumes to improve safety. Picture: Andrew O'Brien
The number of serious injuries also appears to be rising, from 157 in 2018 to 183 last year, although direct comparisons cannot be made because of changes to the way the severity of casualties was recorded.
However, the overall number of cycle casualties fell from 638 to 572 despite a continuing increase in cycling, and is at its lowest for at least ten years.
Cycling Scotland said cycling did not appear to be getting more risky.
It pointed to total cycling increasing last year by 17 per cent from 313 to 367 million km.
Spokesperson Denise Hamilton said: "Cycling casualties are increasing in line with increases in people cycling.
"While the likelihood of being killed or seriously injured cycling is relatively low, it's completely unacceptable that anyone is being killed or seriously injured on our roads.
"The highest priority to make cycling safer is cycle paths separate from traffic.
"Police action against dangerous driving behaviour is also crucial, as is reducing the volume and speed of vehicles on streets that people are cycling and walking on."
Daisy Narayanan, director of urbanism at walking and cycling group Sustrans, said safety was a key barrier to more people cycling.
"While cycling is a relatively safe activity, we need to continue to make our streets safer for people who cycle and to increase people's perception of safety.
"Local authorities should work to create safer, better streets and places through the implementation of protected cycle routes and low traffic neighbourhoods, whilst taking into account the local context."
Analysis of separate UK Department for Transport figures by the JPIMedia Data Unit, part of the company which owns The Scotsman and Edinburgh Evening News, shows Edinburgh had the highest number of casualties in Scotland last year.
However, the 160 total was down by nearly a third on 2016, and the figure may reflect the greater level of cycling in the capital than elsewhere.
Glasgow, the second highest, had 93 casualties, which was also nearly one third down on 2016.
The third highest was Fife, with 35 casualties and three deaths – the largest number of fatalities of any council area.
The Scottish Government's Transport Scotland agency said it was spending more than ever on cycling improvements.
Its spokesperson said: "The latest statistics confirm that there were 572 pedal cycle casualties in 2019, which is 10 per cent less than in 2018.
"Although pedal cycle fatalities rose to a peak of 13 in 2013, they have been steadily falling to six in 2018 before rising to ten in 2019.
"Despite this downward trend, one life lost on our roads is one too many and we are continuing to invest record amounts in active travel [walking and cycling] infrastructure and training for all road users to make the roads as safe as possible for everyone, especially vulnerable road users.
"We have committed through the Programme for Government to spend over £500 million over five years to help deliver accessible protected infrastructure for walking and cycling across Scotland."
A message from the Editor:
Thank you for reading this article.
We're more reliant on your support than ever as the shift in consumer habits brought about by coronavirus impacts our advertisers.
If you haven't already, please consider supporting our trusted, fact-checked journalism by taking out a digital subscription.