Exclusive:

Active travel minister Patrick Harvie criticised by his own ambassador Lee Craigie for walking and cycling projects 'drowning in bureaucracy'

Lee Craigie steps down with stinging critique of Scottish Government's "frustrating and disappointing lack of collaboration" in face of climate and health emergency
Ministers' attempts to get Scots walking and cycling more are being halted by lack of collaboration and being "drowned" in bureaucracy, their outgoing active travel ambassador has warned.
In an outspoken open letter to active travel minister Patrick Harvie, Lee Craigie said projects had been "drowned in procurement processes or dumbed down to avoid any possibility of debate or controversy".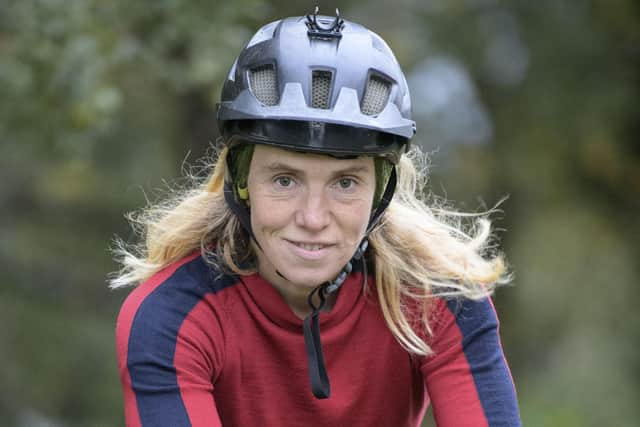 Ms Craigie, a former champion mountain biker, stressed that encouraging more active travel for everyday journeys was an "extremely important" part of the solution to the threats posed by the climate and health emergency.
She also said a vocal minority was hindering efforts to improve air quality and restrict cars, such as on pavements and where children played.
Ms Craigie said: "Unfortunately, it is still a well-organised minority of people with the loudest voices who are given the broadest platform to express their views and this is undermining the individuals and institutions we know are in the majority and who wish to live by compassionate values [social equality, environmental protection, health and well-being promotion].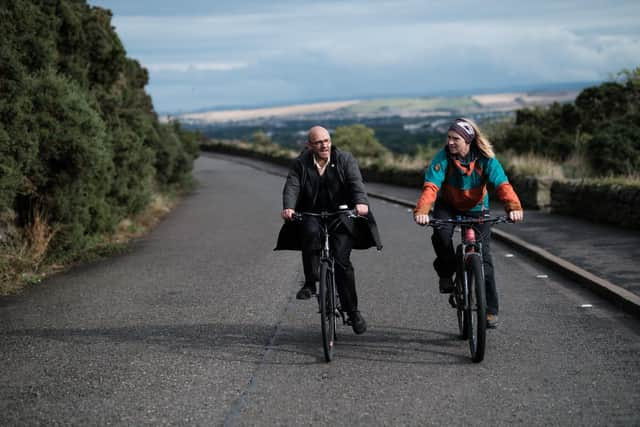 "It is the responsibility of our statutory services and political leaders to make bold, fair, health and environment-centred decisions based on fact and the carefully-considered opinions of a broad range of our diverse population and not a privileged few."
The ambassador said she had been inspired by the "vision and passion" behind efforts to increase active travel, but there more expertise and investment was needed in recruiting and maintaining the dedicated staff required.
Scottish Conservatives transport spokesperson Graham Simpson said: "Lee Craigie's frustrations are very clear in this damning letter which should be a wake-up call for Patrick Harvie.
"Her comments on the lack of joined-up thinking, bureaucracy and the failure to involve communities in planning for active travel should be acted on immediately.
"Her role was always more symbolic than anything. Perhaps if she had been given some authority then she would not felt the need to write such a polite but strong letter."
Scottish Labour's active travel spokesperson Mercedes Villalba MSP said: "The Scottish Government must prioritise active travel infrastructure and properly fund local projects designed to provide better access to walking and cycling – both of which are vital if we are to reduce traffic on our roads – rather than getting bogged down in bureaucracy.
"Access to and experience of active travel is impacted by our gender, our ethnicity, and whether we have a disability. Active travel options must be inclusive while seeking to redress social as well as economic inequalities, so that marginalised communities have access to walking and cycling.
"The Scottish Government must end the cuts to local authorities and invest in insourcing to treat active travel like the vital public service it is with well paid, unionised public sector workers at the heart of it."
A spokesperson for the Scottish Government's Transport Scotland agency said: "We will take on board her comments as we continue our review of our approach to active travel delivery for 2024-25.
"Lee has offered and continues to provide a strong, trusted, and impartial voice in broadening the public conversation on active travel.
"Building on her three-year posting as Scotland's Active Nation Commissioner, Lee worked on public engagement during the Cycling World Championships, access to bikes, and providing an independent view on active travel progress.
"Across both roles, Lee has been an influential champion for walking, wheeling and cycling in Scotland, raising the profile of these inclusive and sustainable modes of travel, while promoting their heath, environmental, social and economic benefits right across the country.
"We thank the ambassador for her time and commitment to increasing active travel in her role."
Comments
 0 comments
Want to join the conversation? Please or to comment on this article.