A83: Rest and Be Thankful has boulders 'as big as cars' and 6000 tonnes of debris blocking road
Boulders the size of cars are among 6,000 tonnes of debris that blocked the A83 at the Rest and Be Thankful along with the road used as the area's usual diversion.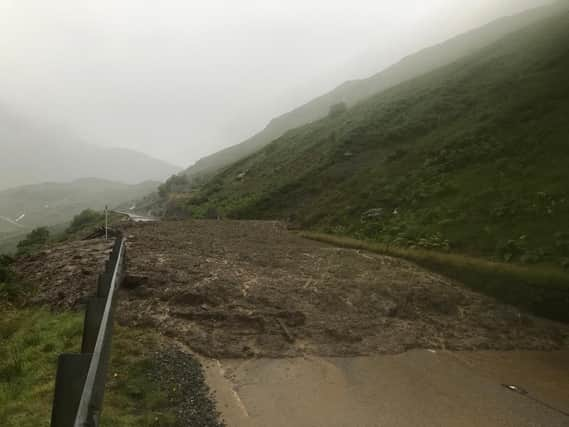 A landslip at the Rest And Be Thankful caused around 6,000 tonnes of debris to fall from the hillside, one of the largest in recent times.
The route on the A83 became covered in 1,500 tonnes of debris following heavy rainfall across Argyll and Bute on Tuesday.
A further 2,000 tonnes of material was washed on to the local Old Military Road (OMR), which has previously been used as an alternative route.
Eddie Ross, Bear Scotland's north-west representative, said: "Teams have been working since first light to carry out the initial clear-up operations on both the A83 and OMR.
"The size and scale of this landslip is presenting us with challenges we've not seen previously.
"The safety of road users is imperative so we are establishing full assessments of the road and OMR to address any damage before we can safely open the road.
"We understand the desire to reopen the road and OMR however we have to devise a safe solution to allow us to do so.
"For now, the diversion route remains in place and Western Ferries are running additional sailings for their Gourock to Dunoon crossing to accommodate road users.
"In the meantime, Argyll remains open for business and we encourage road users to check Traffic Scotland for the latest travel information."
Bear Scotland said both routes will remain closed overnight on Wednesday with traffic being diverted via the A83, A82, A85 and A819.
Specialists have been carrying out safety assessments of the area and also started investigating the damage caused by the landslips, which fell from 200m above the A83.
Large car-sized boulders have been brought down the hillside on to the carriageway and inspections of the slope are taking place to see if any others were impacted.
A 42-strong team is on site carrying out assessments, managing the traffic and continuing the clear-up operation using 16 kinds of heavy machinery.
Politicians called on the Scottish Government to take action to prevent the recurring landslips.
Argyll and Bute Council leader Aileen Morton has written to First Minister Nicola Sturgeon calling for action.Ms Morton said: "This is now the second landslide of the year that has closed the Rest and Be Thankful and resulted in disruption to a major trunk road causing havoc for our communities."