Theatre reviews: A Streetcar Named Desire | Meet Me at the Knob
Elizabeth Newman's new production of A Streetcar Named Desire may not be overtly innovative, but it is full of insights drawn from our own time, and absolutely true to the living spirit of Tennessee Williams's great drama, writes Joyce McMillan
Meet Me At The Knob, Oran Mor, Glasgow ****
As a gay man born in the American deep south in the year 1911, Tennessee Williams knew a thing or two about forbidden love; and his profound empathy for those who cannot find love, in any form society finds acceptable, lies at the heart of all his greatest plays.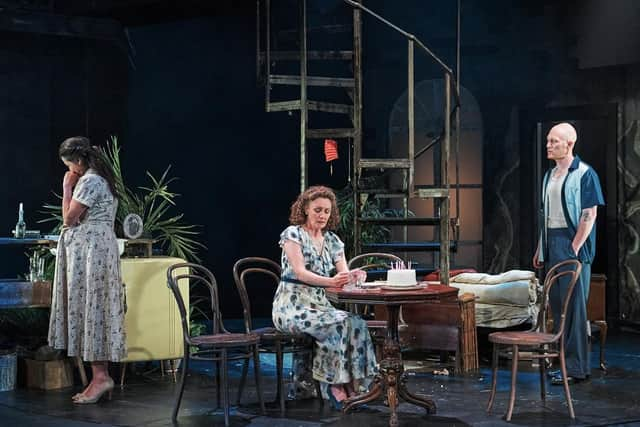 In A Streetcar Named Desire – first seen in New York in 1947 – his drama therefore focusses on the fragile yet unforgettable character of Blanche Dubois, a woman brought up as the daughter of a wealthy southern family, yet broken and ostracised, as her youth fades, by her failure to make a lasting marriage, her decline into poverty, and her inability to suppress the passions no respectable single woman was expected to feel.
And it's one of the many joys of Elizabeth Newman's powerful new production at Pitlochry Festival Theatre that all the aspects of Blanche's character – diva and victim, teacher, wit, social outcast and woman on the verge of madness – are superbly captured in a rich, beautiful and unmissable central performance by Kirsty Stuart, who heartbreakingly allows us to glimpse the possible strong modern woman struggling and failing to escape from the chrysalis of this ageing and desperate southern belle.
While Blanche glows and suffers at the heart of the drama, though, every other character in Williams's intense tragedy is also beautifully realised and fully present, as a destitute Blanche arrives at the cramped apartment in working-class New Orleans shared by her sister Stella and her husband Stanley. Nalini Chetty's Stella is perfect, quiet and accepting, happily pregnant, yet still well able to articulate, explain and defend the choices she has made.
Matthew Trevannion somehow – with great subtlety – creates a Stanley who is both appalling in his bullying machismo and violence, and yet deeply human in his resistance to the snobbery that has Blanche dismiss him as a "Polack" and an "ape"; and Keith Macpherson is magnificent as Mitch, Stanley's kind middle-aged friend, who briefly and poignantly becomes Blanche's beau. The action swirls seamlessly forward on Pitlochry's beautiful revolving stage, which might have been built for the curving spiral staircase and shifting domestic spaces of Emily James's fine set. And with sound design and music by Pippa Murphy to complete the picture, this Streetcar emerges as a near-flawless production of a great 20th century classic; not overtly innovative, but full of insights drawn from our own time, and absolutely true to the living spirit of Williams's great drama.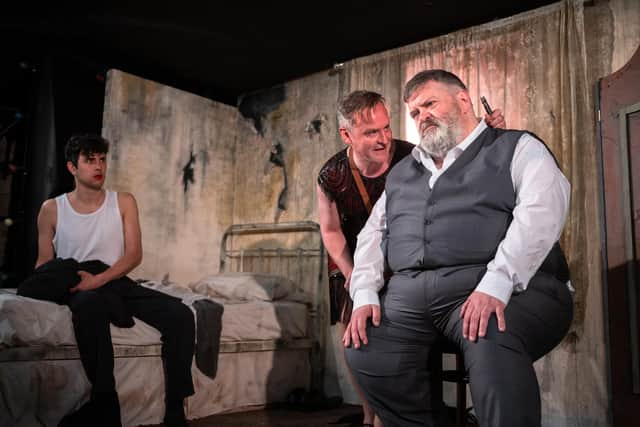 Johnny McKnight's Meet Me At The Knob, this week's Play, Pie and Pint show, bills itself as a "raucous new musical" set in 1920s Glasgow, when a band of gangsters in drag, known as the White Hats, used to rule the Broomielaw, extracting hush money from "respectable citizens" who sought homosexual encounters there. The play certainly has its moments of camp and raunchy comedy, as a hotel room encounter between a rent boy and a senior judge is interrupted by a ferociously dragged up Darren Brownlie, in the role of ruthless gangster queen Liz.
The comedic structure of the plot slightly belies the intensity of the feelings it unleashes, though, as Liz rages and mourns – often through powerful and moving songs by Novasound – over the long history of injustices done to "beautiful boys" punished by a legal system itself riddled with corruption and sexual hypocrisy. The mood is often as much Tennessee Williams-style lyricism and longing as raucous comedy; and if there's a feeling of a slightly bigger subject here, than can easily be encompassed in a 55-minute lunchtime play, there's also a huge sense of dramatic, musical and theatrical potential, beautifully sustained, in Jemima Levick's production, by Darren Brownlie, Tom Urie and Dylan Wood.
A Streetcar Named Desire is in repertoire at Pitlochry Festival Theatre until 30 September; Meet Me At The Knob is at Oran Mor, Glasgow, until tomorrow