SNP and Labour MSPs unite against boundary changes to key Edinburgh seats
MSPs have come together to criticise new boundaries set to be used in the 2026 Holyrood election.
Two Edinburgh MSPs have criticised plans to radically change the layout of their city-centre constituencies ahead of the next Scottish Parliamentary election.
Cabinet secretary for the constitution and SNP MSP Edinburgh Central, Angus Robertson, alongside Scottish Labour's economy spokesperson and MSP for Edinburgh Southern, Daniel Johnson, are both critical of the planned boundary changes.
They state the plans do not take "appropriate account of local ties" and do not "reflect their communities" appropriately.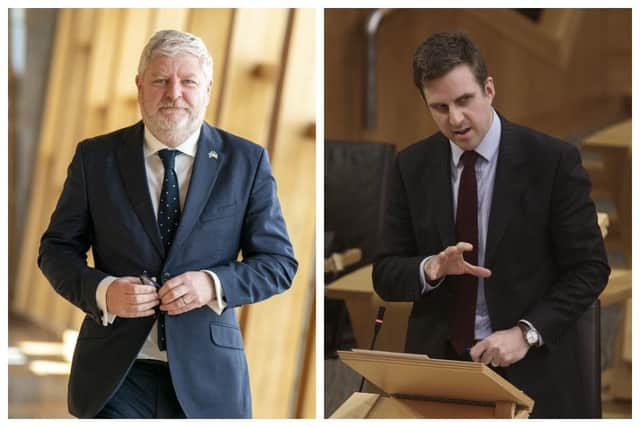 Under the proposed boundaries, which remain under consultation, Edinburgh Central and Edinburgh Southern would lose significant parts of their existing area.
Edinburgh Central, won by the SNP from the Scottish Conservatives in 2017, is set to lose more than half of its constituency, including the majority of its north and west sections, which include Stockbridge and Dalry. These will be replaced by historically southern Edinburgh areas such as Newington, going as far south as Blackford Hill.
Edinburgh Southern, gained by Labour from the SNP in 2016, will lose those areas and gain parts of Edinburgh Central such as Gorgie and Fountainbridge, while also running further south the bypass below Oxgangs and Colinton.
Politically, election-watch website Ballot Box Scotland said the changes would shift Edinburgh Central to becoming an SNP/Labour marginal after it being a close fight between the SNP and Conservatives in recent elections, while Edinburgh Southern results in an even tighter Labour/SNP marginal.
Neither party is set to lose significantly from the boundary changes. It is understood the criticism from both sides comes from the apparent failure to consider how existing communities define themselves.
In a contribution to the consultation, Mr Robertson said the changes – which make the seats run adjacently north to south rather than east to west – had resulted in concern from constituents.
He said: "I agree with my constituents who have raised their concerns that these specific proposals do not take appropriate account of Edinburgh geography, do not take appropriate account of local ties and do not take appropriate account of the inconveniences caused by changes to the constituencies.
"All of the feedback I have received as constituency MSP makes clear that these specific proposals make no sense to central Edinburgh communities being lumped into Edinburgh South constituency or southern Edinburgh communities being lumped into Edinburgh Central constituency."
Urging his constituents to also get in touch with Boundaries Scotland, he added: "It is not too late to influence the new boundaries and hopefully ensure that central Edinburgh communities like Dalry, Gorgie and Fountainbridge remain in Edinburgh Central".
Mr Johnson, speaking to The Scotsman, said there was a "strong case" for the changes to the boundaries to be reverted. He said: "Edinburgh is a city with very strong senses of local identity and strong communities.
"It is important that boundaries reflect those, so that those communities have effective representation in Parliament and at other levels. There is a strong case for the Boundary Commission to reflect upon this as they take evidence on the proposed boundaries.
"It is really important that people in Edinburgh Central and south Edinburgh are represented effectively in Parliament and they need boundaries that reflect their communities."
A spokesperson for Boundaries Scotland said the feedback would be taken on board.
They said: "Our initial proposals are out for consultation until June 17 and we look forward to seeing responses from MSPs and others. Our aim is to ensure delivery of a set of constituency proposals which best reflects the requirements in the legislation.
"These requirements include having broadly equal electorates to ensure a fair electoral system for voters as well as taking account of local ties.
"We welcome the input from Mr Robertson and Mr Johnson and, at the end of the consultation, Boundaries Scotland will fully consider theirs and all other representations received, including any suggestions for change that fit the legislative requirements. If it is decided that amendments should be made to any proposals, then we will consult further."
Want to hear more from The Scotsman's politics team? Check out the latest episode of our political podcast, The Steamie.
Comments
 0 comments
Want to join the conversation? Please or to comment on this article.