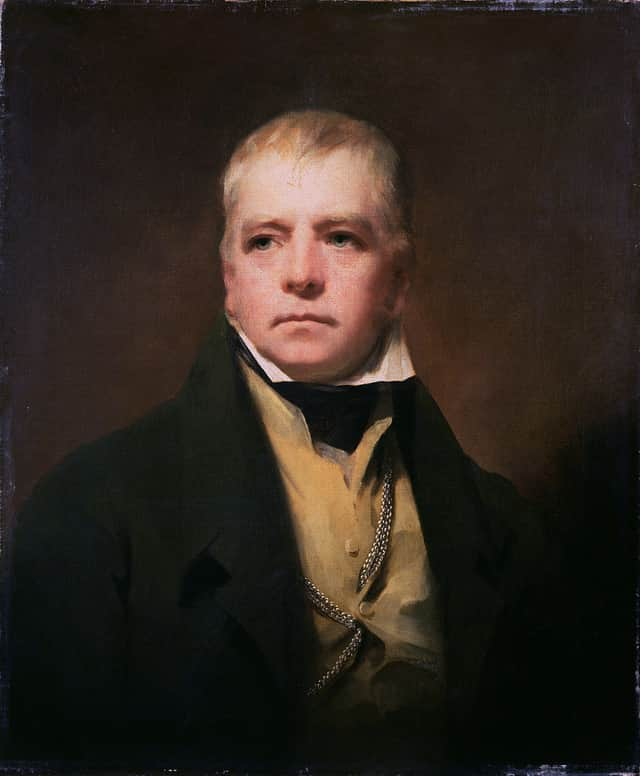 Portrait of Sir Walter Scott by Sir Henry Raeburn, 1822. Picture: Contributed
SIR Walter Scott is often credited with single-handedly inventing Scotland's national image. The closer you inspect his legacy, the more water this bold claim holds.
Scott's formative years, although privileged, were far from easy.
Walter Scott was born in 1771 at College Wynd on the southern edge of Edinburgh's Old Town. As a toddler, he contracted the poliovirus and developed a pronounced limp which would rob him of full mobility. To recuperate, Scott spent much of his early childhood at his grandparents' rural home in the Scottish Borders. It was here where he was immersed in tales of national folklore and traditions. These experiences shaped the young Scott profoundly.
As the son of a Writer to the Signet (a solicitor), the young Walter Scott was expected to gain a solid education and follow in his father's footsteps. This he did, attending the Royal High School and the University of Edinburgh before being admitted to the Faculty of Advocates aged 21 in 1792. One of his first assignments as a lawyer's clerk was to visit the Highlands to oversee an eviction.
Scott was able to publish his first works from 1796, thanks to friend James Ballantyne who had founded a printing press in Kelso. He started by translating popular German poetry, but within a matter of years began to produce work of his own to great critical acclaim.
In the early 1800s, Scott rose to prominence following the release in quick succession of The Lay Of The Last Minstrel, Marmion and The Lady In The Lake. These poems explored themes of romance and drew heavily on old legends from the Scottish Borders and beyond.
But Scott was no full-time Rabbie Burns. He continued to be tied to his primary source of income, which by that time, was as clerk to the Court of Session in Edinburgh.
In 1814 Scott produced 'Waverley' the first in a series of novels which would help to keep him solvent until his death. He made a conscious decision to remain completely anonymous to avoid the wrath of his father, who would have deemed novel-writing as a wholly frivolous activity and an unwanted distraction from his son's main occupation.
Through his novels, Scott helped to romanticise elements of Scotland's rich past which had been mostly swept to one side for political reasons since the Act of Union and the Jacobite rebellions. He lit a cultural beacon within Scotland that urged her people to open their eyes and wake up.
The unnamed author proved to be prolific one, penning a dozen novels in half as many years. Copies of Waverley, The Heart of Midlothian and Ivanhoe would go on to fly off shelves in bookshop across Europe and around the English-speaking world. Despite their great fame, though, only a select group of people knew that Walter Scott was behind them. Included in this number was the future King George IV who invited Scott to dinner in 1815 after having demanded to meet the 'author of Waverley'.
The pair would meet again seven years later in 1822, when the newly-crowned king arrived in Scotland on a state visit. Scott was honoured to be in charge of arranging the prestigious event, and, in keeping with the spirit of his novels, he transformed it into a celebration of Scottish national heritage. Even the king was dressed in Highland garb, with salmon pink tights for the grand ball at Edinburgh's Assembly Rooms. It is this moment more than any other which is thought to have cemented the tradition of Scots wearing Highland dress for big occasions.
Scott's identity was finally revealed in 1827 at another public event. However, by this point, Scott was forced to write more out of necessity than enjoyment in order to tame his heavy debts - thought to total over £130,000.
The excessive writing eventually took its toll on Scott, and after suffering three strokes in quick succession, he died aged 61 at his Abbotsford home in Septmeber 1832.
Completed in 1845, Edinburgh's Scott Monument - the world's tallest monument to a writer - serves as a potent reminder of the seismic impact Sir Walter had on Scottish society in his own time.
A 20ft quill pen was erected on top of the Waverley Market to mark 200 years since the birth of Sir Walter Scott, 1971. Picture: TSPL