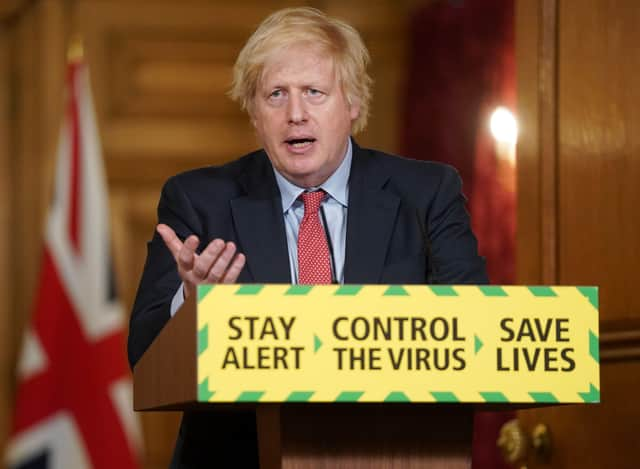 Prime Minister Boris Johnson has pledged jobs at the department's Scottish headquarters will be safe. Picture: Pippa Fowles/10 Downing Street/AFP via Getty Images
The decision came under immediate attack from the development sector, opposition parties and three former prime ministers – including David Cameron, who said getting rid of DfID was a "mistake". Development and aid will be brought into a revamped Foreign, Commonwealth and Development Office, with UK ambassadors taking charge of aid work in their areas and aligning projects with the government's diplomatic objectives.
Announcing the move in the Commons, Mr Johnson pledged to maintain the UK's commitment to spending 0.7 per cent of gross national income on foreign aid, but insisted that DfID was "artificial and outdated".
In future, development funds will be redirected from places like Tanzania to eastern Europe, where UK allies are under threat from Russian interference, he told MPs.
"For too long, frankly, UK overseas aid has been treated as some giant cashpoint in the sky that arrives without any reference to UK interests or to the values that the UK wishes to express or the priorities, diplomatic, political or commercial, of the government of the UK," the Prime Minister claimed.
Shadow foreign secretary Lisa Nandy said the UK would be "diminished in the world", and former prime minister Tony Blair, whose Labour administration established the DfID in 1997, said he was "utterly dismayed" by Mr Johnson's decision.
Gordon Brown tweeted to say he was saddened to see Mr Johnson "abolishing one of the UK's great international assets".
During the daily Downing Street coronavirus press conference, Mr Johnson said it was "extraordinary we haven't done it earlier" and argued the new department would provide a "far more coherent" way of assigning aid.
The new department will be formally established in early September, with Foreign Secretary Dominic Raab in charge of the operation. International Development Secretary Anne-Marie Trevelyan will remain in post until the merger is complete.
Aid charities also expressed their unhappiness at the merger.
Oxfam Great Britain chief executive Danny Sriskandarajah said the Prime Minister's announcement was "scarcely believable" and would mean "more people around the world will die unnecessarily from hunger and disease".
Kevin Watkins, chief executive of Save the Children, described it as "flawed" and a "deeply damaging move".
The Scottish Government's minister for Europe and international development, Jenny Gilruth said it was a "deplorable decision by the UK government which risks putting UK foreign policy, commercial and political objectives ahead of supporting the world's poorest and most vulnerable communities, in a time of crisis."
Challenged in the Commons by the SNP's Ian Blackford over the future of around 600 DfID staff based in East Kilbride, the Prime Minister said: "Of course we are going to keep those jobs in East Kilbride" – adding that Scottish independence "would throw that away".