Richard Paterson: a true icon of the Scotch whisky industry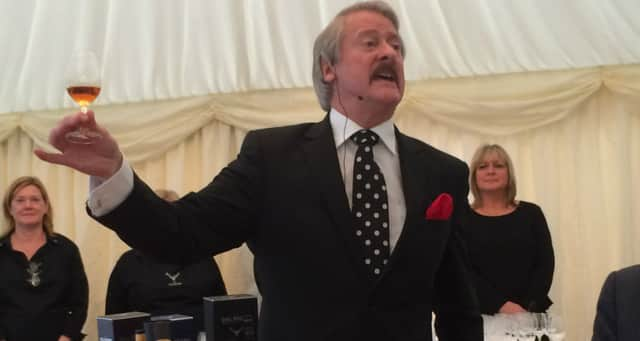 To reach fifty years in any industry is an achievement but to do so as one of its most recognisable faces is even more impressive.
One of the most iconic figures in the world of Scotch whisky, Richard Paterson is lauded for his blending skills, which earned him the moniker 'The Nose', and led to his prize asset being insured by Lloyds of London for £1.6 million.
Described as a legend by his peers, Richard is modest in his response: "Legend is a strong word, however, I am honoured that people refer to me that way, it is a great compliment.
"For me, my aim was never to be a legend. I just wanted to create exceptional and innovative whiskies and I feel I have done that over the last 50 years, and I still have more to come!"
Beginning his whisky education at the age of just eight years old under the tutelage of both his father and his grandfather - who were both expert blenders - it would seem that Richard was destined to follow in their footsteps.
Starting out at a whisky blender & brokers in Glasgow before moving to Whyte & Mackay, Richard became their master blender at the tender age of 26.
Now, as the face of the Dalmore brand, Richard travels around the world extolling the virtues of not only his own whisky but Scotch as a whole; his tastings and talks are widely held as the highlight of many an event with Richard going out of his way to make each one unique in its own right.
"Although the fundamentals will be similar at every tasting, I always take time to prepare for each one individually.
"By adding personal touches, such as information about the country I am visiting or historical dates and times, makes each presentation memorable. It is special when people feel they are hearing and seeing something different and unique to them."
He applies a similar dedication to his whisky making, creating new expressions for Dalmore and maintaining their important links with Gonzalez Byass, who provide a steady stream of their signature sherry casks in which to house Dalmore's now famous spirit, a pairing which Richard describes as "the perfect partnership".
As part of the celebrations for his half century of service, Dalmore asked Richard to create a special expression, The Dalmore Quintessence, a whisky which he describes as one of his favourite achievements.
"The Dalmore Quintessence was a pleasure to work on as it combined my love of whisky and wine. I brought together five different styles of red wine to create this magnificent whisky – no one else has ever created anything like this before."
The whisky icon says he has no intention of slowing down and is looking forward to creating yet more iconic expressions for the distillery.
"People have a thirst for knowledge, they want to know how their whisky is created and they want to keep trying new and different whiskies. This is what I love about my job, I'm able to create something different, something unique that hopefully, our fans will love."