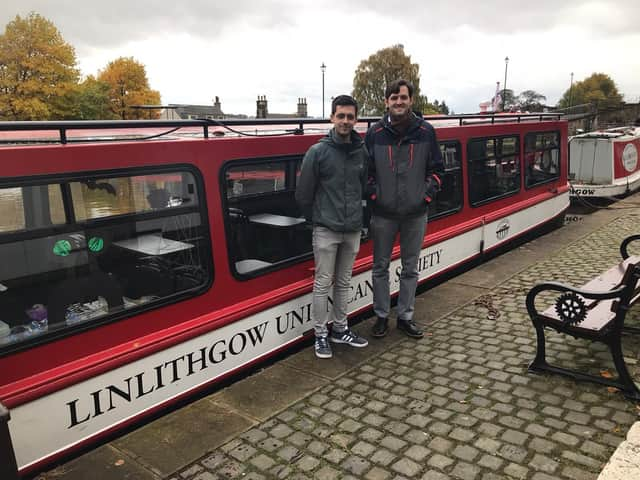 Dr Momchiel Terziev and Dr Tahsin Tezdogan of the Department of Naval Architecture, Ocean and Marine Engineering at the University of Strathclyde.
Dr Momchil Terziev is to tell MSPs today the network could become zero carbon, if measures are brought in to reduce emissions from boats and also offset carbon through transporting goods on the water.
He has also created an app that allows canal boat users to alter their driving to achieve optimum efficiency and is looking at the best ways of dredging canals to allow boats to run more fluidly in the water.
His project, created by the Department of Naval Architecture, Ocean and Marine Engineering at the University of Strathclyde, aims at making the canal network as close to zero carbon as possible.
Dr Terziev is due to address Holyrood's cross-party group on recreational boating and marine tourism tonight. He needs to generate £1 million in funding for the scheme.
He said: "Sometimes the technology doesn't engage people and isn't practical, such as you need a new type of boat, you have to scrap your old one.
"If you have another 30 years of life left in it, people are obviously not going to do that. In this project, it is very interdisciplinary and we are looking at other ways of achieving it, such as the fluid dynamics of water and waves and how the water moves.
"We can use that sort of information to reduce how much power your boat needs to move through the water, then we would look at maintaining the canals and waterways in things like dredging. It's extremely expensive and there has been a huge backlog and that increase the power and fuel required for boats to travel.
"The problem is that at the moment, people are just dredging blindly, so they take a digger of some kind and start excavating. We're looking at how we can guide that to reduce the costs and reduce the scale of the intervention."
Dr Terziev said that sediment collected from canals, which is treated as toxic waste, could be recycled and reused in different ways.
He said: "In the future, we want to use hydrogen to power boats, because it is a clean energy, or batteries or fuel cells."
Goods such as timber could be transported along Scotland's canals, reducing carbon emissions from vehicles.
Dr Terziev said: "Transporting goods with canal boats is three to four times more energy efficient than transporting those same goods in trucks on the roads."
Jonathan Mosse, a Scottish representative for the Inland Waterways Association, said: "Canals could become almost carbon neutral. I want to get the message out to all boat users that there are things that can be done to be more efficiently.
"We have 60,000 to 80,000 powered craft at the moment on waterways in the UK. If we use a carbon neutral fuel for existing boats, that reduces emissions for the next 30 years, then we have the next generation of boats coming in and use canals for freight. This could be very significant."
A message from the Editor:Thank you for reading this article. We're more reliant on your support than ever as the shift in consumer habits brought about by Coronavirus impacts our advertisers.
If you haven't already, please consider supporting our trusted, fact-checked journalism by taking out a digital subscription.