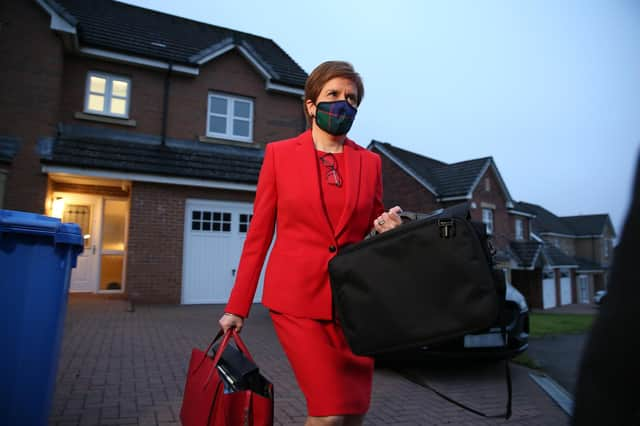 In August of that year, news of the complaints became public and Salmond announced a crowd-funder to challenge the legality of the process to which he was subject.
On January 8, 2019, Lord Pentland ruled at the Court of Session that the Scottish Government's actions were "unlawful in respect that they were procedurally unfair and they were tainted with apparent bias". Salmond was awarded costs of more than half a million pounds.
All of these truths are, as Salmond might say, quoting Burns, chiels that winna ding.
I lay these facts out not only because of a propensity for pedantry but because anyone watching Sturgeon give evidence on Wednesday to the Holyrood committee currently investigating the Government's catastrophic handling of the complaints against Salmond might be forgiven for losing sight of them.
The First Minister gave what was widely considered to be an accomplished performance in front of the committee but did she really help us understand what went so badly wrong? Are we any closer to knowing why those women who spoke up were so badly let down and why the taxpayer is so heavily out of pocket?
I'm not at all sure we are.
Rather than being about failures in process, much of the session was about who we should trust: Salmond or Sturgeon.
It suited the First Minister to remain on this ground. Asked about Salmond's suggestion that he had been the victim of a plot to bring him down, to remove him from public life, Sturgeon said: "I would never have wanted to 'get' Alex Salmond I would never, ever, have wanted any of this to happen. I had no motive, intention or desire to 'get' Alex Salmond." Watching his evidence before the committee on the previous Friday, earlier, she added, she found herself "searching for any sign at all he recognised how difficult this has been for others, first and foremost for women who believed his behaviour towards them was inappropriate".
To be fair to Sturgeon, she could only deal with the material she was given, and so this characterisation of the whole damned mess as a battle between good (her) and evil (him) was enabled by those asking the questions.
It was a theme she returned to whenever things got difficult. If she couldn't quite remember this detail or the content of that meeting, she was sorry, she was kicking herself but, then, this was a situation in which she never expected to find herself.
The complainers were further erased from the process by a frantic SNP spin operation that sound-tracked Sturgeon's appearance before the committee. Nationalist politicians provided a steady stream of Tweets attacking the questions and the motives of those committee members who had committed the grave crime of being members of opposition parties. Of course, went the SNP line, these people can't be trusted.
Especially troubling was the fact that Justice Secretary Humza Yousaf was among those providing angry hot takes on the evidence session. Given the facts that Sturgeon was providing evidence under affirmation and that this inquiry is about serious legal matters, it might have been appropriate for the Justice Secretary to contain his desire to stick the boot in. His failure to do so doesn't speak well of him.
After a gruelling eight hours of questioning came to an end, Sturgeon's nationalist colleagues celebrated her masterful "dismantling" of opponents' questions. She had been open and honest. They tweeted with the hashtag #IstandwithNicola. The SNP claimed that thousands of new members had joined the party in the aftermath of Sturgeon's evidence suggestion. I would like to see proof to support that claim which, to be generous, seemed fanciful.
What Sturgeon did not do during her evidence session is help us understand why it was that, despite legal advice that said the Scottish Government should concede Salmond's claim that the investigation process was flawed, she did not see that this was done. Nor did she adequately explained why, despite a number of votes in the Holyrood chamber demanding that the government hand over its legal advice to the inquiry, this was not done until Tuesday evening when it became clear deputy First Minister John Swinney would lose a confidence vote if this was not done.
At one point on Wednesday, Tory MSP Murdo Fraser asked Sturgeon whether she might like to apologise to voters who, in the past, she had urged to trust Alex Salmond.
This was a messy enough question for Sturgeon to misrepresent it as Fraser asking her to apologise for Salmond's behaviour. She would not – quite rightly – apologise for the behaviour of someone else. This was not an answer to the question posed but it fitted neatly into Sturgeon's narrative that what we are now witnessing is not a scandal about government competence but an attempt by a man to blame a woman for his failings.
The committee will soon report its findings, while a second investigation – into whether Sturgeon broke the ministerial code by lying two parliament over what she knew and when about the Salmond complaints – is also on track to end before May's Holyrood elections.
Nicola Sturgeon handled her appearance at the Salmond inquiry with customary skill but she is not out of the woods, yet. Not by a long shot.